With variants on the rise and a baffling array of changing restrictions, many people are understandably hesitant about travel during COVID. When my sister and I visited Italy this past June, the extra work involved in planning required plenty of determination. But once we arrived, the chance to visit major sites without the usual crowds – and to share in the joy of a country returning to life – made our trip extraordinary. 
We've all seen how quickly things can change, so when we heard Europe was opening up in early summer, we decided to go right away in case it was temporary. We quickly settled on June 9th as our earliest possible departure date, giving us three weeks to plan a three-week trip.
Since one border crossing was enough to contend with, we restricted ourselves to a single country. First, we compared entry policies. No one wants to quarantine, but we also didn't want to risk a sudden crisis in a country opening up too fast, which happened in Portugal. Some countries were still in the process of formulating their policies, meaning we'd have to gamble on those governments announcing changes before we left. Italy, however, had worked out a deal with a few airlines for "COVID-tested" flights to Rome and Milan. (Note: check the Italian Ministry of Health for current entry policies.) Italy was a perfect choice for our quest to see major art and architecture without the crowds. It also happens to be a place we both love.
Next up: finding a flight. Direct flights are better for the environment, but they are also rare these days. We live in California, and the "COVID-tested" flights only operated from Atlanta and New York, so we were stuck with a layover. However, we could avoid layovers in another country, which would have added another set of entry-policy complications. Delta, like most airlines, offered reservations we could change, and the website about flight requirements seemed clear. We booked our flights – and that's when things got complicated.
First, we found out that we needed three hours for our layover, rather than the two our tickets gave us. Cue more than 18 hours on hold, multiple dropped calls, debates about whether to drive out to the airport ticket counter versus giving up and hoping that the extra hour wouldn't be necessary, etc. I eventually managed to change the ticket via a chat window on the app, at an additional cost of around $300.
At this point, we needed some inspiration before tackling any more red tape. Exploring accommodations restored our incentive. Although some places were still closed, we found an incredible selection available, often at a discount. In Florence, for instance, we found an AirBnB with a balcony over the Arno river and a stunning view of the Ponte Vecchio for $120 per night.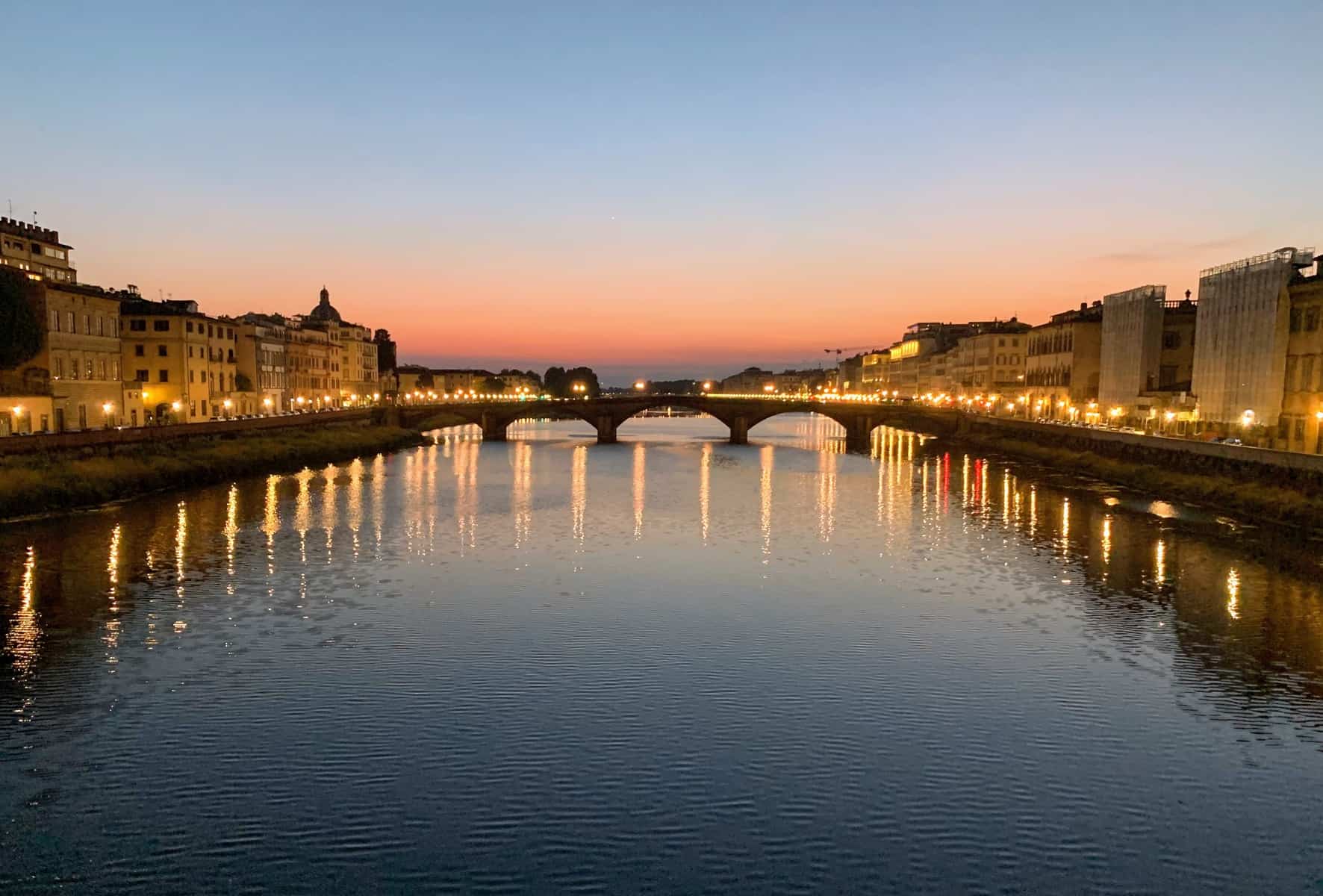 Now we had to figure out the COVID tests, which I suspect will be part of travel for some time. Our flight required three of them: a PCR, which is the slowest but most accurate, plus one rapid antigen test just before and another just after the U.S.-Italy flight leg. Unfortunately, it wasn't always clear which tests qualified as 'PCR', as there are many variations on each kind of test and no consistent terminology. The biggest problem was that the vast majority of labs can't guarantee PCR-type results in less than 3 days, and we needed them within 72 hours of departure. (I'm still unclear whether that meant departure from San Francisco or Atlanta.) We hedged our bets by testing at two sites. One set of results came the night before we left, but we didn't get the other until we were in Atlanta.
I was nervous about the extra protocols at the airport, because I remembered the months and months of chaotic security screenings after 9/11. Happily, the lines weren't bad at all, and everything went smoothly. The EU Passenger Locator Form was not complicated, and the additional COVID antigen tests provided by the airline were well-organized. I wondered if our nasal passages had gotten tender from all the testing, because the last swabbing hurt, and I saw some kids crying. Wearing a mask for hours on end wasn't as uncomfortable as I feared, especially since the temperature on the plane was cool. Everyone was given fresh surgical masks in order to comply with Italian regulations. Many countries require passengers to wear surgical rather than cloth masks on the plane and at the airport. Some countries in Europe are also mandating surgical masks everywhere. Read more here.)
Finally, we arrived. I love flying into Rome because jet lag is just an excuse to walk around the city at dawn. On the first morning, we knew we'd made the right decision to come to Italy when we saw the Spanish Steps without anyone else there; in September 2019, at the same time of day, it had been packed with Instagrammers.
Rome wasn't empty, but virtually everyone seemed to be Italian, if not a resident of the city. Italy had only recently lifted restrictions on shops, cafes, etc., just in time for summer. The locals all looked happy, and we began to appreciate just how special a time this was. Of course, my sister and I were coming out of isolation, too. At the end of the first day, I realized I was feeling more than jet lag – it was also a sensation of almost-vulnerability at being regularly surrounded by people I didn't know.
The mask mandate was still in place, but was expected to be lifted on June 28. Consequently, we did see some people wearing a mask pulled down outside, especially on sunny days.
After five dreamy days in Rome, we headed to Florence. Here we started encountering fewer locals and more tourists, albeit at a fraction of "normal" levels. There were a few other Americans, more Europeans, and lots of Italian tourists. Florence was also the only place where, on a few occasions, we were instantly addressed in English. Several sites were closed, although it wasn't clear how much was due to COVID versus maintenance and restoration. Larger sites generally required reservations on the weekend, but my sister was able to get into the Uffizi museum on the spot.
Our day trip experiences were similar. There were plenty of people photographing themselves by the leaning tower of Pisa, but otherwise the city seemed pretty empty. Siena had only moderate crowds, mostly Italian. Lovely Lucca was hosting its monthly antiques market when we visited, and it felt festive without being overwhelming.
Train travel was painless. We had purchased tickets from Rome to Florence before we left California, but used the train station counter or electronic kiosks for our other tickets. The number of passengers was limited to promote social distancing, but we didn't have to worry about seat availability since fewer people were traveling. Everyone was conscientious about masking and giving one another a reasonable amount of space.
I will forever be grateful for being able to experience the pockets of paradise that comprise the villages of Cinque Terre. Prior to COVID, I had given up on going there, because it had gotten too popular, and who can savor beautiful scenery when it's crawling with tourists? (Not to mention that the traffic is becoming harmful to the environment.) Cinque Terre also had tourists, but it was pleasantly bustling rather than bursting.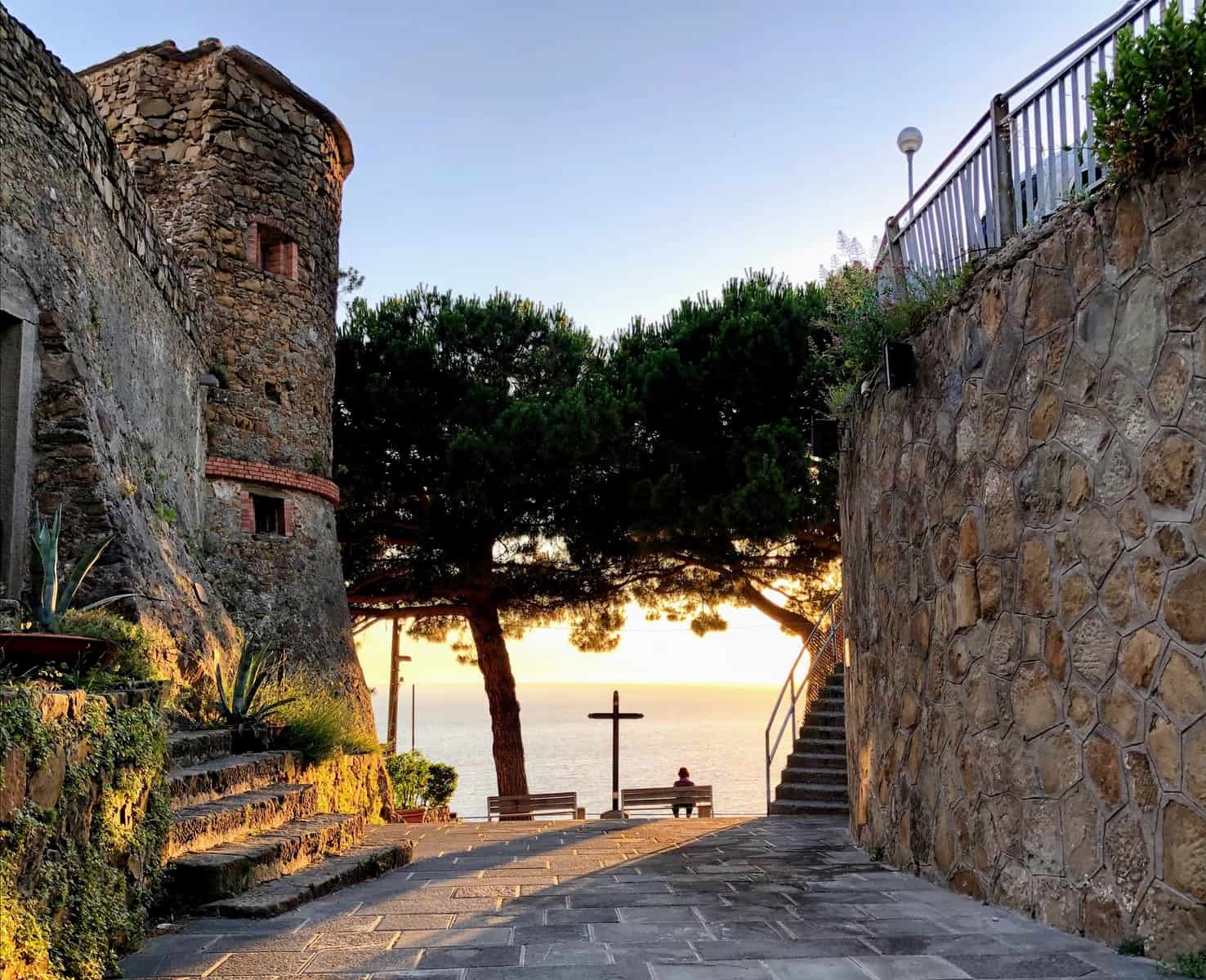 As we moved up the coast, the foreigners vanished. The Italians seemed to head en masse to vacation spots, so towns like Camogli and Santa Margherita Ligure on the Riviera were actually kind of crowded. We went to the city of Genoa on a holiday weekend, only to find entire neighborhoods closed down, except for cafes and restaurants.
On the weekend, beach towns like Camogli (left) were packed, while Genoa emptied out (right).
Outside, we saw masks worn casually on the arm as often as on the face; however, people continued to comply with masking protocols indoors and on public transportation. (Note that the Delta variant had not hit Italy yet; find updated info here.)
Milan is less dependent on tourists than the other places we visited, and seemed to have regained some normality. Other than masks, we saw very little sign of the epidemic raging recently.
We needed one final rapid COVID test before our return flight, and it was a breeze. I did an internet search, found the closest location, and then we simply walked into the pharmacy and got it done on the spot. At 25 euros, the price was reasonable, and the staff could not have been nicer. There was even a great gelateria around the corner for us to try while we waited for the test results.
Throughout our trip, locals mentioned how much they miss tourists. I had good experiences in Italy pre-COVID, but this time we had so many experiences of people going out of their way to be helpful. There was the priest who let us in to see a church during worship hours, the Florentine shop owner who made some phone calls to help us confirm the date of an antique market, the AirBnB hostess who came to get us on a moment's notice when we arrived at the train station several hours early, the Milanese hotel owner who paid extra for us to stay in a 4-star hotel when he found out his pipes would be out of order, and plenty more.
Ultimately, the headaches involved in getting to Italy when we did won't be as memorable as the trip itself. Seizing the moment and visiting the country just as it came out of lockdown gave us a once-in-a-lifetime experience. Seeing the Trevi Fountain without hordes of tourists made my jaw drop, but my favorite part of the trip turned out to be witnessing the Italians returning to their beloved piazzas and resuming life in the sunshine.