No town with a teal donkey for a mascot can take itself too seriously, even if it happens to feature the Amalfi Coast as a backdrop for its fabled ceramics. Anyone seeking a respite from crowds, a source for gift shopping, or a dose of whimsicality should head for Vietri sul Mare. Five minutes by train from Salerno, with views and restaurants galore plus hiking and beaches, this little town has somehow managed (so far) to stay under the radar.
Orientation to Vietri sul Mare
Vietri sul Mare is a small town spread over a large area, including the hamlets of Raito, Albori, Benincasa, and Dragonea. The historic center lies up on a hill, near the main coastal road and train station. 'Marina di Vietri' refers to the main beach, which lies about 20 minutes by foot from the center. We've marked the sites below on our Google map.
Ceramics and L'Asinello di Vietri
Ceramic donkeys are everywhere in Vietri sul Mare. Like the lions of Venice, they morph from one size/color/demeanor to the next across many of the buildings. After visiting places like Atrani, which named its river after the fire-breathing dragon supposedly inhabiting its banks, we felt certain there must be a local legend involving l'asinello (or, as it's sometimes called, il ciucciariello). The truth turned out to be more prosaic, but fascinating in its own way.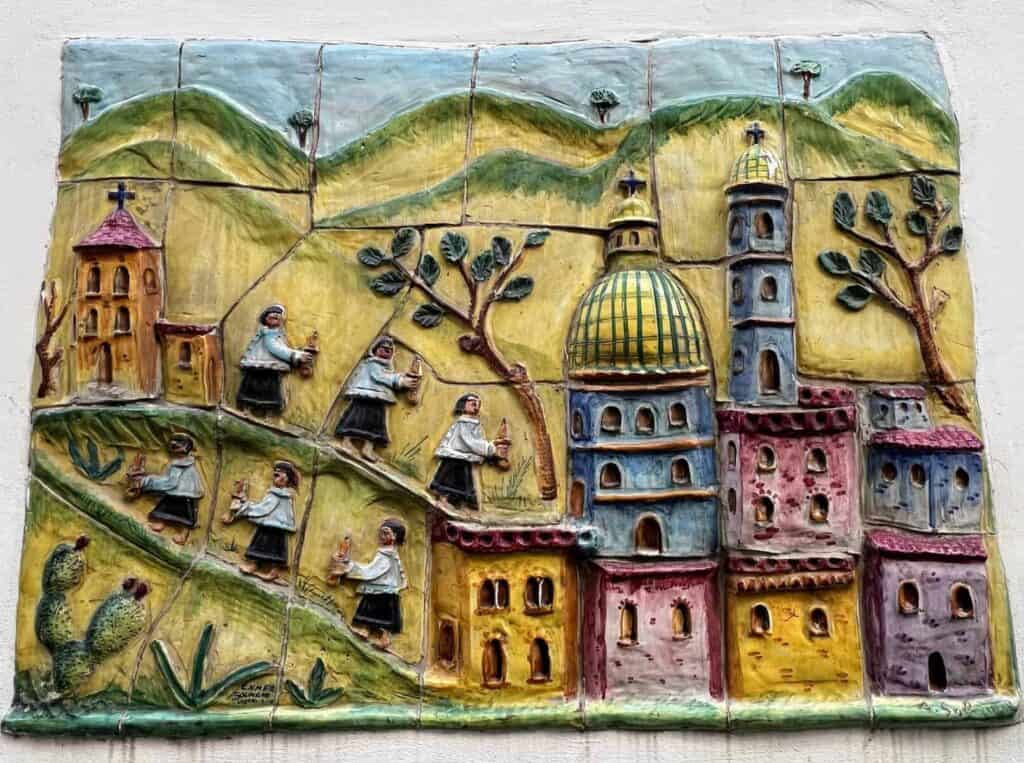 Written documentation of ceramic production and exportation in Vietri dates to the ninth century, although some think it goes back to the Etruscans who inhabited the area until the mid-fourth century BCE. The craft peaked in the 16th and 17th centuries, followed by a decline with the onset of industrialization and the unification of Italy in the 19th century. By the early 20th century, innovation had all but disappeared.
Between the First and Second World Wars, Vietri attracted a community of artisans from central Europe. They sparked a renewal which expanded subject matter from traditional flowers, fruit, and religion. Ceramicists began to focus on elements of local life, from sea creatures to the ubiquitous donkeys used to transport goods across the mountainous terrain. In 1923 a German artist named Richard Dölker painted a ceramic donkey to match the color of the sea. Over time, the kitschy, kid-friendly piece came to represent the town.
Vietri sul Mare's Historic Center
Vietri's historic center is essentially an open-air museum, with ceramic tiles and accents gracing nearly every building. Dramatic views of the hills and the sea make it a prime spot for strolling. We joined locals enjoying a leisurely weekend meal in a small piazza.
Vietri's duomo features majolica tiles in an iconic plaid pattern. The San Giovanni Battista dates to the 10th century, but had to be rebuilt after it was sacked during raids on the Italian coast.
Ceramics Shopping
Central Vietri has a vast number of ceramics shops, each with a huge selection. Tableware and decorative pieces predominate, but we also spotted plenty of tiles and catalogs for custom orders. Happily, almost everything looked handmade, with subtle variations and imperfections. Most pieces have a stamp confirming their origin. Prices were reasonable and more or less consistent between stores with similar wares. Business hours are generally 10 to 7:30, although some places close between 1 and 4 during the off-season.
Ceramica Solimene Factory/Showroom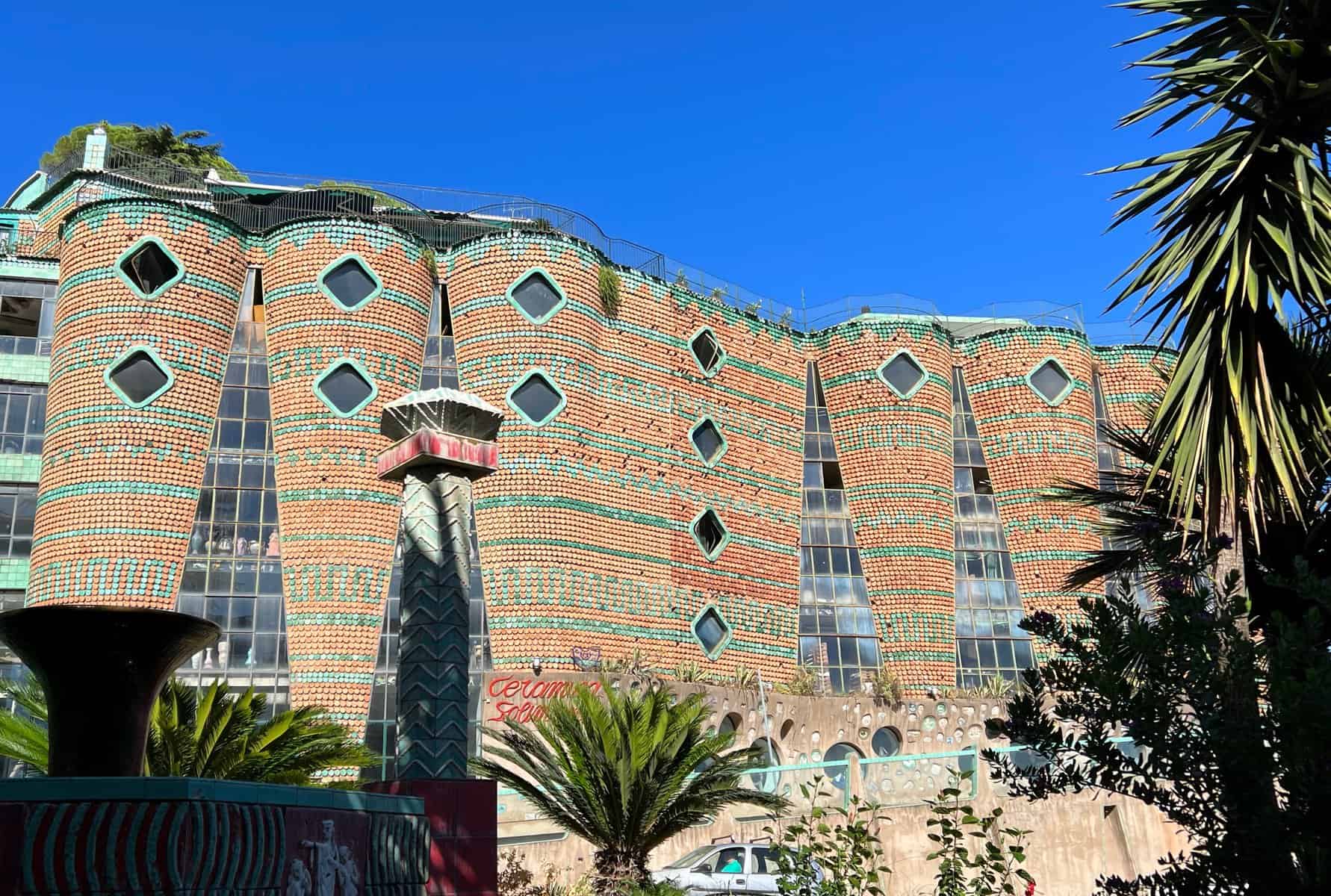 It's hard to miss this building, which may remind some visitors of Gaudí and the wilder Spanish architecture. In fact, architect Paolo Soleri studied with Frank Lloyd Wright in the late 1940's, and the building became a collaboration with the ceramics producer who commissioned it. Soleri is probably best known for his visionary designs of ecologically sensitive urban architecture. Having been expelled from Taliesin West for disagreeing with Wright's version of urban planning, he returned to Italy and toured the country in a caravan he built himself. Arriving in Vietri in the early 1950's, he designed the massive new factory to be built with unskilled labor and without a crane.
Solimene came up with the idea of incorporating ceramics into the façade: over 20,000 vases were laid on their sides and joined with mortar, then capped with a bowl on the exterior. Quickly assembled at a low cost, the scheme's exceptional insulation keeps the south-facing wall cool in spite of the kiln's heat. The now-landmark structure remains in fairly good shape today.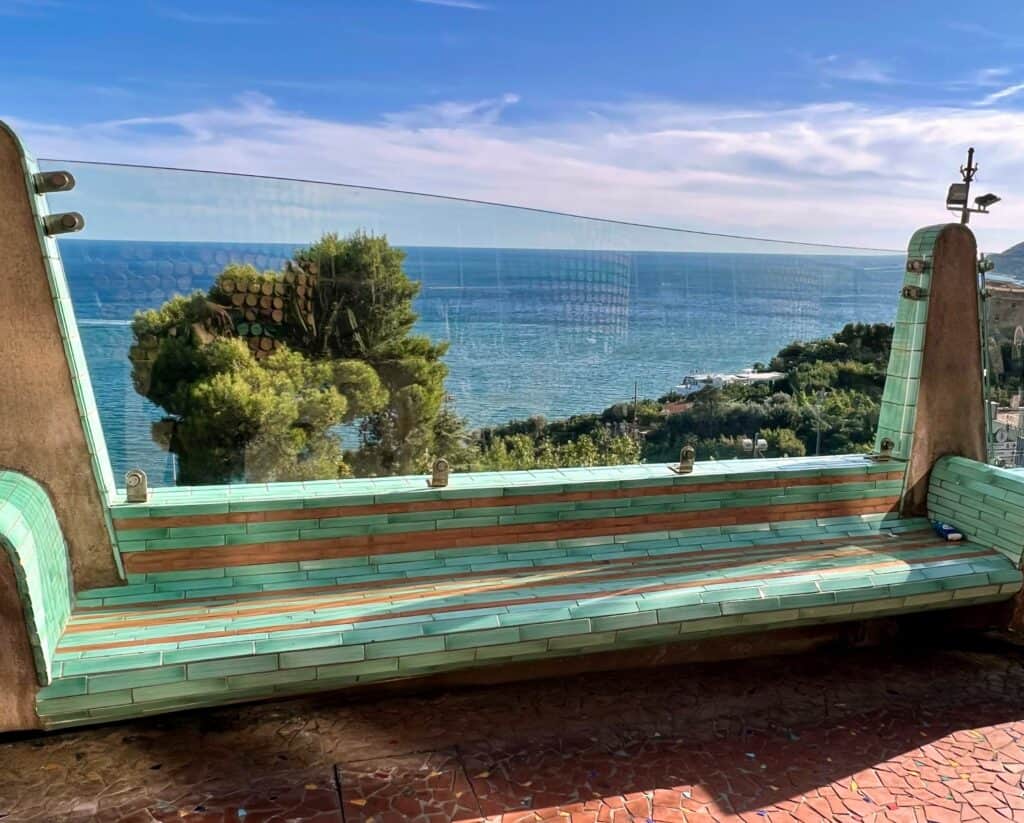 A tunnel decorated with ceramic murals crosses under the street in front of the building. Inside, the showroom is open to the public but geared to wholesalers. We found a quirky mixture of artistic pieces old enough to qualify as 'retro' and lots of tableware remnants.
Via Madonna degli Angeli, 7: Monday-Friday 9-8, Saturday 9-1:30 & 4-8, Sunday 10-1:30 & 4-6.
Ceramics Museum
One needs a car to access Vietri's ceramics museum, in the Villa Guariglia. We've marked it on our map, but since the route appears to include some private property and stretches along the highway, we didn't attempt to walk there ourselves. Opening hours Tuesday-Sunday 9-3, admission free.
Vietri sul Mare Beaches
The following beaches are accessible via bus or car; all but the Marina di Albori have parking nearby. It's also possible to visit more remote spots with a small boat.
The huge Marina di Vietri stretches out on either side of the river where the ferries pull in. One side is free; the other features the traditional lido setup with rentable umbrellas and lounges. A flood in 1954 wiped out the ceramics factories which used to line this part of the coast, and created the beach. Colorful buildings wind back into the hills nearby.
A 16th century tower stands guard over the quieter beach at La Crespella.
La Baia is one of the few pure sand beaches on the Amalfi Coast, although the water isn't always as clear given its proximity to the port of Salerno.
The compact but exquisite beach at Marina di Albori lies down a series of steps from the main road as it leaves Vietri sul Mare and passes beneath the hamlet of Albori.
Getting to Vietri sul Mare
Trains from Salerno take four to five minutes, and the public elevator makes getting to and from the station a snap.
SITA buses stop right by the main parking lot in the town center. Lines 5120, 5020, 5380, and 5001 serve Vietri sul Mare; see schedules for service hours.
Ferries stop down the hill, by the main beach area. See ferry schedules listed under Salerno, Amalfi, Positano, Cetara, and Minori for times and prices.
Staying in Vietri sul Mare
Vietri sul Mare makes an excellent base for the Amalfi Coast, especially as it's so close to the less-crowded smaller towns and villages on the eastern end. Travel via Salerno opens up regional destinations such as Pompeii, Herculaneum, Naples, and Paestum. For more information on what to see in the area, see our posts on Salerno and Atrani.