Palladio may be the godfather of NeoClassical architecture, but his own buildings are far more intriguing than the legions of cookie-cutter institutions copying him. Seeing Palladio's buildings in person is a must for architecture fans, and luckily the small city of Vicenza is a treat to visit. An easy train ride from Verona or Venice, Vicenza holds the greatest concentration of Palladio's work. We've included the most renowned examples below, plus a few lesser-known favorites. All sites are marked on our Google map.
Palazzo Chiericati (Pinacoteca Civica)
Palazzo Barbarano da Porto (Palladio Museum)
Visiting Vicenza & Further Reading
Who Was Palladio?
Before designing any buildings of his own, Andrea di Pietro della Gondola spent years studying classical Roman architecture. In fact he became the subject's foremost expert, particularly in interpreting ruins and texts for modern audiences. His aptitude inspired his first patron to give him the classical-sounding name Palladio.
After publishing several guides to ancient works, Palladio began collecting his ideas – both theoretical and practical – into a landmark treatise. I Quattro Libri dell'Architettura (Four Books on Architecture) provided designs and commentary which updated ancient innovations with Renaissance ideas and techniques. Future architects like Thomas Jefferson would call it their "personal Bible".
Basilica Palladiana
Scholars and architects regularly cite Palladio as the most influential Western architect of all time. Occasionally this dominance works against him by drawing attention to his most-copied ideas. Most photographs and discussions of the Basilica Palladiana focus on Palladio's two-tier loggia in isolation. But the loggia wraps around a core of medieval buildings, and Palladio specifically adapted his design to complement them. The relationship between his shell and the pre-existing structures create an urban space 400 years ahead of its time.
Vicenza's Palace of Reason Before Palladio
Italy's civic leaders in the early Renaissance did not lack in vision or audacity when it came to architecture. Florentines spent over a century trusting that someone would figure out how to build their massive dome. Not long after its completion, the city of Vicenza hatched an ambitious scheme of its own. Along with restoring the three principal administrative buildings, architect Domenico da Vicenza would design a single hall and roof to top all three structures. His idea for the new Palazzo della Ragione (Palace of Reason) borrowed from the building of the same name in nearby Padua: a curving expanse of metal plates over a wooden frame. The upper level featured one of the largest unsupported ceiling spans ever seen. In a nod to Venice, which had recently taken control of Vicenza, Da Vicenza clad the walls in pink and white diamonds just like the Doge's Palace.
By 1460 the upper structure was complete, but the heavy lead roof required additional support. Another architect designed a two-level loggia to wrap around the existing buildings, but a large section of it collapsed after just two years. For the next five decades, a series of famous architects proposed various solutions, all of them rejected. Finally one of the city leaders championed an unknown 38 year-old who had spent most of his adult years studying Roman ruins. His name was Andrea Palladio.
Palladio's Renaissance Screen
Besides the engineering issue, Palladio's biggest challenge was to bring some order to the buildings under the new roof. Each structure held a jumble of artisan workshops on the ground floor, so he needed a design which could adapt to a variety of dimensions. His solution: a design unit with a larger arch of consistent size, flanked by smaller openings of variable width. Because identically-sized arches dominate each group, a row of them appears regular even if the side sections change.
Palladio's addition simultaneously hides and protects the earlier architecture, presenting a unified façade in a fresh Renaissance style while still preserving the city's heritage. The double arcade screens the structures inside to varying degrees depending on one's viewpoint, creating a continuously-changing relationship. Passing through the columns, one enters a space which is both inside and outdoors. Walking through it creates a shifting kaleidoscope of light and shadow.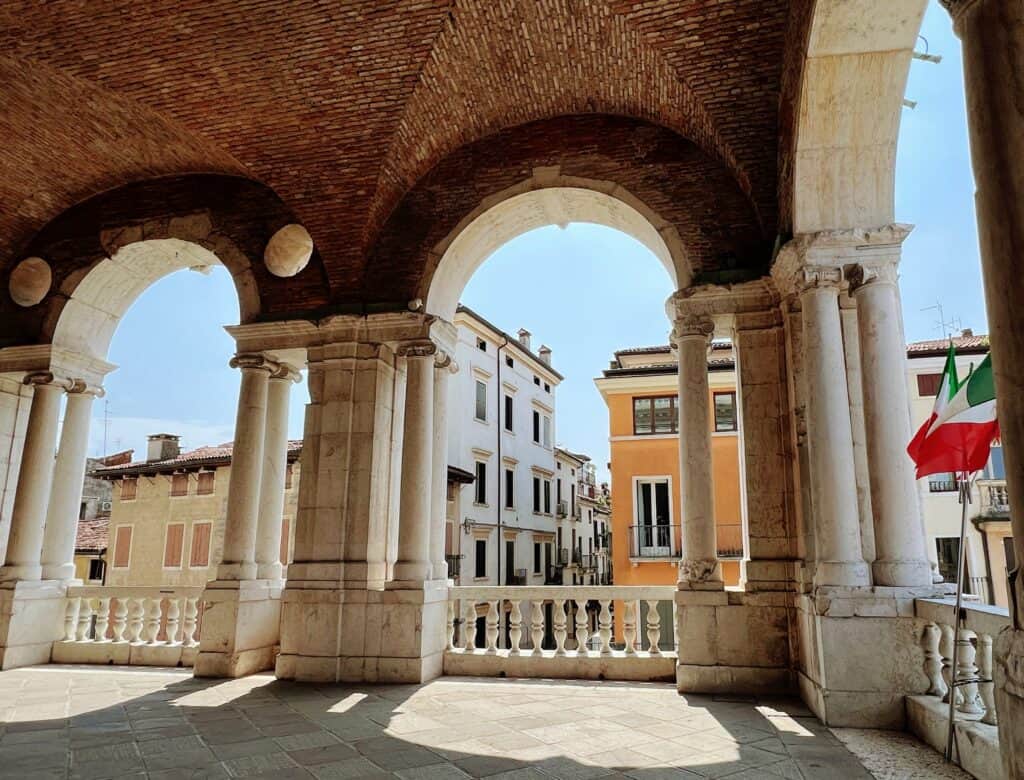 The Basilica Palladiana doesn't erase earlier structures, nor does it enshrine them. Instead, the common roof and loggia allow different eras and styles to interact. Mixing new architecture with historic buildings was radical, and wouldn't become commonplace until the latter half of the 20th century.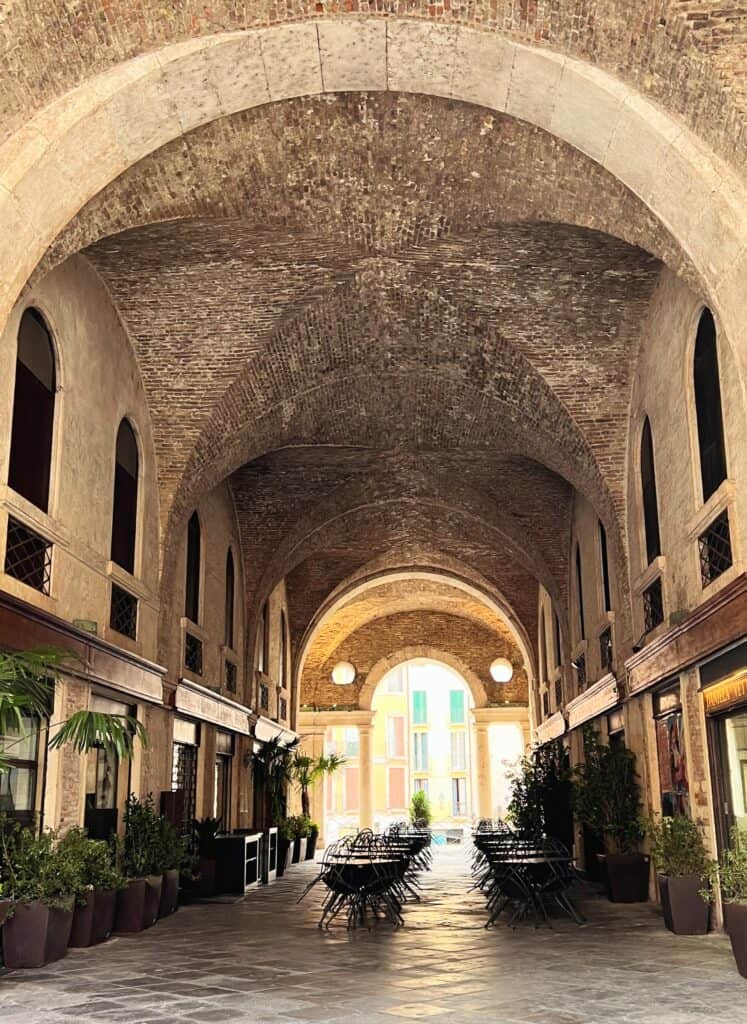 Palladio called the complex a basilica, after the ancient Roman houses of justice and administration. It does not include a church, even though some Christian churches are also called basilicas. They adopted the form, but not the function.
We highly recommend visiting the loggia roof, with views of the piazza and surrounding city. For visiting information, see the Basilica Palladiana website.
Loggia del Capitaniato 
Compared to Palladio's new loggia, the palace across the piazza began to look dated. For the residence of Venice's representative – the most powerful individual in Vicenza – this would not do. Palladio himself was hired to create a new Loggia del Capitaniato (Captain's Palace) in 1565. Construction stopped after just three bays were completed.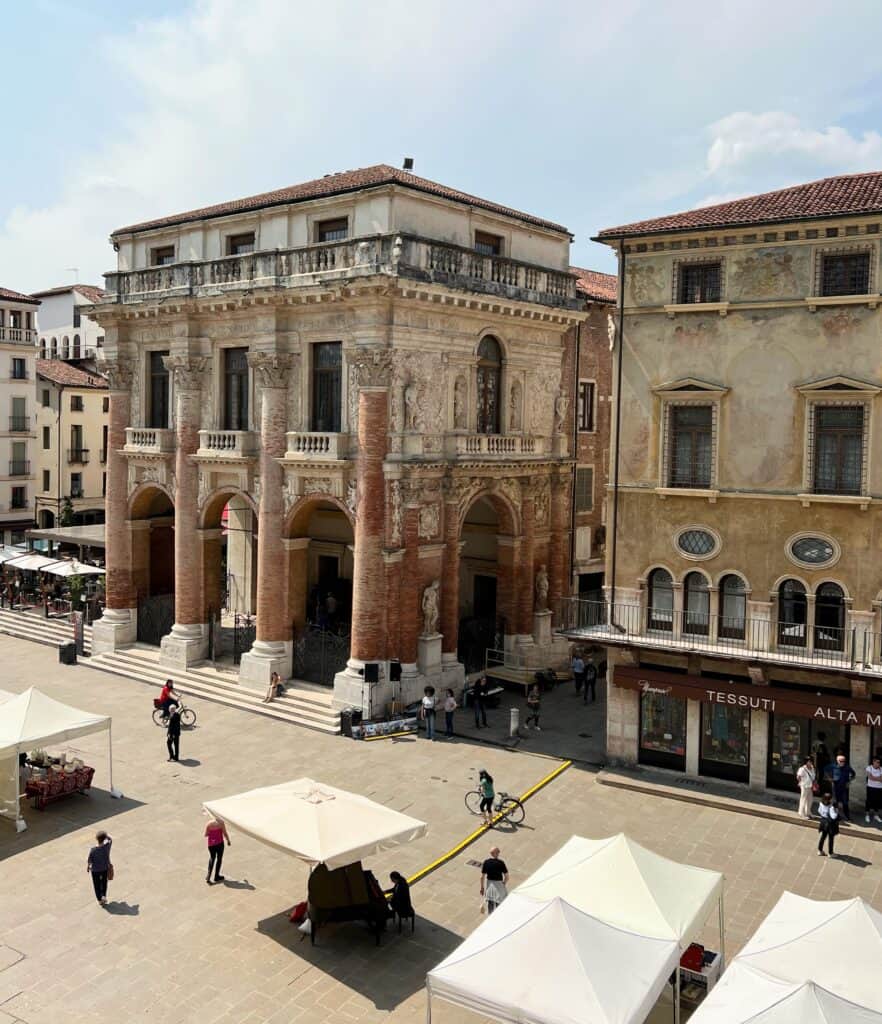 Very few architects get the opportunity to design different works on the same site, much less directly across from each other. Palladio designed the Captain's Palace at the end of his career, and the contrast with his earlier Basilica is striking. The design differences may stem from the nature of each commission: the Basilica needed a simple unit to unify diverse structures, while the governor expected more ornamentation. Yet some audiences see Palladio's freer hand in the later structure as an evolution in his style. Debate also continues about his final plans for the Loggia, and how to handle the unbuilt portions. (Interestingly, the bare bricks are not "unfinished": Palladio decided he preferred their contrast to plastering.)
Because the upper hall is used for council meetings, the Loggia del Capitaniato is not open to the public on the inside.
Palazzo Chiericati (Pinacoteca Civica)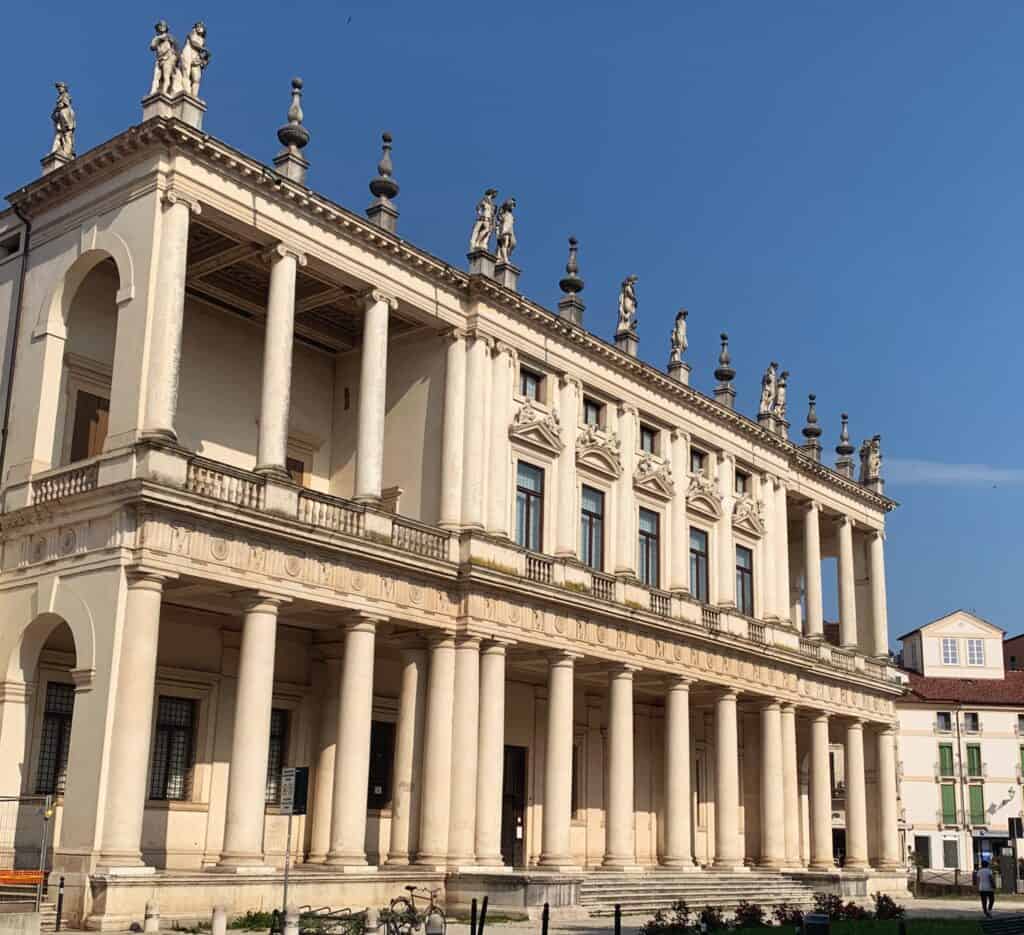 An open site on the edge of town gave Palladio a chance to experiment with urban dwellings. By orienting the structure towards the expanse by the river, he created a semi-rural space where he could incorporate innovations from his villas. A colonnade on the piazza plays with the tradition of classical temples on Roman forums – but Palladio's version has two levels rather than one, and fronts a private residence.
Designed around 1550 but not completed until 1680, the palazzo remains mostly intact. Today it houses Vicenza's Pinacoteca Civica, with paintings by Veronese, Tintoretto, Tiepolo, and Van Dyck as well as Vicentine artists.
Teatro Olimpico
Towards the end of his life, Palladio championed the construction of a permanent theater based on the ancient Roman model. It's hard to imagine an architect and a project better suited to one another: after a lifetime of interpreting classical architecture, Palladio understood better than anyone else how to revitalize the tradition.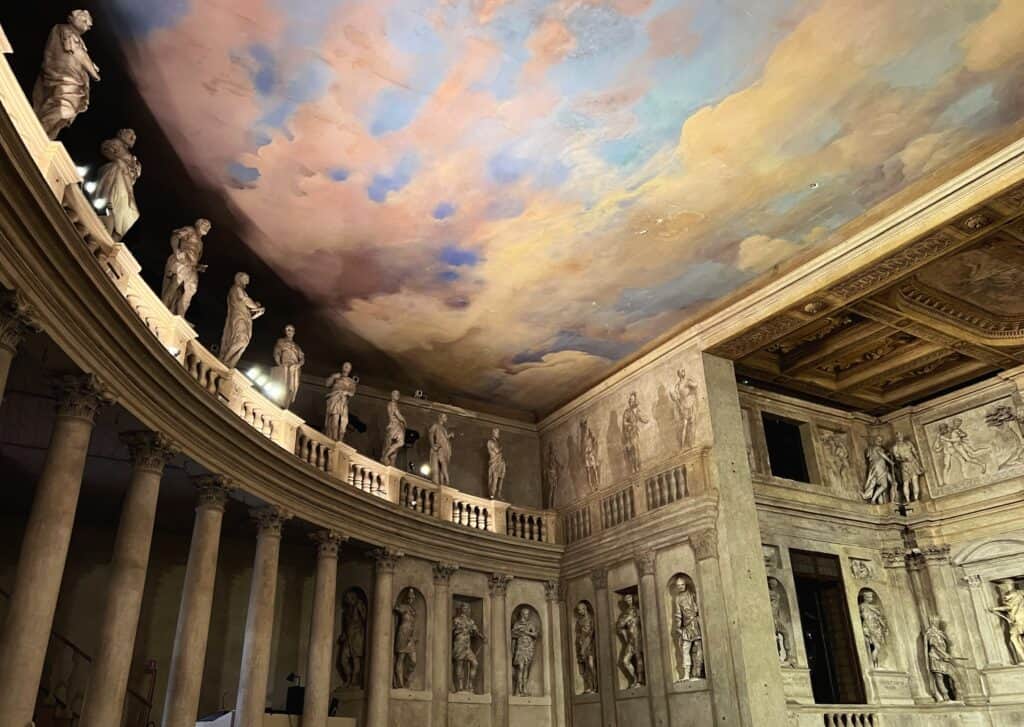 A group of nobles and artists known as the Accademia Olimpica obtained a tight plot of land next to a monastery for the project. Spatial constraints forced Palladio to modify the traditional semi-circular form for seating tiers, condensing them into a wide elliptical curve. He lined the rear with columns and statues just like an outdoor theater, and even painted the ceiling over the audience like a sky. Although these devices can seem artificial without any distractions, their effect at the periphery of one's vision during a performance would be palpable.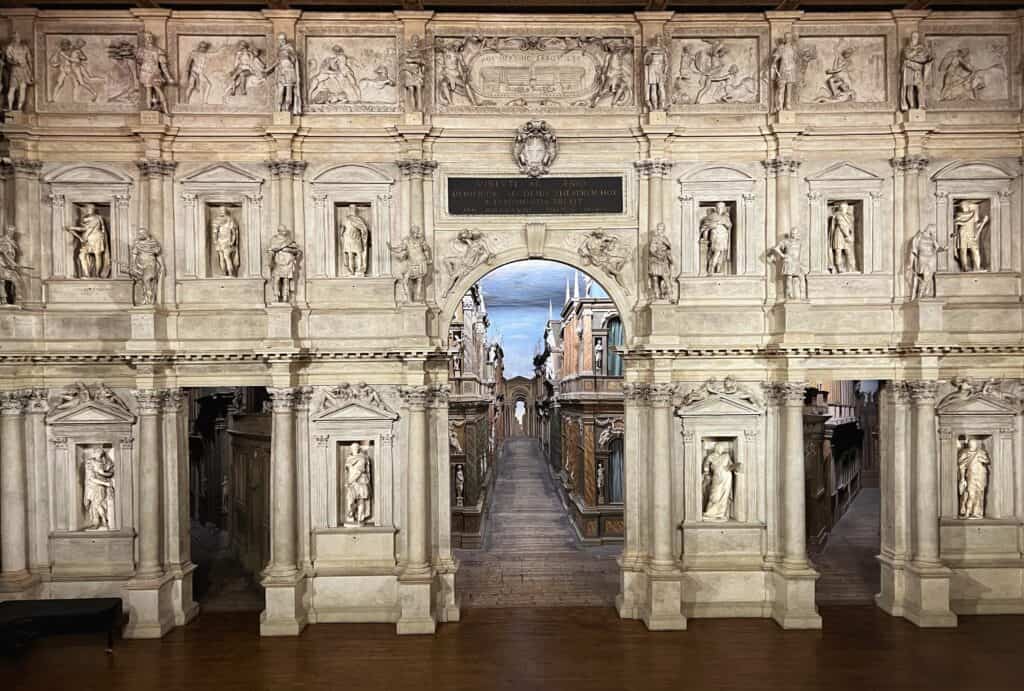 Perhaps the most striking feature of the Olympic Theater is the stage itself. Palladio chose to design a huge wall of classical-style reliefs rather than rely on flat, painted backdrops. The scheme may limit the type of performance – which is probably why the idea wasn't used more widely – but makes the scenery feel real. His pupil Vincent Scamozzi took the idea even further with an elaborate false perspective in the rear, complete with a sloping floor to heighten the illusion of receding space. Scamozzi likely borrowed the idea from Palladio's sketches when he took over the project shortly after his mentor's death. Even so, Scamozzi deserves credit for his remarkable execution: most false perspectives don't work from such a wide range of viewpoints. He even designed special lamps to illuminate the scenic windows at varying "distances".
For those unable to see a performance in the Olympic Theater, we recommend timing a visit to coincide with the 10-minute sound-and-light shows. Event schedules are posted on the Teatro Olimpico website; the civic museums webpage contains general visiting information and the "Son et Lumière" schedule.
Palazzo Porto Breganze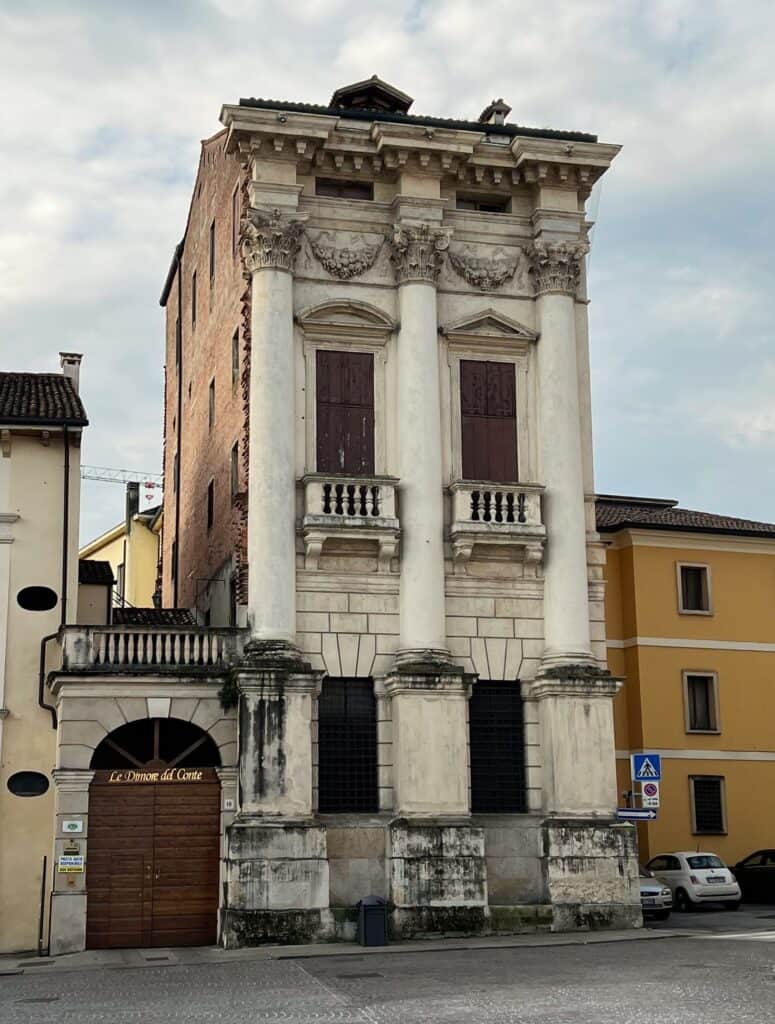 A little sliver of building – just two of the planned seven bays were actually built – illustrates one of Palladio's most important innovations: scale. By simply incorporating oversized elements such as columns, he created a sense of monumentality and drama. Contrasting sizes also added visual interest, thus avoiding the need for costly embellishments.
Construction on the Palazzo Porto Breganze began in 1571; Vicenzo Scamozzi took over the job after Palladio's death. The original interiors no longer exist.
Palazzo Barbarano da Porto: Palladio Museum
Palladio only saw a single building fully completed (including ornamentation) during his lifetime: the Palazzo Barbarano. Organized by the prestigious CISA foundation, the "museum-laboratory" aims to present Palladio in a way which both the general public and scholars find interesting. The cutaway models alone accomplish the task. See the Palladio Museum website for visiting information.
Villa La Rotonda (Villa Almerico Capra Valmarana)
Most of Palladio's 23 villas in the region require a car to visit. Luckily, the most famous one lies just outside Vicenza's city limits.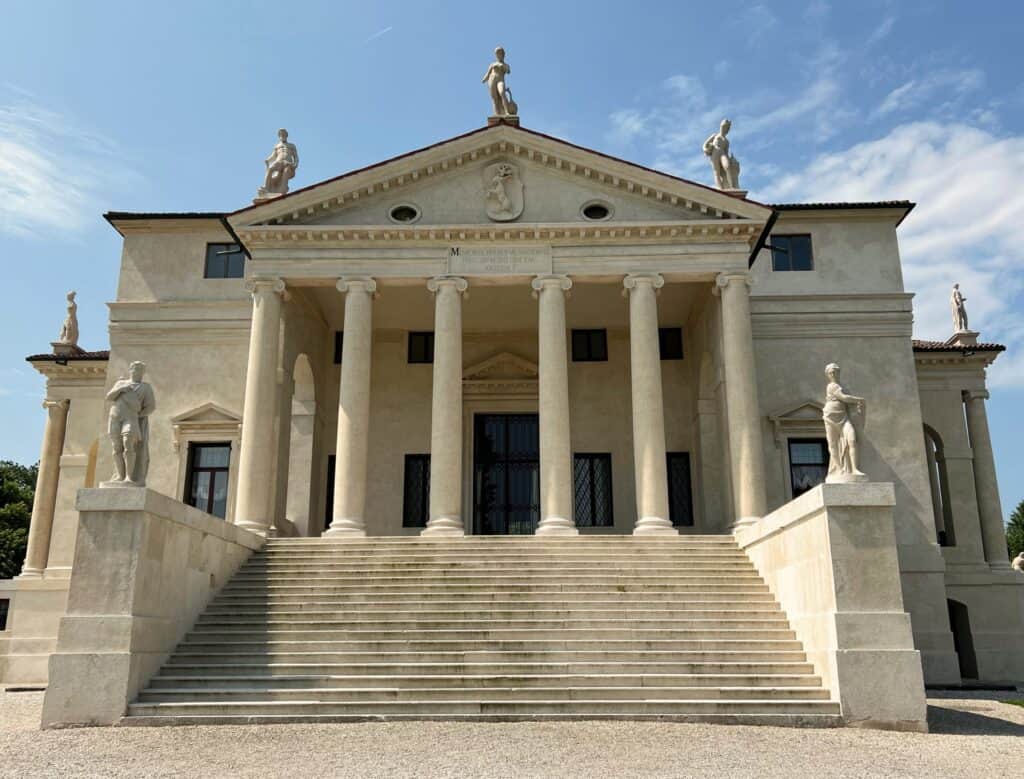 The Rotonda's archetypal form can be appreciated from photographs, but its relationship to the landscape must be experienced in person. As anyone who's seen his white churches glimmering across the Venetian lagoon can attest, Palladio knew how to position a building. The villa sits on top of a gently-sloping hill, hidden from view from the road. At the property gate it suddenly appears above a long line of roses, perfectly framed by trees on either side. The view exploits a long sightline, creating what architects call "axial drama". As one approaches the structure, however, its four-way symmetry emerges, transforming the underlying order from line to circle.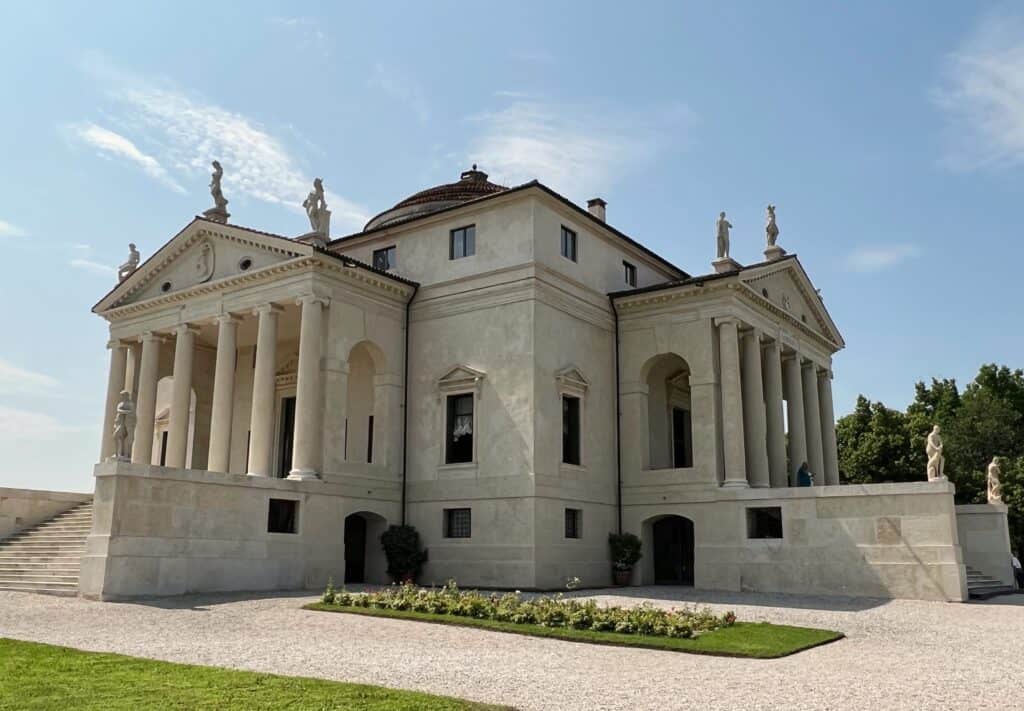 On the inside, Palladio's openings do not simply let in light; they also frame carefully-considered tableaus. Doorways line up so that one can look through them all the way to a window at the other end of the building. Window views include sculptures on the building's edge which soften the transition from man-made to natural.
Most of La Rotonda was completed by 1571, but Vicenzo Scamozzi made a few alterations when he took over construction after Palladio's death. Most noticeably, he changed his master's plan for a semi-circular dome to a shallower version based on Rome's Pantheon, complete with a central oculus (hole). He also designed the side-house near the gate.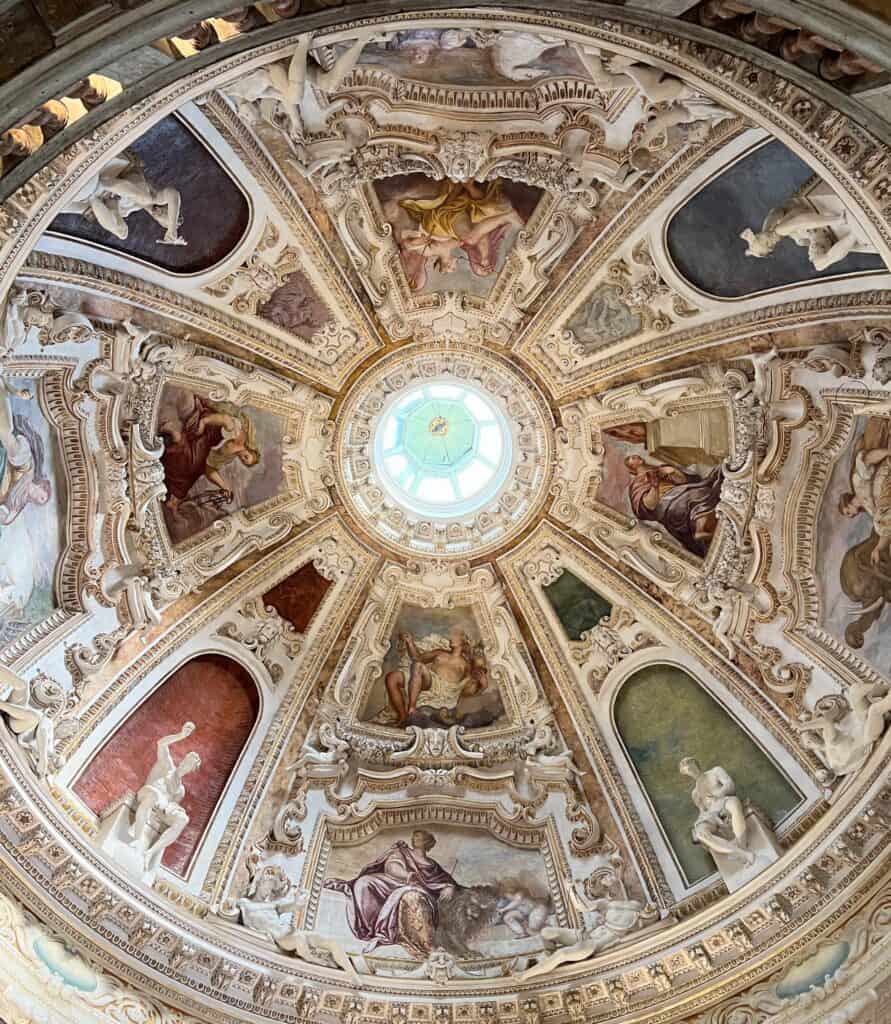 The only jarring note might be the 18th-century frescoes: I found them too busy for the villa's sleek harmony. They were a far cry from the pastel wonderland painted by Giambattista and Giandomenico Tiepolo in the nearby Villa Valmarana ai Nani.
See La Rotonda and Villa Valmarana websites for visiting information, including transportation via car, taxi, bus, and foot. Signposts guide visitors along secluded hillside paths running between the two villas; the walk takes about 10 minutes.
Visiting Vicenza & Further Reading
Visiting the sites above takes up the better part of a day. We could easily have spent much longer in Vicenza and recommend it as a base for anyone planning to drive out to Palladio's villas in the region.
For more on Palladio's architecture, see our post on Palladio's churches in Venice.