Our hotel proprietress assured us that "Toledo is most beautiful at night." We don't disagree – it's just that we loved dusk, dawn, and daytime, too. We also discovered that Toledo is a great place to recover from jet lag or ride out a heat wave. And while the high spirits we encountered might have been amplified by the upcoming Corpus Christi festival, it's hard to imagine this city ever getting dreary. What could present problems would be trying to squeeze everything into a day trip, as too many visitors do. Never mind that Toledo lies just half an hour from Madrid by train, it deserves at least one overnight stay – and preferably several.
Every tiny street threading through Toledo's historic center shows evidence of its vibrant, heterogenous medieval culture. Today, the city celebrates its history of Convivencia, a term coined by a pair of Spanish historians to describe Muslims, Jews, and Christians living together in peace. Understandably, there's been some debate about how much tolerance really existed, and plenty of later propaganda pieces survive alongside the Mudéjar architecture shared by all three faiths.
We were a bit concerned that an early-June heat wave would impinge on sightseeing hours, especially after nearly melting in Seville. But even with temperatures in excess of 110°F (43°C), Toledo stayed surprisingly comfortable. The historic center maintains its old layout, based on Islamic expertise in orienting streets to catch cooling breezes and maximum shade. Because the climate tends to dryness, heat dissipates at night and requires most of the day to regain intensity.
Canopies stretched over much of the city for the Corpus Christi parade helped keep temperatures manageable, as well as adding to the festive spirit.
We had plenty of time to explore the city before the afternoon siesta, when we laid low for a few hours. Communal life in Toledo kicks into gear at sundown and lasts long into the night. At around eight in the evening, streets and plazas filled with families getting an ice cream to tide them over for a few hours before dinner.
Toledo Orientation
Toledo's location – on a high crag in a hairpin turn of the Tagus River – forced the historic core to stay compact. Newer sections spill down opposite the bend, below the mostly-intact walls of the old city.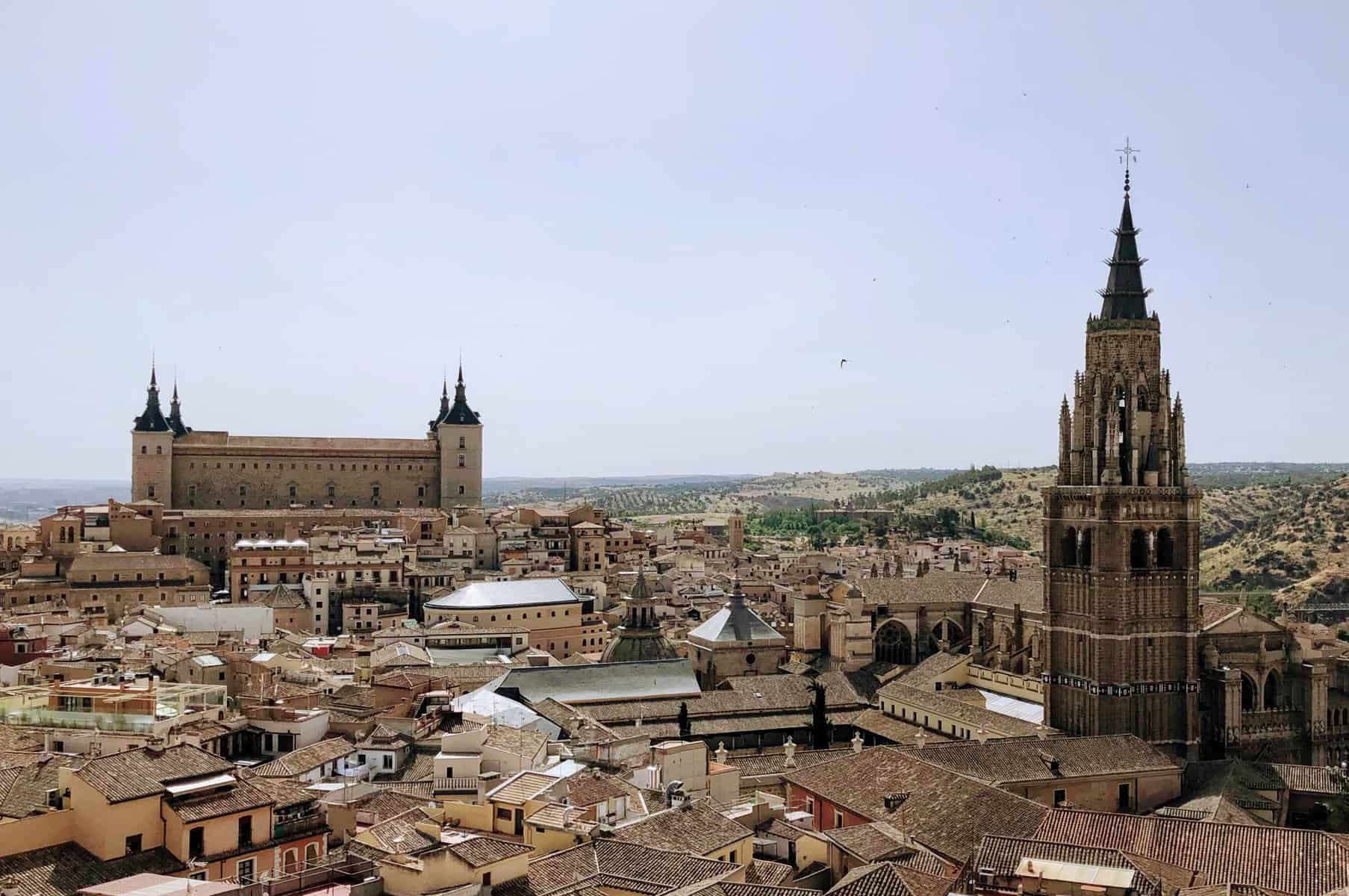 Walking is the main mode of transport within the Centro Historico. Most of the streets are too small for vehicles, although we did spot one lane with channels carved into the buildings to accommodate side-view mirrors.
The old city's main square, the Plaza de Zocodover, lies in the northeastern section near the behemoth fortress that is Toldeo's Alcázar. The Gothic cathedral – another colossus – dominates the center of town. Most of the southwestern side is quieter, with more gardens and open spaces in the old Jewish Quarter.
In spite of the hilly terrain and bumpy cobblestones, Toledo is a pedestrian's dream. We recommend setting aside time to explore without an itinerary; the atmospheric historic center is big enough to get lost in, but not enough to stay lost for long.
Toledo's Tourist Bracelet Pass
A handy €12 bracelet offers unlimited access to seven of the city's principal monuments. Visitors can purchase it on the website or at any of the participating sites: Cristo de la Luz Mosque & Church, El Salvador Mosque & Church, Jesuit Church, Royal College of the Noble Maidens, San Juan de los Reyes Monastery & Church, Santa Maria la Blanca Synagogue, and Santo Tomé Church.
Toledo Highlights
We've grouped the city's highlights into three main areas; all are marked on our Google map. Click on a link below to jump to a specific section.
Northeast & around the Plaza de Zocodover: Puerta Bisagra, Cristo de la Luz, Puerta del Sol, Santa Cruz Museum, Alcázar
City Center: Cathedral, Jesuit Church, San Román Church & Visigoth Museum, Santo Tomé Church, El Salvador Mosque & Church
Southwest & Jewish Quarter: El Tránsito Synagogue & Sephardic Museum, Santa Maria la Blanca Synagogue, San Juan de los Reyes Monastery & Church
Northeast & around the Plaza de Zocodover
Puerta Bisagra
On a site with several monumental city gates plus towers and a courtyard or two, the history of who built what when can get confusing. Never mind, the best part is how the different styles interact: a triumphal arch in the Classical Western tradition (circa 1559) had to squeeze between a pair of hulking round bastions straight out of a medieval castle. Around the corner horseshoe arches from the 10th century preserve the city's Muslim era. Calle Real del Arrabal, 26.
Cristo de la Luz
The Knights Hospitaller maintained the Islamic style of the Bāb al-Mardūm Mosque (circa 999) when they extended the structure and converted it into a church in 1185. The Christo de la Luz is a textbook example of complexity and drama condensed into a small space. The exterior features some of the most inventive brickwork of all time, and the adjacent garden has sweeping views. Admission €3 or free with tourist bracelet. Calle Cristo de la Luz, 22. Daily 10-6:45 March 1-October 15, and 10-5:45 October 16-February 28.
Puerta del Sol
Just steps away from the Cristo de la Luz lies the magnificent multi-level city gate known as the Puerta del Sol. The Knights Hospitaller rebuilt an older gate in the late 12th century, using the same Mudéjar style as the nearby church. Callejón San José, 2.
Santa Cruz Museum
The Santa Cruz Museum is just the right size, with a diverse range of exhibits all collected in a landmark building. Modern visitors won't find much to indicate the structure's former function as an orphanage and hospital, founded by the infamous Cardinal Mendoza (engineer of the Spanish Inquisition). The architecture spans Spain's livelier styles, with traditional Mudjéjar carved wooden ceilings and an ornate Plateresque entryway. Permanent collections include a wide range of both ceramics and antiquities, while multiple El Grecos anchor a strong set of paintings. Admission €4. Calle Miguel de Cervantes, 3. Monday-Saturday 10-6, Sunday 9-3.
Alcázar
A beloved statue of Cervantes (right) leads the way from the Plaza del Zocodover to the Alcázar (left).
"Alcázar"comes from the Arabic term al-qasr, meaning fortress. Although its foundations date back to the third century, this structure owes its appearance to the Renaissance kings Charles I (a.k.a. Holy Roman Emperor Charles V, overlord of almost half the globe in the mid-1500's) and his son Philip II. Five centuries later, the Spanish Civil War led to the legendary Siege of the Alcázar. Today the fortress holds archives and a vast military museum, the Museo del Ejército. Admission €5. Calle de la Union, Tuesday-Sunday 10-5.
City Center
Cathedral
As the capital of Visigoth Iberia before the Muslim conquest and Chrisitan Spain's spiritual heart, Toledo needed a suitably impressive cathedral. In 1226 the former Great Mosque was torn down to make way for an ambitious design in the new Gothic style. It took several hundred years to complete; with a lack of suitable building materials anywhere nearby, construction logistics alone required a heroic effort. Architectural purists might regret the way later additions break up the interior, but some jaw-dropping moments remain, such as the apse's double-colonnade ambulatory.
Meanwhile, the sub-structures are fascinating in their own right – we especially loved the choir's wooden carvings. Then there's the treasure. Besides copious riches brought back from the Americas, Toledo's Cathedral has a Sacristy with artwork to rival major museums: 19 works by El Greco along with Titian, Velázquez, Carravaggio, Bellini, etc. Underneath it all lies a missionary fervor and a belief in glory expressed through temporal power; as Jan Morris wrote, the cathedral can feel like "the nerve-centre of some formidable war machine."Admission €10 or €12.50 with bell tower. Calle Cardenal Cisneros, 1. Monday-Saturday 10-6, Sunday 2-6.
Jesuit Church (San Ildefonso)
Begun in 1629, the Iglesia de los Jesuitas is second only to the cathedral in size. Filled with light, the classical all-white interior makes a refreshing complement to the city's medieval architecture, and the belltower has wonderful views. Named for Alfonso, the patron saint of Toledo. Admission €3 or free with tourist bracelet. Plaza del Padre Juan de Mariana, 1. Daily 10-6:45 March 1-October 15, and 10-5:45 October 16-February 28.
San Román Church & Visigoth Museum
An eclectic Mudéjar core incorporating earlier Roman and Visigoth layers (with a few Renaissance and Baroque elements added later) makes the San Román Church the best place to experience just how far back Toledo's history goes. Almost every surface is decorated; the frescoes alone are worth a trip. The building now houses the Museum of Visigothic Culture. Admission €2. Calle de San Román, Tuesday- Saturday 10-2 & 4-6, Sunday 9-3.
Santo Tomé Church
The classic Mudjéjar bell tower notwithstanding, the main draw here is El Greco's masterpiece, The Burial of the Count of Orgaz. Santo Tomé: admission €3 or free with tourist bracelet. Plaza del Conde, 4. Daily 10-6:45 March 1-October 15, and 10-5:45 October 16-February 28.
El Salvador Mosque & Church
A multi-layered site with remnants from Roman times. Humble figurines and other contemporary decorations juxtaposed with the ancient artifacts create a peculiar effect in this former mosque. Iglesia del Salvador: admission €3 or free with tourist bracelet. Plaza el Salvador. Daily 10-6:45 March 1-October 15, and 10-5:45 October 16-February 28.
Southwest & Jewish Quarter
El Tránsito Synagogue & Sephardic Museum
A spectacular evocation of Granada's Alhambra, courtesy of patron Samuel Ha-Leví Abulafia, Jewish advocate and treasurer to King Pedro. This late 14th-century structure is one of only two synagogues in the city to survive, and one of the most beautiful fusions of its three cultures. Sephardic Museum: admission €3. Calle Samuel Levi. March-October: Tuesday-Saturday 9:30-7:30, Sundays & holidays 10-3. November-February Tuesday-Saturday 9:30-6, Sundays & holidays 10-3.
Santa Maria la Blanca Synagogue
Another small-but-gasp-inducing space, and possibly the oldest surviving synagogue in Europe. The austere Santa Maria la Blanca is dominated by a hypostyle hall of octagonal columns topped by horseshoe arches, evoking Andalusia's mosques. Recent restorations have done away with many of the Christian features added when the synagogue was converted to a church. Admission €3 or free with tourist bracelet. Calle de los Reyes Católicos, 4. Daily 10-6:45 March 1-October 15, and 10-5:45 October 16-February 28.
San Juan de los Reyes Monastery & Church
The San Juan de los Reyes marks the end of medieval Spain's diversity and tolerance. Queen Isabella and King Ferdinand made a political statement by founding a monastery on the site of a major marketplace in the Jewish Quarter, and reinforced it by constructing it in the pure-Christian Gothic style. Fresh off their conquest of the final Muslim territory in Spain, the monarchs even adorned the San Juan de los Reyes' façade with chains from "liberated" Granada Christians. The purge of Jews and Muslims would follow shortly.
On the inside, it's easier to ignore the propaganda and focus on the architecture. The San Juan de los Reyes makes the Gothic style flamboyant, with swooping curves and dramatic carvings. The cloister is particularly captivating, with endlessly entertaining sculptural details. We've seen quite a few cloisters by now, and this is one of the best. Admission €3 or free with tourist bracelet. Calle de los Reyes Católicos, 17. Daily 10-6:45 March 1-October 15, and 10-5:45 October 16-February 28.
Practicalities
Arriving by train is ideal, since the Neo-Mudéjar station is a treat in itself. High-speed trains to Madrid take about 35 minutes and operate frequently throughout the day. Although the train station lies within walking distance of the historic center, most of the way is uphill. We opted for a taxi, which costs only a bit more than two bus tickets. Since the train station doesn't have a permanent taxi stand, it's a good idea to have a taxi app ready – we didn't, and wound up waiting in the heat for about 10 minutes.
Visitors who plan to partake in Toledo's nightlife might want to stay closer to the Plaza del Zocodover, while those looking for quiet and views should consider the Jewish Quarter. We liked the location of La Posada de Manolo, on a peaceful little street just around the corner from the cathedral and the center of town. Breakfasts on the top-floor terrace were a treat, and the staff was wonderful.
Further Reading
For more on the city's history and architecture, see our post on Toledo's Mudéjar mosques, synagogues, and churches.