Ancient Greeks associated the islands in the Bay of Naples with the Sirens. Today Ischia is famed more for the restorative powers of its volcanic waters – but the landscape's seductive quality remains. Sandy beaches with thermal vents, hidden grottoes, and lava spires mix with lush ravines and hillside terraces. As the largest of Campania's islands, Ischia could easily take weeks to explore. Those with less time can choose from the highlights below. Though the island makes an easy day trip from Naples or Capri, we recommend at least one overnight stay for optimum bliss.
Ischia Overview
Ischia lies about an hour's ride by hydrofoil or 90 minutes by ferry from Naples. Most towns lie on the edge of the island with Mount Epomeo dominating the middle. Rising to a height of 800 meters (2,600 feet), the volcano is currently in a "quiescent" phase, releasing heat through countless thermal vents scattered in and around the island.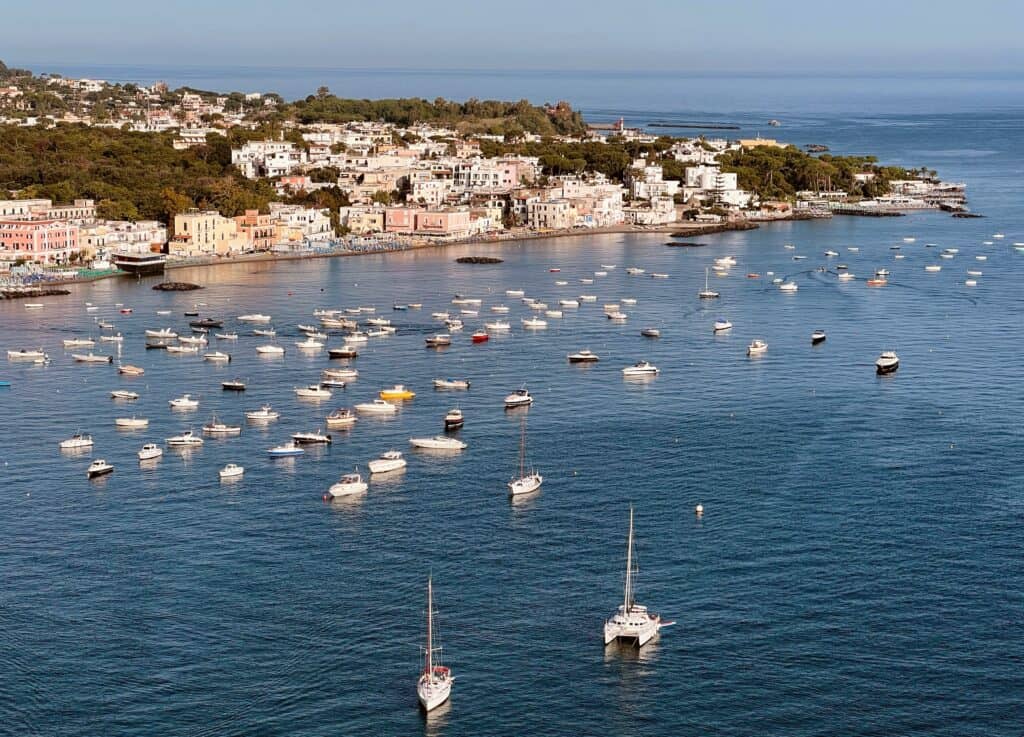 Ischia's main ferry and bus terminal lies on the northeast side of the island, in Ischia Porto. Along with the adjoining village of Ischia Ponte, this is the island's largest settlement. Other towns include Casamicciola and Lacco Ameno in the north, Forio in the west, and Sant'Angelo and Barano in the south.
All sites below can be found on our Google map.
Ischia Highlights
Castello Aragonese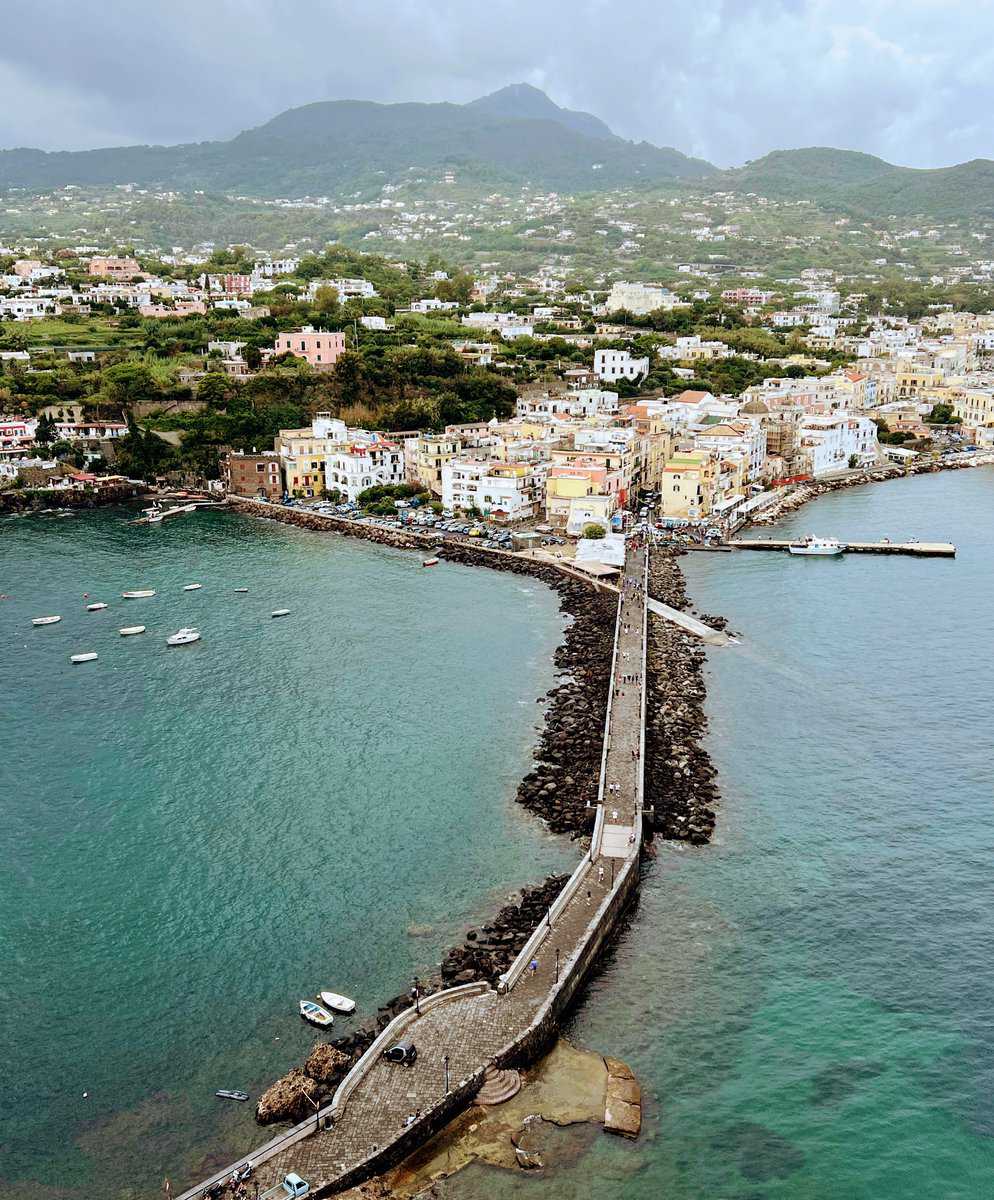 Just off the village of Ischia Ponte, a rock-lined causeway leads out to the Castello Aragonese, an ancient fortress and sanctuary. With wraparound views, the miniature island –arguably the most spectacular site on Ischia– deserves at least a few hours.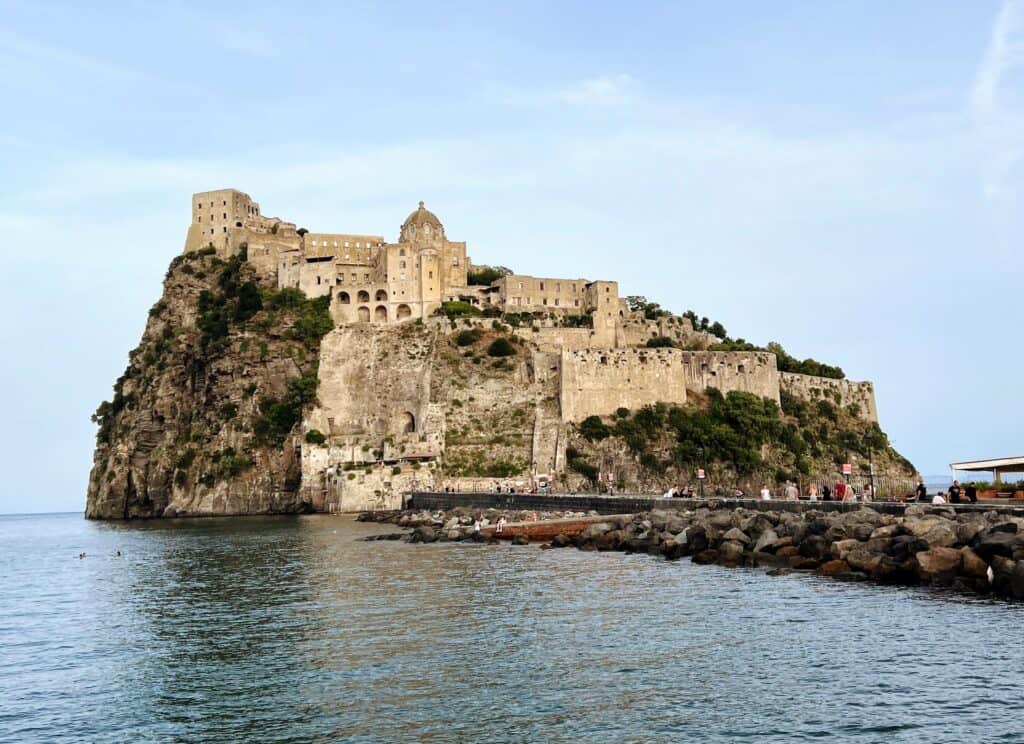 Terraced gardens, vineyards, and orchards mingle with remnants from an ancient Greek colony, a medieval castle, and a convent. Tunneled passages and meandering paths wind between buildings stretching back nearly 2,500 years. Notable spaces include an open-air Baroque church, a museum of weapons from the Middle Ages, and a macabre crypt. Art is everywhere, from frescoes by the school of Giotto to modern installations in the numerous churches.
Tickets for the Castello Aragonese come with a map and written guide. The complex has two cafés and a renowned restaurant. We spent three nights in the converted monastery hotel – see our post for more information.
Thermal Waterpark
Ischia's legendary thermal springs can be found all over the island. We spent an afternoon at the Negombo waterpark, with 22 acres of gardens, pools, and caves sprawling across the hills surrounding San Montano Bay. From pillars pouring water onto stiff muscles to a grotto evoking ancient Roman caldariums, the park's 14 basins feature just about every size, material, and temperature. Sampling them all takes anywhere from a few hours to most of the day. Negombo also offers access to one of the island's best beaches, the Spiaggia di San Montano.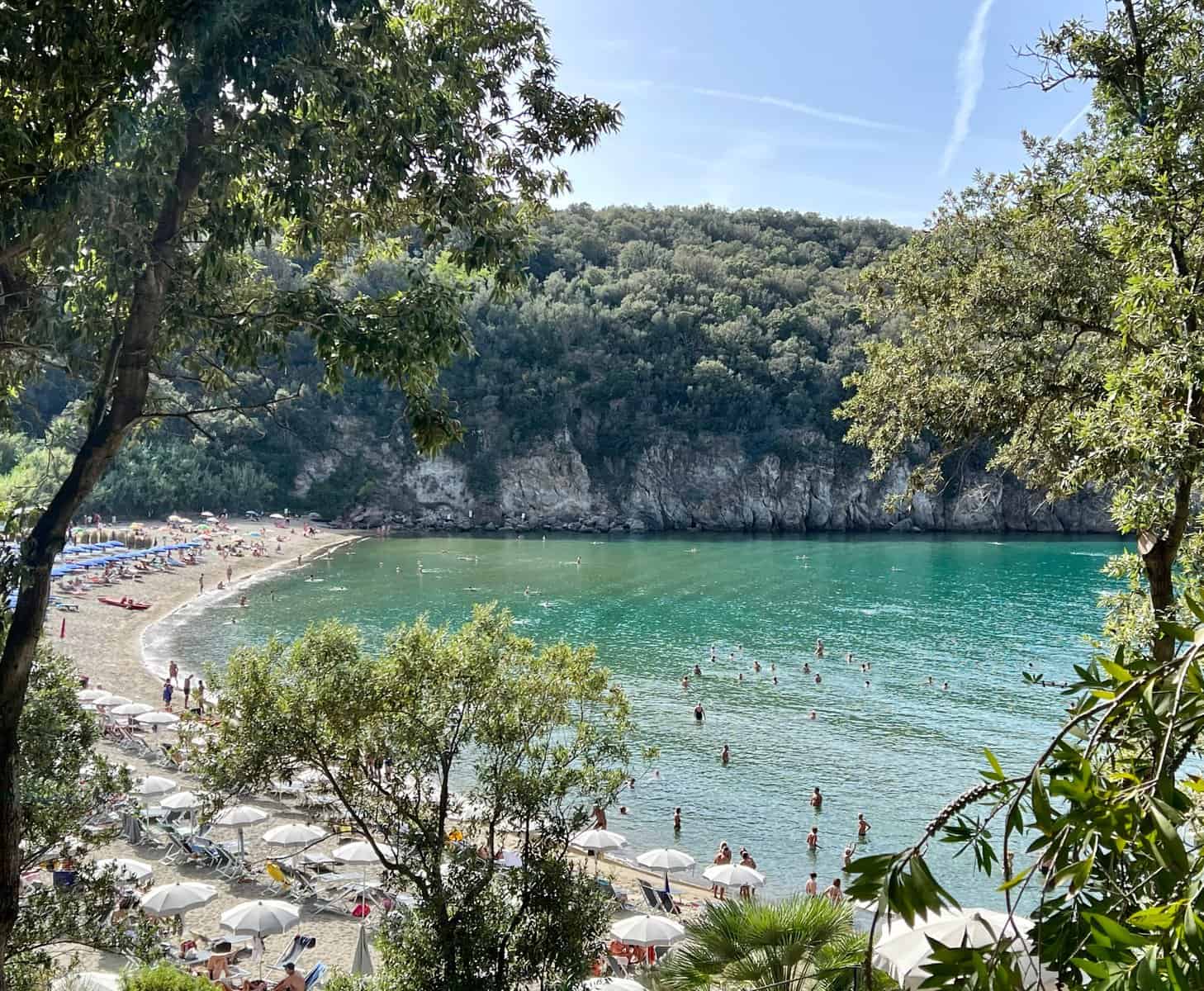 Negombo is open from 8:30-7, late April through early October. Prices vary according to season and the number of visitors; check a recent price chart for details. The CD, CS, 1, and 2 bus lines have a "Parco Negombo" stop, between the towns of Lacco Ameno and Forio. Signs help guide visitors along the 10-minute walk downhill to the entrance. For more information on Ischia's bus system, see below.
Sant'Angelo and Maronti Beach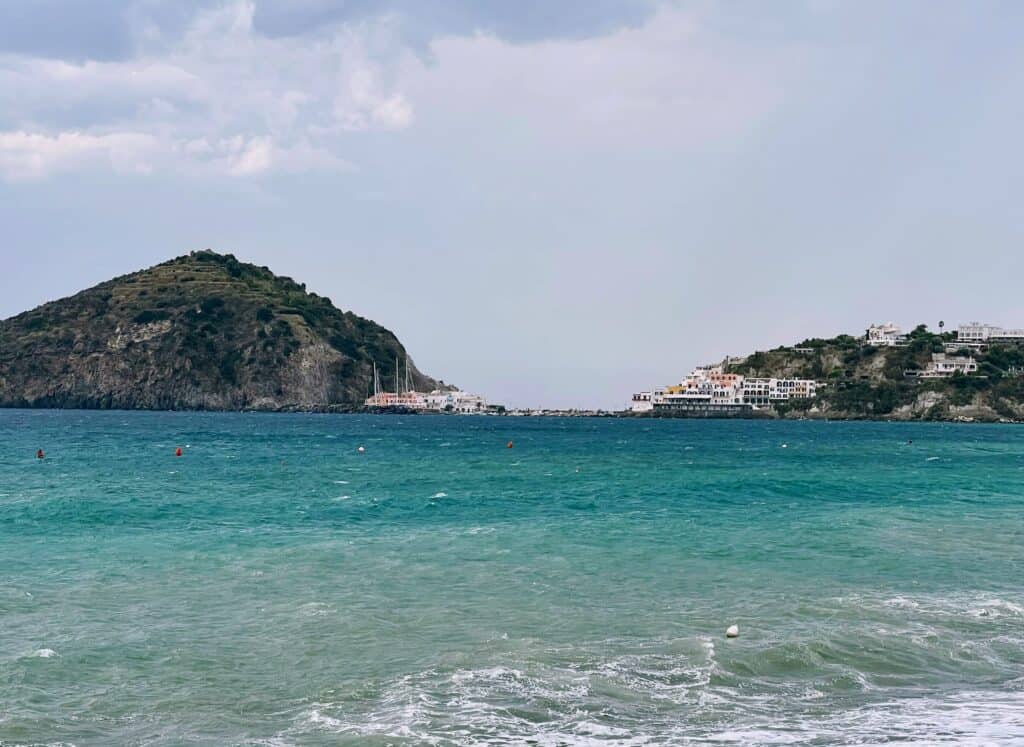 We'd planned to spend a full day exploring the beaches around Sant'Angelo. The ancient fishing village – scenic in its own right – offers access to a handful of smaller beaches and coves. A 10-minute walk leads to Fumarole and the beginning of Maronti Beach. Fumarole is named for its many steam vents, some of which heat the sand and rocks enough to cook food. Maronti's renowned expanse holds multiple public and private areas along its 10 km length, with hot springs and restaurants bordering various stretches.
Unfortunately it started to rain just after we arrived, so we hopped on a bus to Forio.
Forio
Forio's population of about 12,000 makes it the second-largest town on Ischia. A promenade goes from the Chiesa del Soccorso past the port to the laid-back Chiaia beach. From Forio, one can walk up to another beach at San Francesco or the gardens of La Mortella.
La Mortella Gardens
The Giardini La Mortella is a paradise unto itself. Inspired by the Alhambra, the garden takes advantage of Ischia's subtropical landscape. Lady Susana Walton arrived on Ischia in 1949 with her husband, composer William Walton, and spent more than five decades developing the property.
Beginning with epic-scale greenery and water features near the entrance, visitors can wander twisting paths up the hillside to a diverse array of lush scenes. In one, a raw stone table and seat create a spot to contemplate the view. In another, life-size crocodile sculptures skulk near a pond of water-lilies.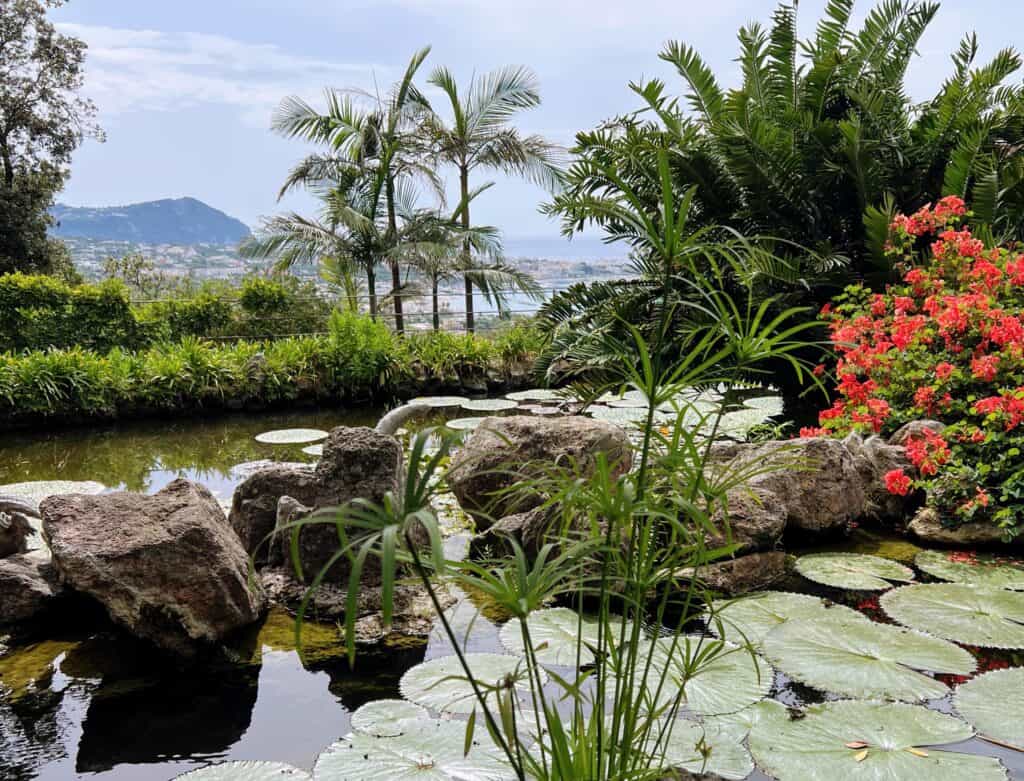 Besides the botanic garden, La Mortella also houses the couple's music foundation. During warmer months, a Greek-style amphitheater overlooking the bay hosts outdoor concerts.
Giardini La Mortella is open from early April through the end of October. The website has information on visiting the gardens and concert schedules. The bus stop on the CD, CS, 1, and 2 lines is a five-minute walk, with signs posted along the way for guidance.
Ischia Transportation
Getting to Ischia
The journey to Ischia is a treat, with incredible views of Naples and Mount Vesuvius. Large ferries take a bit longer than the pricier hydrofoils. The latter tend to be cancelled during stormy weather and may not be the best choice for those prone to seasickness.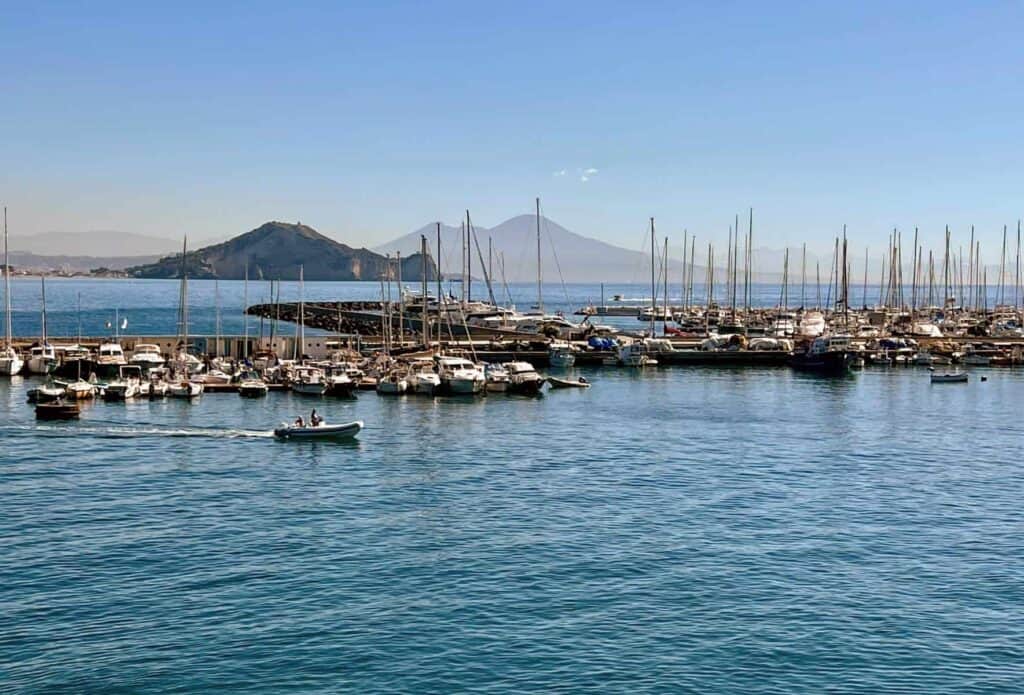 While Ischia Porto is the main point of departure, some boats also stop in Casamicciola Terme or Forio.
From Naples, larger ferries depart from the Porta di Massa, while hydrofoils and catamarans use the Molo Beverello port. During summer, it's a good idea to reserve in advance, especially for the smaller boats. We travelled in early September, and purchased ferry tickets at the port.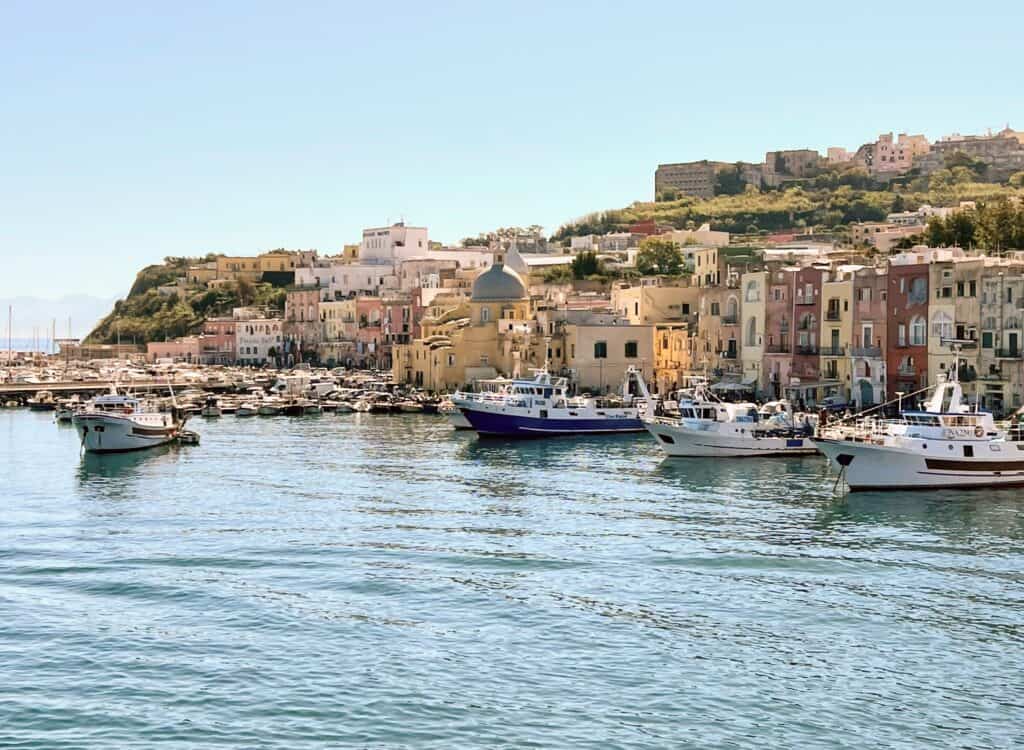 Many routes between Naples and Ischia stop at the island of Procida along the way. Seasonal hydrofoil routes also run from Ischia to Sorrento, Capri, and the Amalfi Coast.
Ischia's Bus System
Ischia's bus system is comprehensive, inexpensive, and fairly reliable – although it can get crowded during peak hours.
E.A.V. runs the regional buses, with 16 numbered lines plus a circular route. The latter runs in both directions: 'CD' stands for Circolare Destra and runs clockwise, while 'CS' stands for Circolare Sinistra and runs counter-clockwise. Ischia's tourist information portal has maps and links to current timetables.
Tickets and passes are sold at bus stations, bars, tobacconists, newsstands, travel agencies, and some hotels. A single ride costs €1.50, and the ticket must be stamped on board the bus. We appreciated the flexibility of the unlimited-ride pass, which costs €4.50 for one day, €11 for three days, or €14.50 for a week.
Ischia Onscreen & Further Reading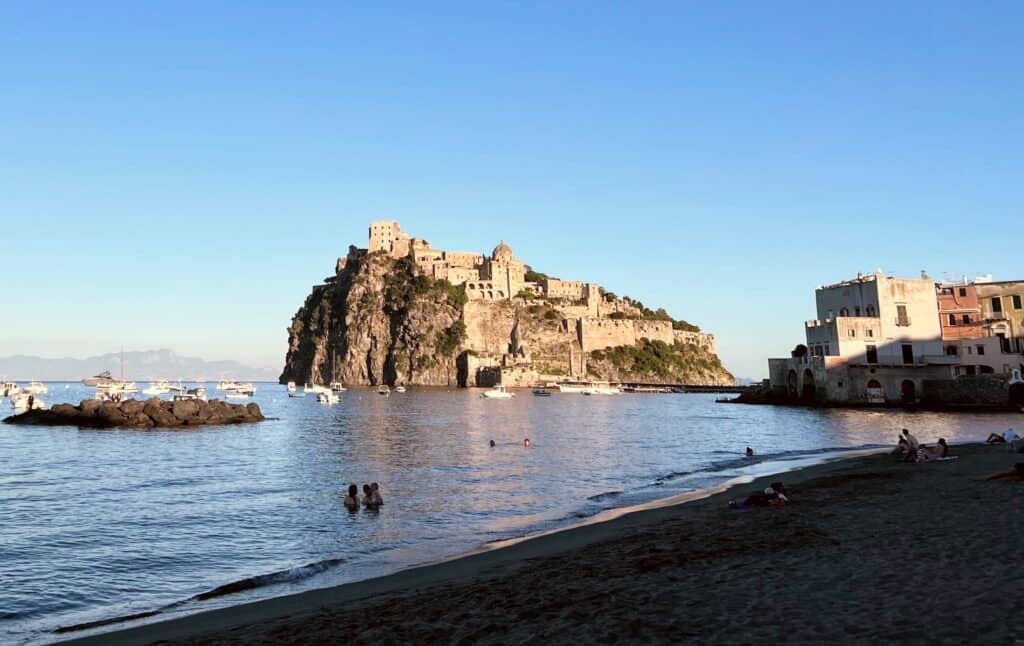 "The Talented Mr. Ripley" (1999) is one of many films shot on Ischia. More recently, the island featured in the television adaptation of Elena Ferrante's novel My Brilliant Friend.
For more on the area, see our other posts:
Amalfi Coast: Atrani and Vietri sul Mare.