Although Gaudí never designed any buildings in his hometown, Reus contains the greatest concentration of Catalan Art Nouveau work outside of Barcelona. Lluís Domènech i Montaner, the movement's other great architectural master, led the way with four projects in Reus between 1896 and 1911. The Casa Navàs is his only residential design open to the public and the sole Modernisme building with a completely original interior. Reus also boasts dozens of buildings by lesser-known architects influenced by Domènech and Gaudì.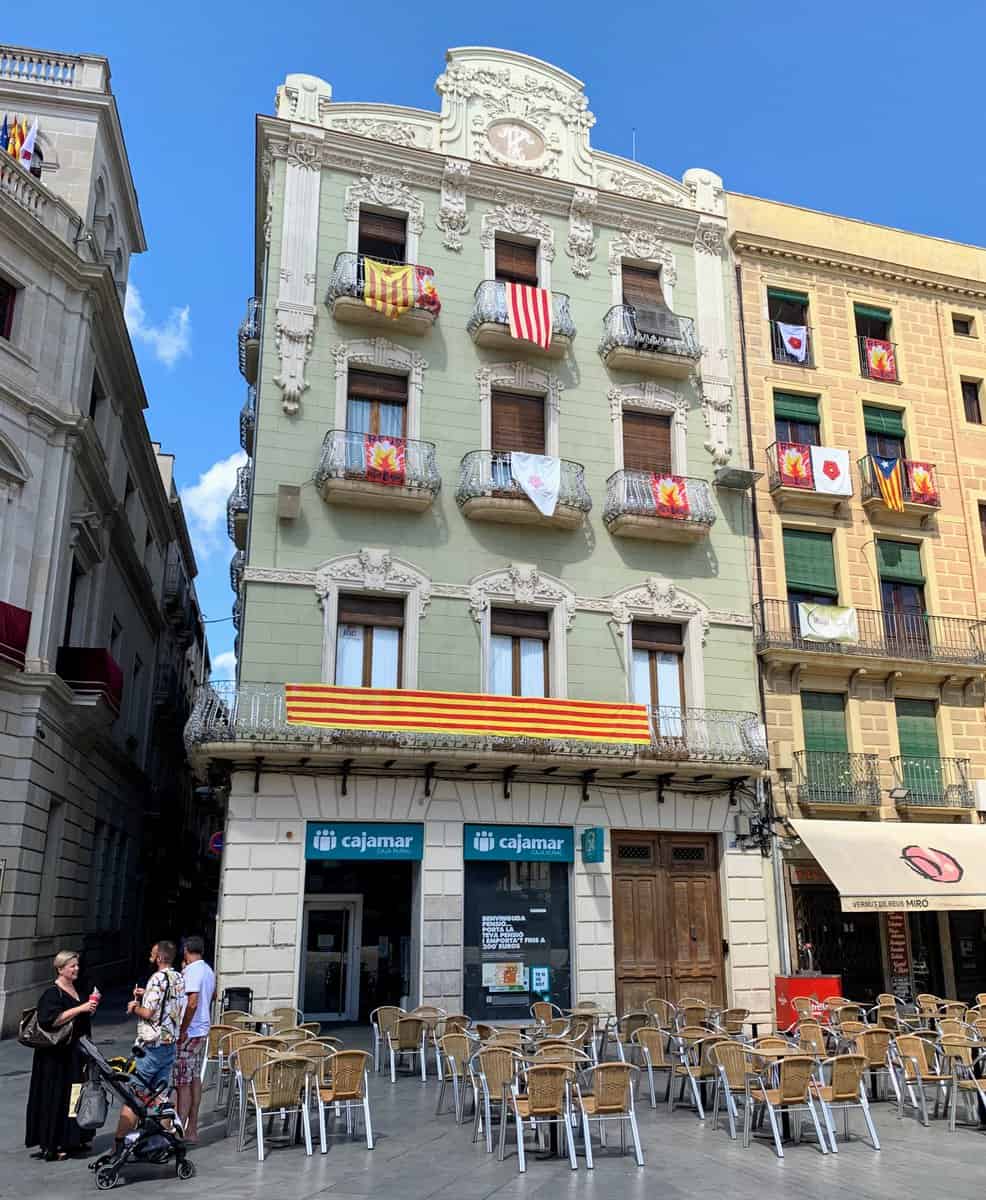 Located about an hour from Barcelona by train, the small city makes an ideal day trip either by itself or in combination with nearby Tarragona, Sitges or the beaches along the Costa Dorada. Bursting with civic pride, Reus is a breeze to navigate, with excellent tourist services and atmospheric squares. We've included a list of information and links in the Practicalities section at the end of the post.
Reus and Catalan Modernisme
Although it feels a world away from the bustle of Barcelona, Reus was once Catalonia's second-largest city. At the end of the 18th century the brandy trade brought an economic boom to Reus and encouraged its citizens to commission works in the new style emerging from Barcelona. The Renaixença, or rebirth, of Catalonian culture combined with industrialization's changes to everyday living inspired architects like Gaudí and Domènech to use traditional forms in unprecedented ways.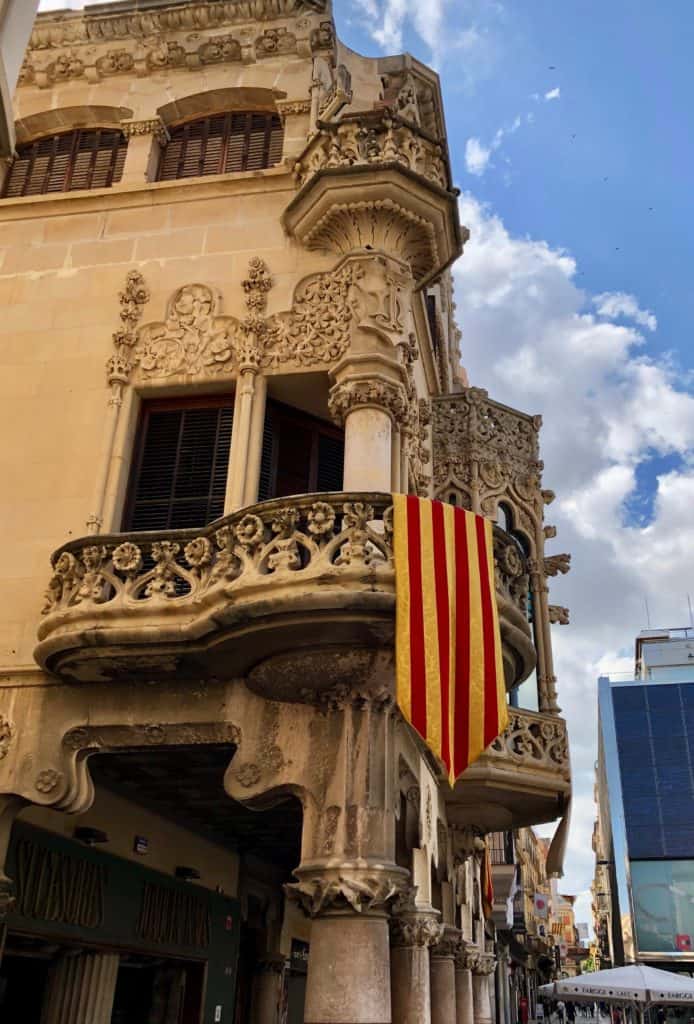 Modernisme, as the movement became known, gave Art Nouveau a regional twist – one with distinct political overtones. Progressives wanted to break from Spanish control to create a more democratic environment; conservatives wanted a return to the glory days of Catalonia in medieval times. Catalan heritage might be used to promote a revolutionary worker's cooperative or a traditional church. In Reus we can see the contradictory ideas associated with Modernisme's creators and patrons.
Reus's residents must have felt the cultural upheavals of the era keenly, as they produced a number of the era's great architects, including Gaudí as well as Joan Rubió i Bellver, Francesc Berenguer, and Pere Caselles i Tarrats.
The Work of Lluís Domènech i Montaner in Reus
Domènech rapidly rose to prominence as an architect in the 1890's, with designs that exploited the strengths of local building techniques and crafts. His early travels exposed him to the latest ideas about architecture and its potential transform the way people live. Along with his design projects, he wrote extensively and eventually led the school of architecture in Barcelona. Although he came from a wealthy family, Domènech displayed progressive tendencies and led an active political life. However, he wasn't above taking some commissions from conservative patrons. In Reus, we can compare his forward-thinking Pere Mata Institute with the luxurious Casa Navàs.
Casa Navàs
Reus's crown jewel, the Casa Navàs dominates the Plaça Mercadal. Like many of Domènech's buildings, it features arches with unusual shapes and a wealth of sculptural detail. Instead of his signature use of brick, Domènech chose costly stone to make a suitably grand façade for his client.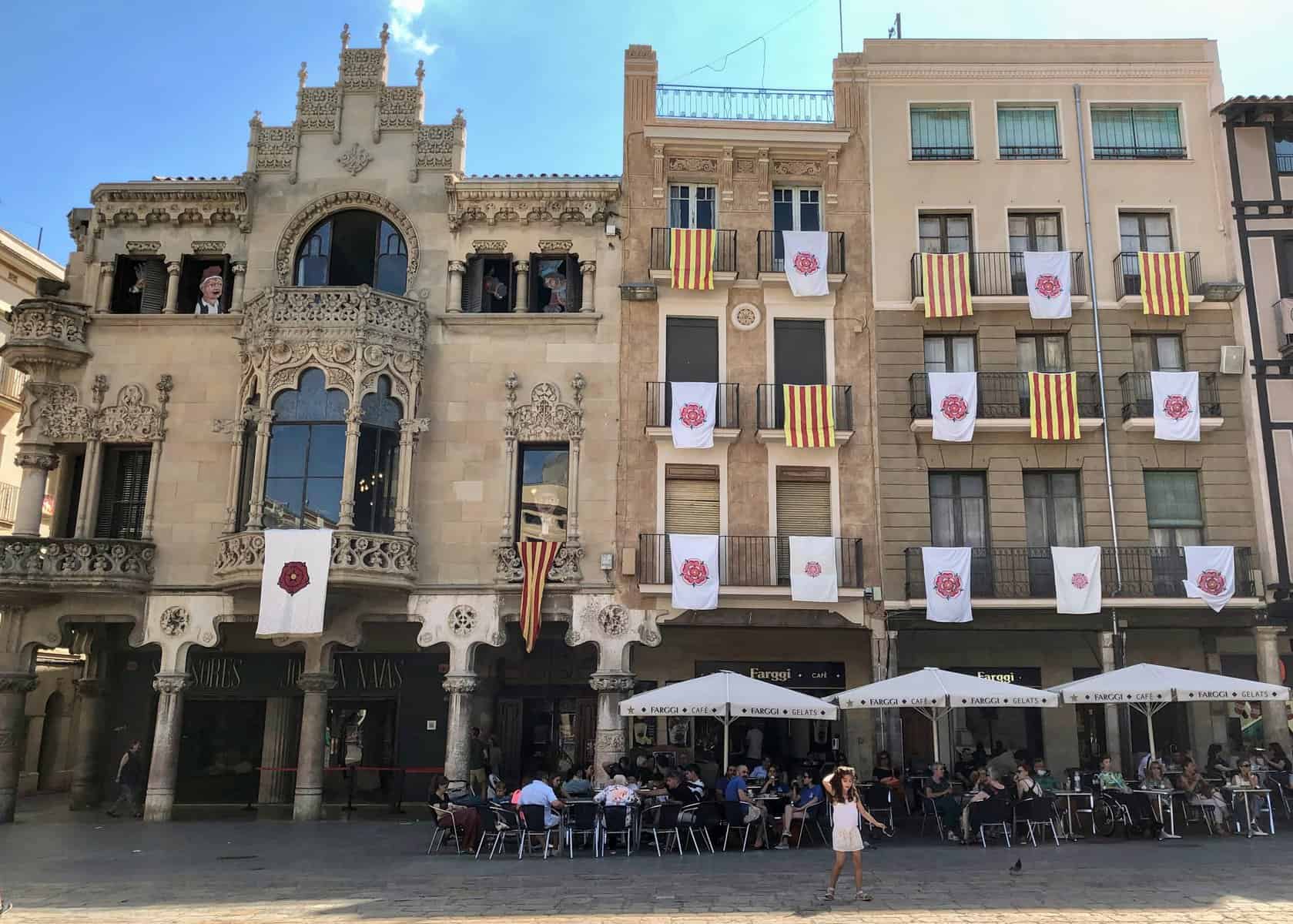 Joaquim Navàs, a wealthy businessman, hired Domènech in 1901 to create an opulent showcase of 'good taste'. No expense was spared to make this edifice a riot of light and color, with seemingly every variety of craftsmanship under a single roof: stained glass, carved stone and marble, mosaic, woodworking, textiles, wrought iron, and more. Domènech gave form to Catalan nationalism's conservative ideals by creating a salon on the upper level where the patriarch could receive visitors and conduct business, all while watching over the everyday citizens in the square below.
Political upheavals intensified in the ensuing decades, but the family's dedication to the building never wavered. The Spanish Civil War led to the imprisonment of one of Navàs's heirs, while a bomb destroyed part of the structure in 1938. Nonetheless, the family continued to maintain the property for many decades at considerable cost – long after Modernisme fell out of style. When minimalist architecture took the world by storm, there were calls to demolish buildings by Domènech and others. Not everyone kept the faith, but the Navàs family did.
Today the Casa Navàs hosts small group tours, as well as specialty visits with historic reenactments, vermouth-tasting, and so on. (Note that self-guided visits are not offered.) In order to preserve delicate elements such as silk covering the walls, visitors are not allowed to photograph anything outside the entrance hall and central stairwell. See the Casa Navàs website for the full schedule and prices.
Casa Gasull & Casa Rull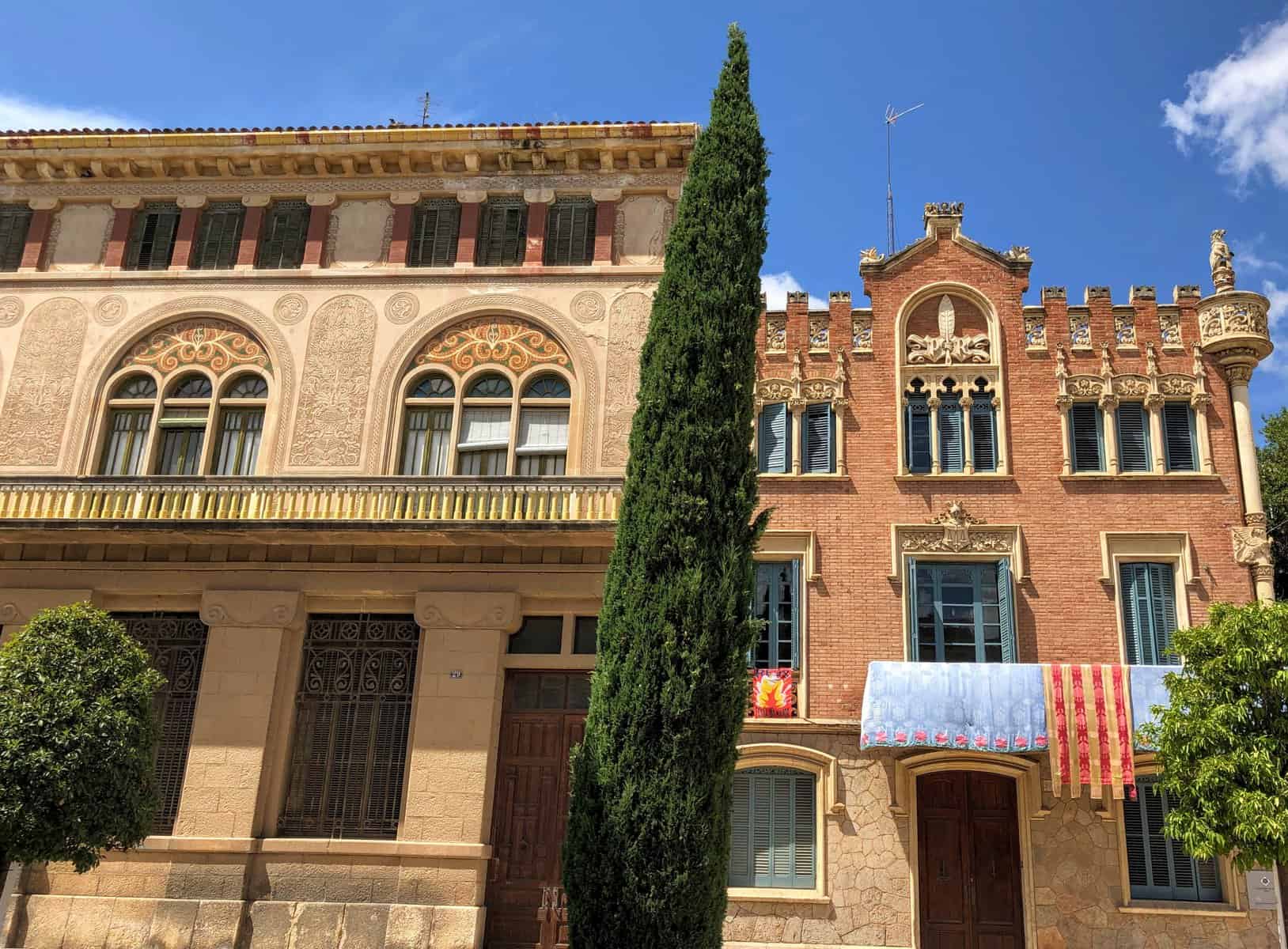 Not far from the Casa Navàs, two adjacent Domènech houses demonstrate his versatility. Looking at these two houses, it's hard to believe they were designed by the same person.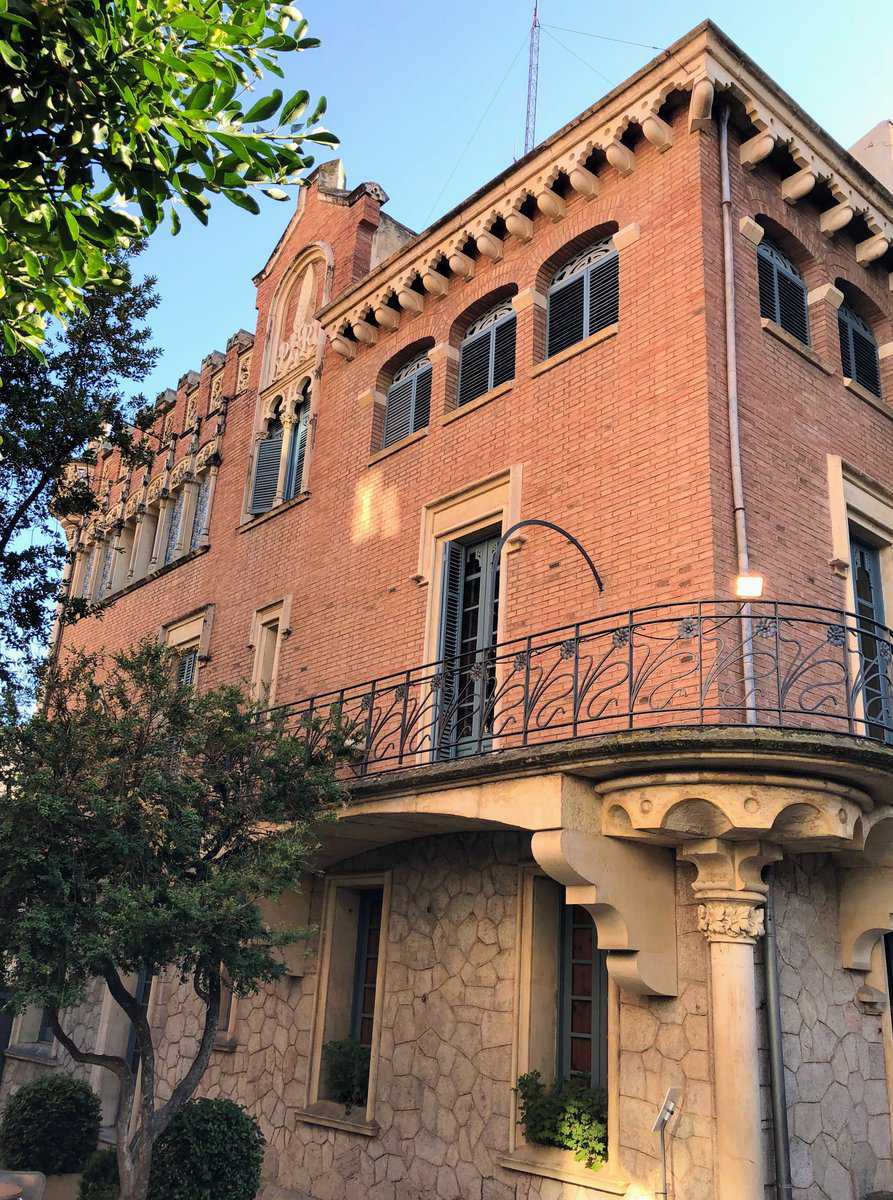 In 1900, the Casa Rull brought Modernisme into the city center. Domènech kept the ground floor simple, which makes the fantasy of medieval, Islamic, and organic forms above even more striking. The building now houses the Municipal Institute for Cultural Action, and the garden is set up as an informal café with a view of the building's third façade. Unfortunately, the original interior no longer remains.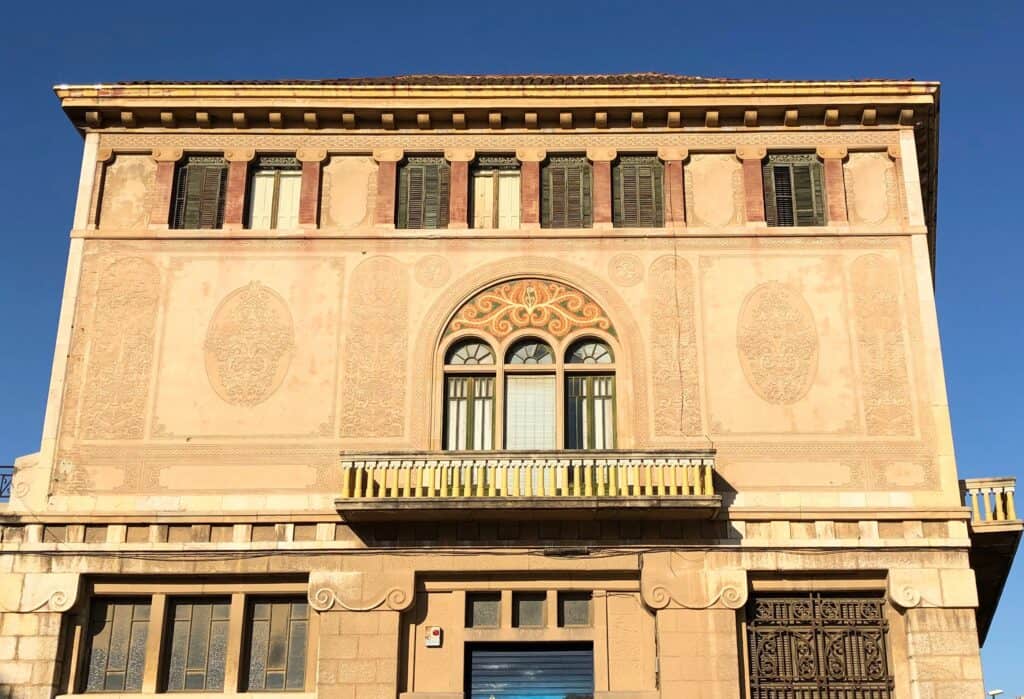 On the left, the Casa Gasull represents a departure from Domènech's signature style. Ten years after the Casa Rull, many architects were moving away from Catalonia's heritage and towards a more classical Mediterranean style. Noucentisme, as it came to be known, streamlined the ornamentation of Modernisme. The Casa Gasull uses exotic elements but generally feels descended from an ancient temple rather than a castle. Like the Navàs family, the Casa Gasull's owners preserved Domènech's design for over a century. The building still houses the original client's olive oil business on the ground floor with residential quarters above.
Incidentally, the contrasting structures triggered a lawsuit when the newer Casa Gasull allegedly blocked light from the older Casa Rull.
Institut Pere Mata
In 1896, a group of local business owners formed a nonprofit with the aim of building a psychiatric hospital in Reus. In keeping with the latest research on hygiene and mental health, the project began with a working committee composed of two celebrated psychiatrists, municipal architect Pere Caselles i Tarrats, and Domènech.
Domènech's innovative design includes independent pavilions based around a garden, as well as a rich repertoire of decorative elements which nonetheless maintain sanitary conditions. With plenty of light and good ventilation, the institute demonstrated how architecture can promote health – a revolutionary concept at the time.
The Pere Mata Institute is located just outside of central Reus, about a 35-minute walk from the Plaça Mercadal. Currently it offers tours only on weekends, with limited afternoon and evening hours. Sadly, we visited Reus on a local holiday and weren't able to tour the building. See the Practicalities section below for recommendations on timing a visit.
More Modernisme in Reus
Reus's official "Modernisme Route" includes 26 buildings in the city center, many of which were designed by Pere Caselles i Tarrats.
Caselles's design for the Escoles Prat de la Riba drew heavily from his work with Domènech on the Pere Mata Institute. Its rooms have plenty of light and ventilation as well decorative elements such as blue-and-white tile work.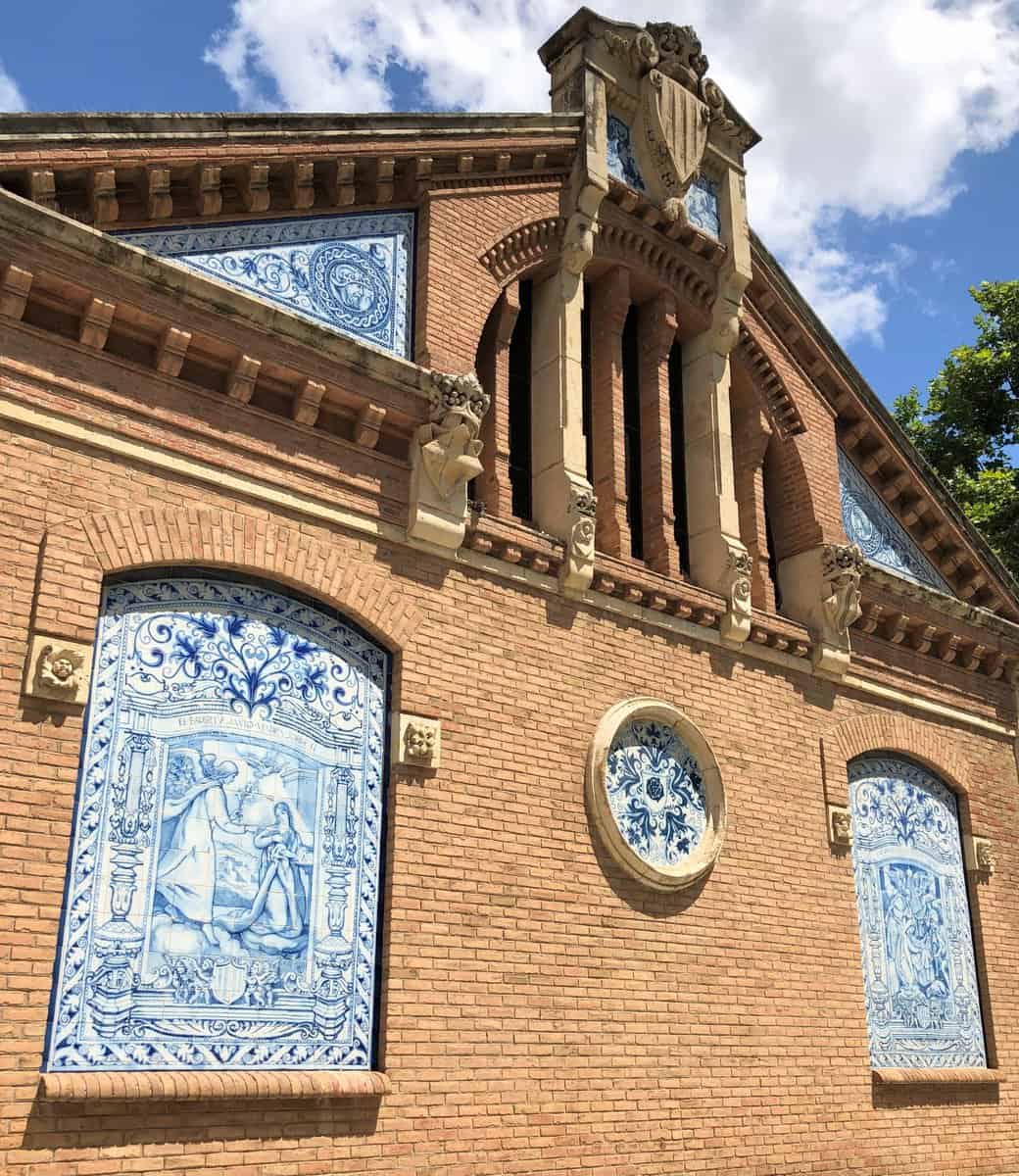 Another native son, Joan Rubió i Bellver, returned to Reus to design the Casa Serra (1924) and the Antituberculosis Dispensary (1926). These relatively late buildings exhibit the classical columns and Mediterranean flavor of the Noucentisme. The dispensary's rustic style recalls Rubió's buildings in Mallorca. (See our posts linked below for more on his work on the island.)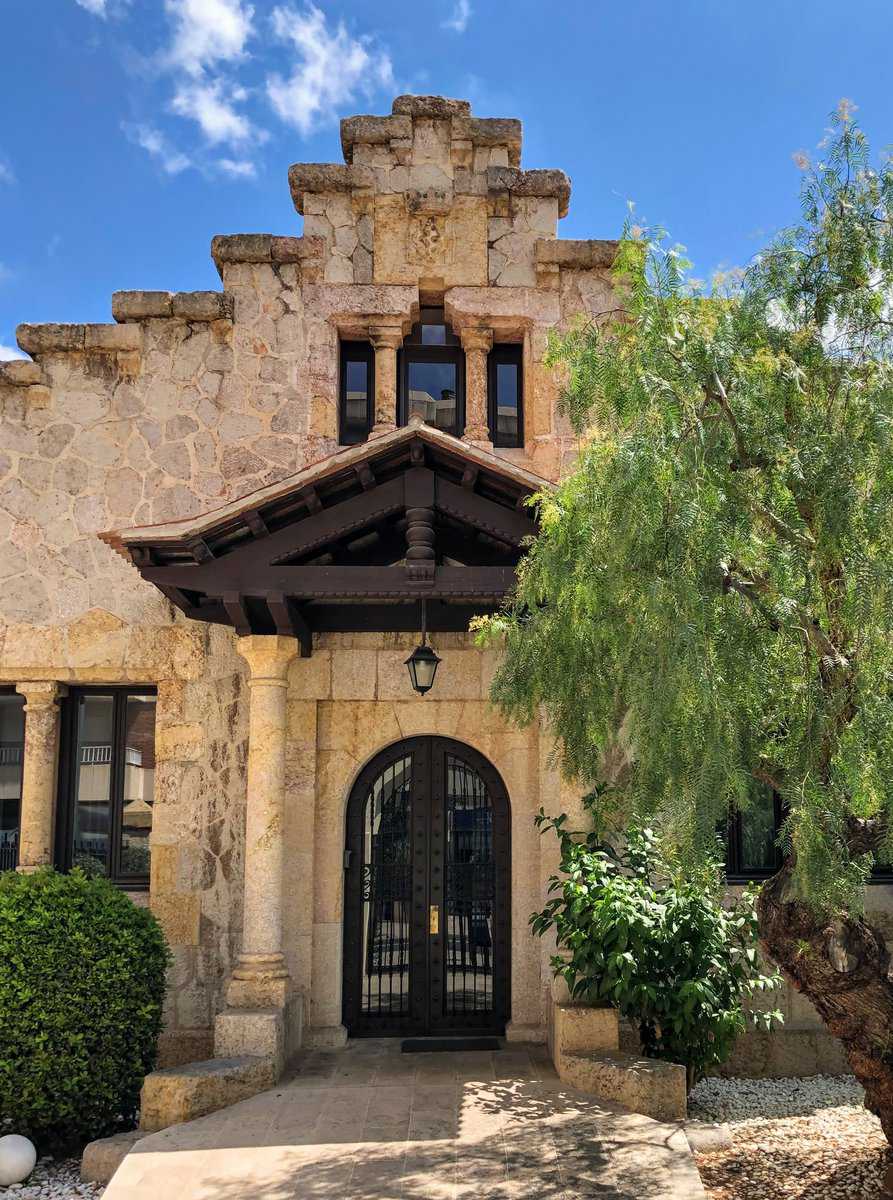 Gaudì afficiandos can explore his childhood environs, including the house where he grew up, schools he attended, and churches he observed. On the Plaça Mercadal, the Gaudí Centre pays tribute to his life and revolutionary work.
For more on Modernisme, see our posts on Domènech's Hospital de Sant Pau, Barcelona's Ruta del Modernisme, Gaudí and Modernisme in Palma, and Art Nouveau in Sóller, Mallorca.
Practicalities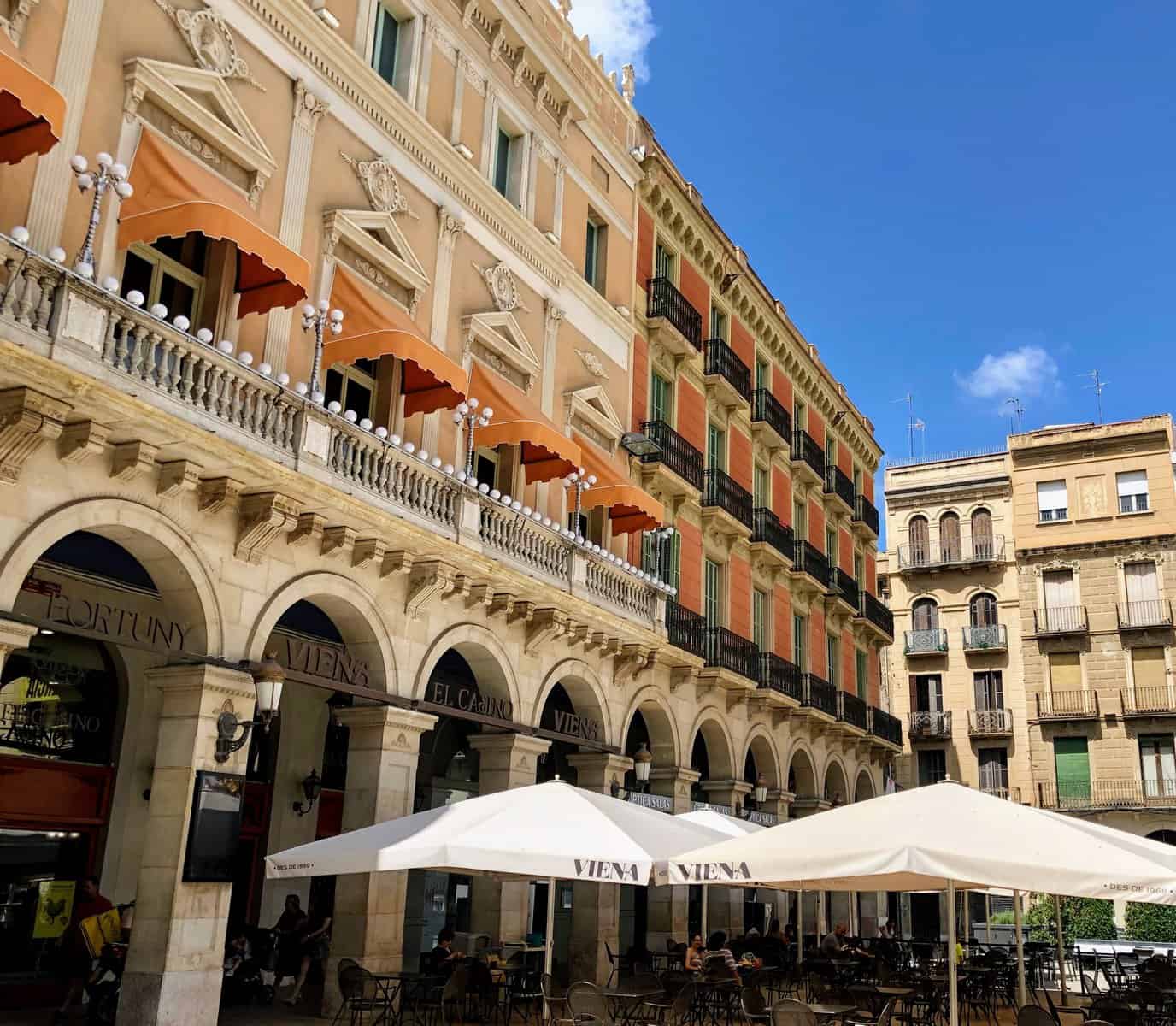 The local tourism board offers an excellent map with 29 Modernisme buildings, seven Gaudí-related sites, and various other places of interest. Helpful tourist offices are located at the Carrer Sant Joan 34 A and in the Gaudí Centre on the Plaça del Mercadal.
Those who want to see both the Pere Mata Institute and the Casa Navàs will need to time their trip carefully. We recommend contacting the tourist office ahead of time to confirm tour schedules on the day they plan to visit Reus.
Most visitors describe the walk (about half an hour) to the Pere Mata Institute as pleasant. Buses may shorten the trip, though the closest stop is about 10 minutes' walk from the site. A taxi runs around €10.
Reus's train station is just a few minutes' walk from the city center.