All roads do not in fact lead to Rome, as Milan and its buildings have been demonstrating for two millenia. Milan has been a model of innovation ever since it took over as the capital of the Western Roman Empire, and its diverse architecture provides a potent mix of sights. There's no better place to experience Italy's architecture in past, present, and future tense, from ancient colonnades to the latest in eco–friendly high-rises and everything in between.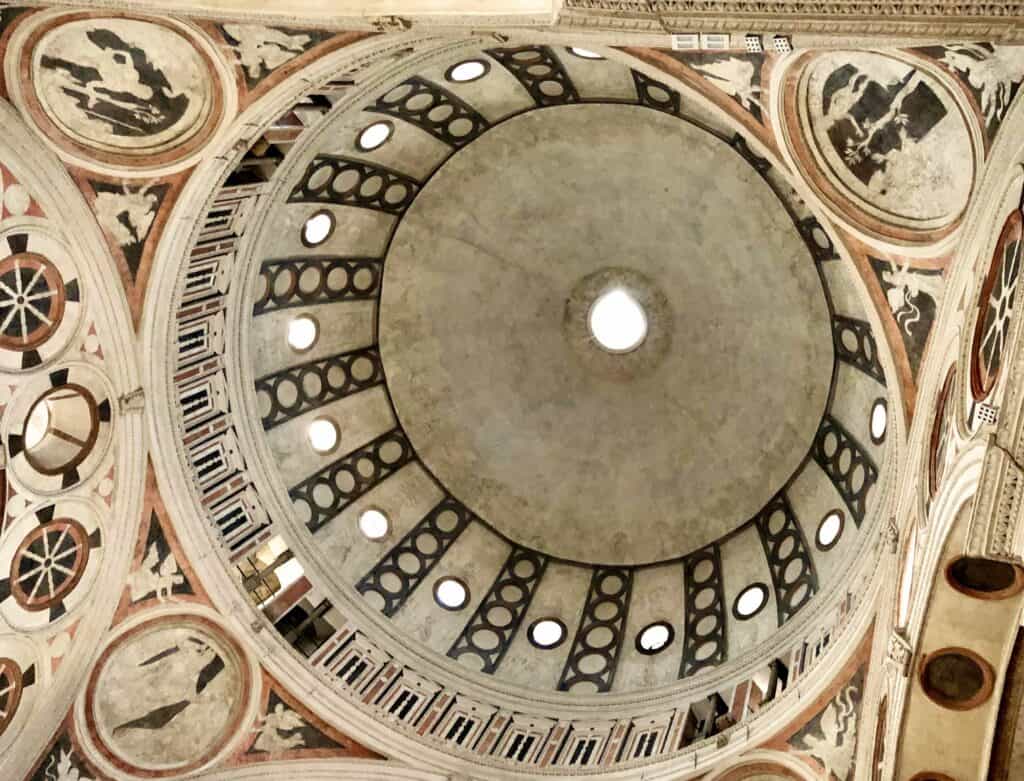 Milan is laid out like a target, with distinctive neighborhoods ringing the historic center. For those with limited time, we recommend picking a neighborhood or two rather than trying to sample the entire smorgasbord of sites. Possibilities include ancient churches by the canals, Art Nouveau palazzos around Porta Venezia, and the cutting-edge architecture of Porta Nuova. We've curated a list of landmark buildings, grouped by location and marked on a Google map.
Central Milan: Piazza dei Mercanti, Duomo, Galleria Vittorio Emanuele II, La Scala, Casa degli Omenoni, San Satiro, L.O.V.E. a.k.a. The Finger
Navigli: Armani/Silos and MUDEC, Sant'Eustorgio, San Lorenzo
Zona Magenta: San Maurizio, Santa Maria della Grazie, Leonardo's Vineyard, Sant'Ambrogio
Parco Sempione: Acquario Civico, Triennale Museum, Branca Tower, Castello Sforzesco
Brera: Santa Marine del Carmine, Pinacoteca di Brera, Botanic Garden, Astronomy Observatory & Museum, San Simpliciano
Porta Venezia: Art Nouveau architecture, Giardini Indro Montanelli, Villa Necchi Campiglio
Garibaldi & Porta Nuova: Feltrinelli Porta Volta, Piazza Gai Aulenti, UniCredit Headquarters, BAM park, Unipol Tower, Bosco Verticale, Casa della Memoria, Il Rasoio, Torre Arcobaleno
Conclusion: Monumental Cemetery, Further Reading
Central Milan
Without any major geographic features like a river or hills, Milan simply radiated out from its ancient core. Technically the medieval Piazza Mercanti forms the physical and historic epicenter, but the nearby Duomo now reigns as the city's symbolic heart and primary landmark. Buildings around it cater to a huge range of functions, in nearly as many styles.
Piazza Mercanti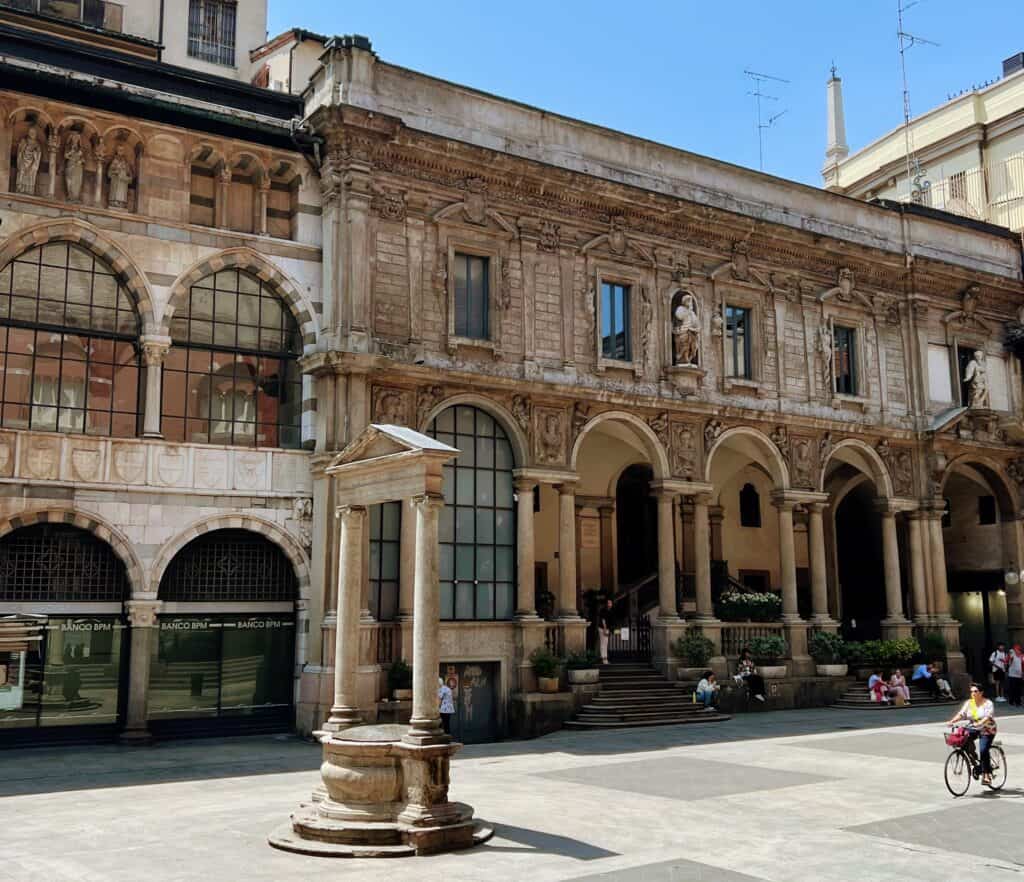 Walking into the Piazza Mercanti can feel like hitting the calm in the midst of a storm: tourist and motor traffic vanish in this medieval square. The Palazzo della Ragione ("Palace of Reason") from 1233 once held the city's administrative heart, and the Torre del Commune tower of 1272 represented the chamber of commerce. A 15th-century Gothic notary's palace and a 17th-century Baroque school round out the buildings, along with a few historic curiosities. For instance, the pit in the center once held a stone where those convicted of bankruptcy would have to expose their bottoms in penance.
Duomo
Constantine issued the Edict of Milan in 313, guaranteeing freedom from religious persecution. Within the year, Christians began a cathedral complex. The current version took nearly 600 years to complete, under 77 different project chiefs.
On the right, the Brutalist Torre Velasca evokes medieval towers in lieu of a typical glass-box design.
Ascending the Duomo's rooftop is a highlight of any visit. Far above the metropolis, one can walk among a three-dimensional filigree of buttresses and sculptures, with epic views in every direction. Reserve tickets in advance during high season; see website for details.
Galleria Vittorio Emanuele II
The Galleria Vittorio Emanuele is the world's oldest shopping center and a model for glass-covered shopping arcades across the globe. It wasn't the first of its kind, but the scale was unprecedented, with space for 1,260 venues on seven levels. Nicknamed il salotto di Milano ("Milan's drawing room"), the Galleria was an instant hit in 1867 and continues to house luxury stores and dining establishments. It also represents an incredible turning point, with industrial cast-iron replacing stone construction and commerce overtaking religion in daily life.
La Scala Opera House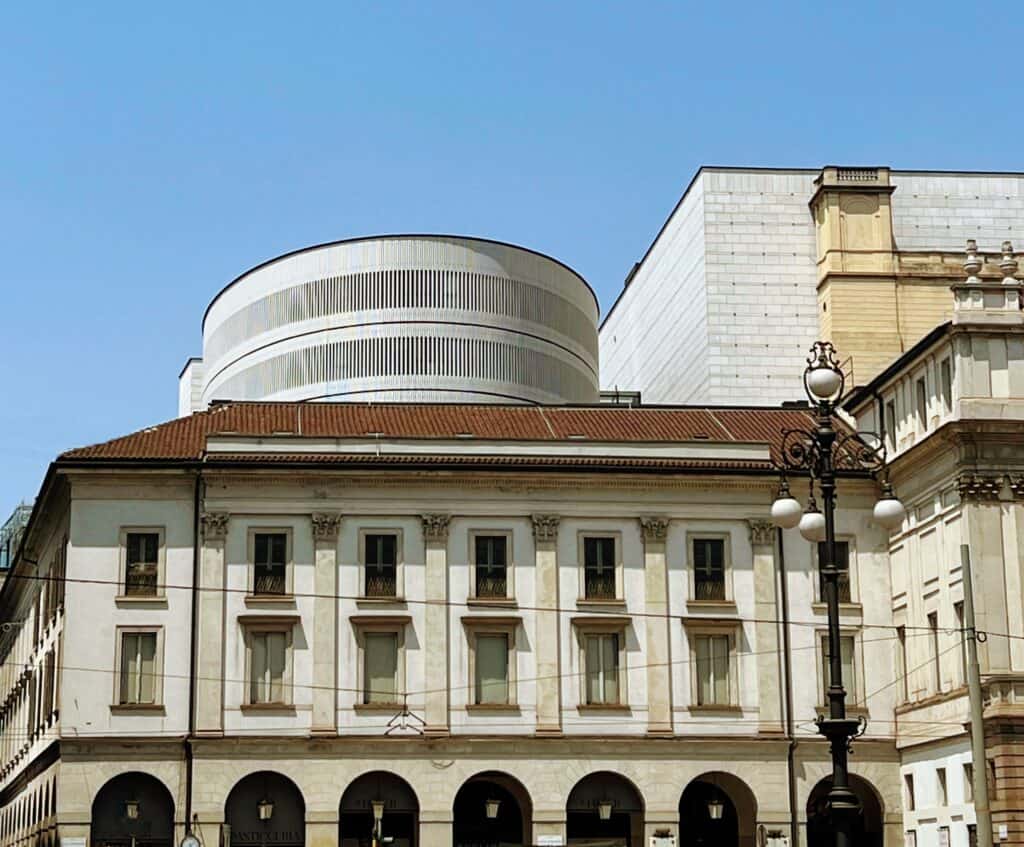 On the other end of the Galleria, the Piazza della Scala provides a suitably grand space for the Teatro alla Scala, considered by many to be the world's foremost opera house. Architect Mario Botta renovated the complex between 2002-04, adding a subtle cylinder and boxy tower behind the Neoclassical façade. The interior dazzles with lavish amounts of red and gold and an enormous scale. La Scala offers guided tours as well as performances.
Casa degli Omenoni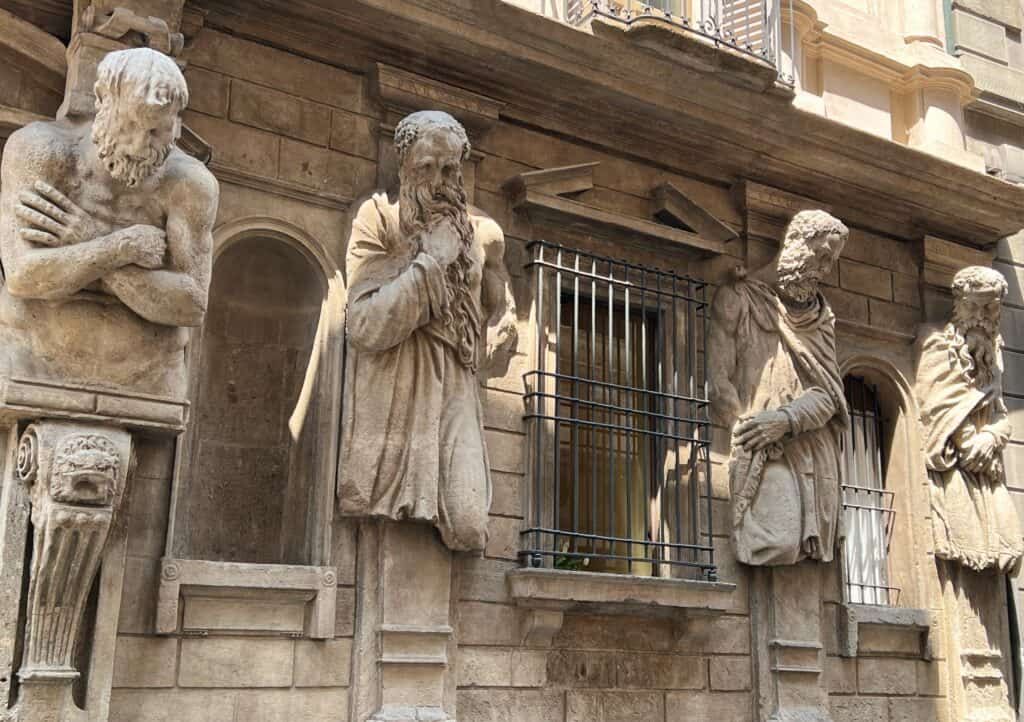 Just off the Piazza della Scala, a 16th century palace provides high drama on a tiny street. The Palazzo Leoni-Calchi generally goes by the nickname Casa degli Omenoni, literally "House of the Big Men". Eight sculptures represent "Barbarian" tribes conquered by Romans. Architect Piero Portaluppi renovated the courtyard in 1929.
San Satiro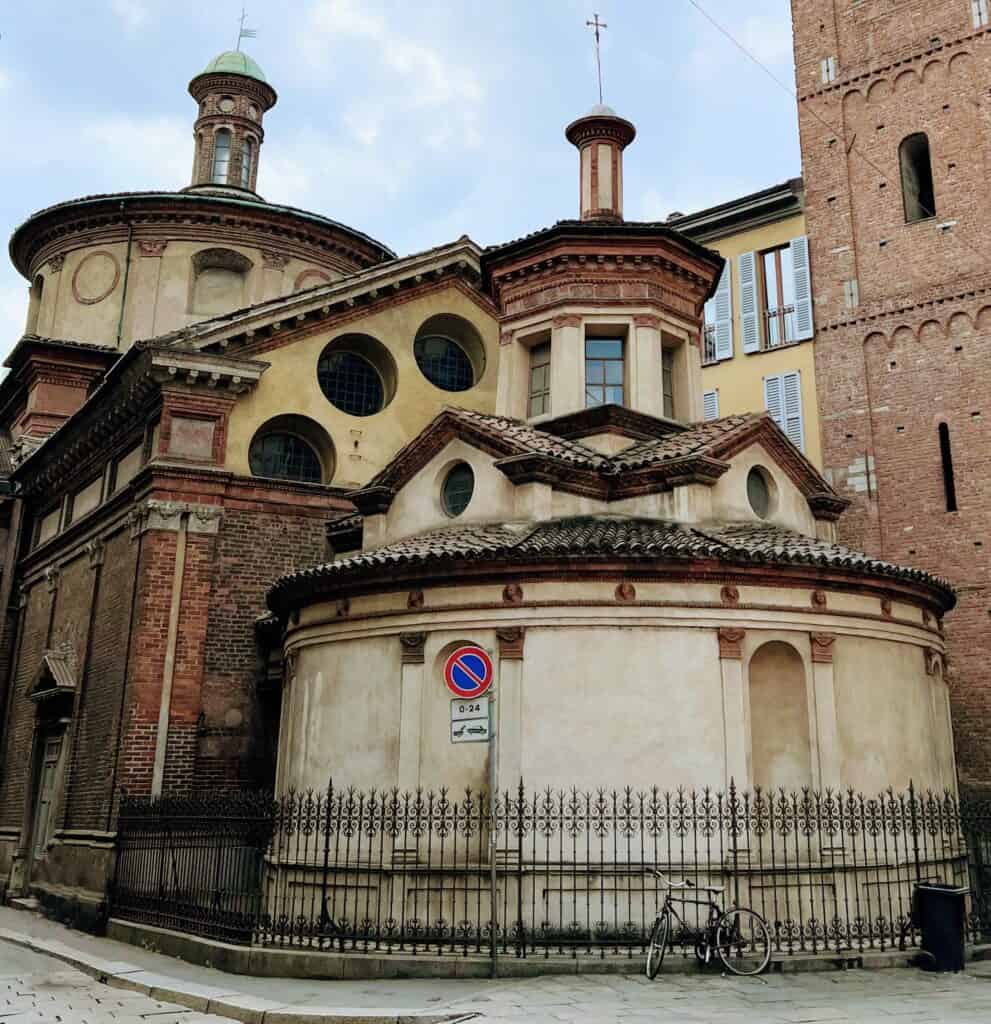 The Chiesa di Santa Maria presso San Satiro squeezes an incredible amount of architecture into a small plot. Bramante's chapel combines a round base with a four-sided transition zone, an octagonal tower, and a round spire – and that's just one part of the building.
Bramante's false perspective (left) uses distorted angles (right) to trick the eye.
Entering through Giovanni Antonio Amadeo's high-octane Renaissance façade, the church seems bigger than it actually is. That's because Bramante harnessed recent developments in perspective to create a trompe l'oeil relief, creating the illusion of space behind the altar. Open weekdays 7:30-12 and 3-6:30, Saturday 3:30-7, Sunday 9:30-12 and 3:30-7.
L.O.V.E. ("The Finger") and Piazza degli Affari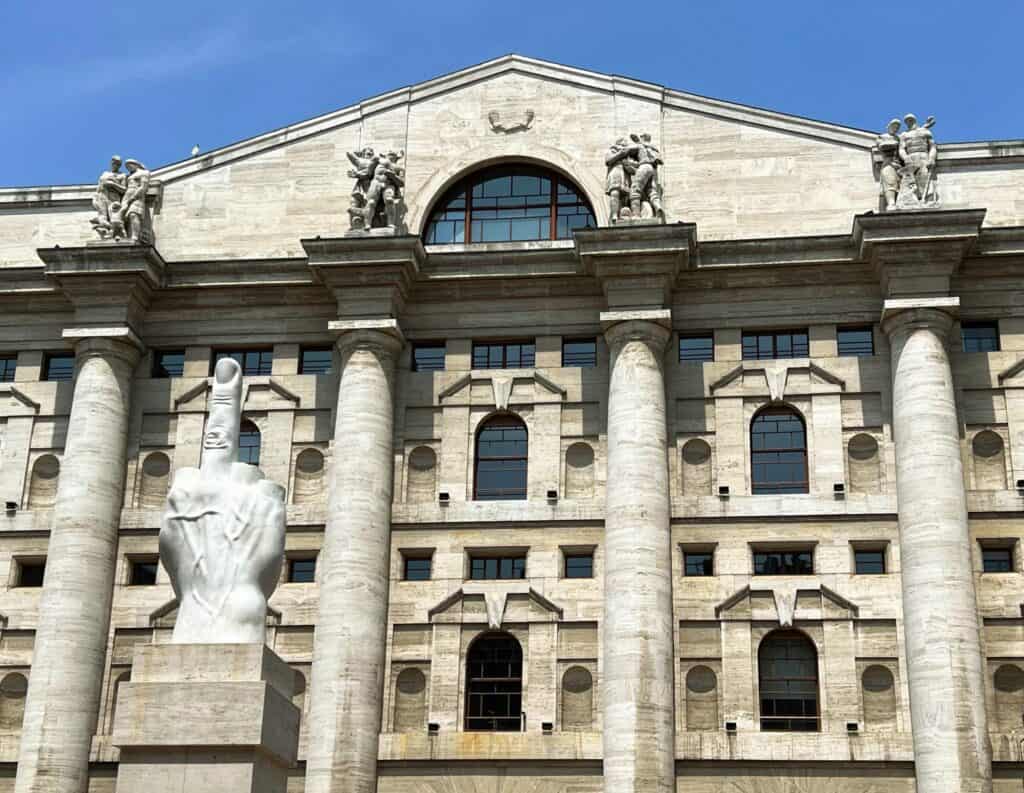 Although it's a work of sculpture, Maurizio Cattelan's statue engages with the buildings around it, especially the Italian Stock Exchange. Popularly known as The Finger, its official title is L.O.V.E. which stands for Libertà, Odio, Vendetta, Eternità (Freedom, Hate, Vengeance, Eternity). The provocative work – directly in front of the Fascist-era Borsa Italiana – is more subtle than it seems at first: the other fingers appear to be severed rather than bent, and the monumental scale recalls an ancient Roman colossus. Although the statue was designed as a temporary installation in 2010, the city government decided to keep the statue permanently.
Navigli District
Back in the days when boats dominated transport and trade, Milan relied on a whole network of canals. As the waterways were filled in, factories took over. In recent decades, lower rents attracted artists and nightlife, followed by cultural institutions. High-profile projects include the Armani/Silos exhibition space and the space-age cloud housing the museum MUDEC. The remaining canals (navigli) create appealing expanses of open space and reflected light, encouraging everyone to slow down. By day, one can peruse the vintage shops along the canals and explore the back streets; at night, wall-to-wall bars take over.
Sant'Eustorgio
Just off the canals' intersection, the Basilica di Sant'Eustorgio is one of Milan's oldest churches. After a thousand years, the structure's appearance settled into the form we see today – with one key addition.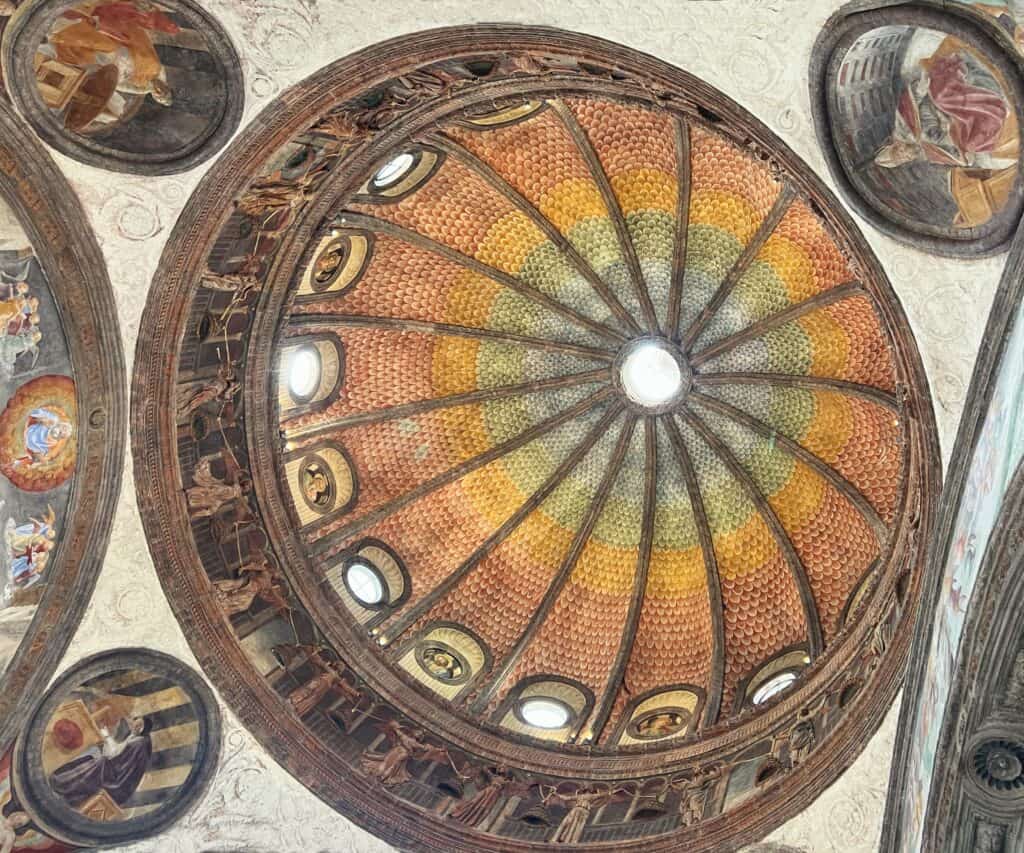 Pigello Portinari, a Florentine representing the Medici Bank, commissioned a chapel in the new Renaissance style. It's based on Brunelleschi's Old Sacristy in Florence, but where that chapel used a limited palette to emphasize geometry, the Portinari Chapel adds color. Rainbows held religious significance, but the chromatic dome also emphasizes the period's fascination with optics. Renaissance writers distinguished four colors in the rainbow, rather than the seven we identify today. Open daily 7:45-12 and 3-6:30.
San Lorenzo Maggiore
There aren't many buildings which feature pieces from every major period over nearly two thousand years. 16 columns, taken from a second-century Roman temple were moved to make a grand arcade for what seems to have been the emperor's own church. Behind them stands a statue of Constantine from the 1930's, while the church itself features a 16th century dome and a 19th century porch.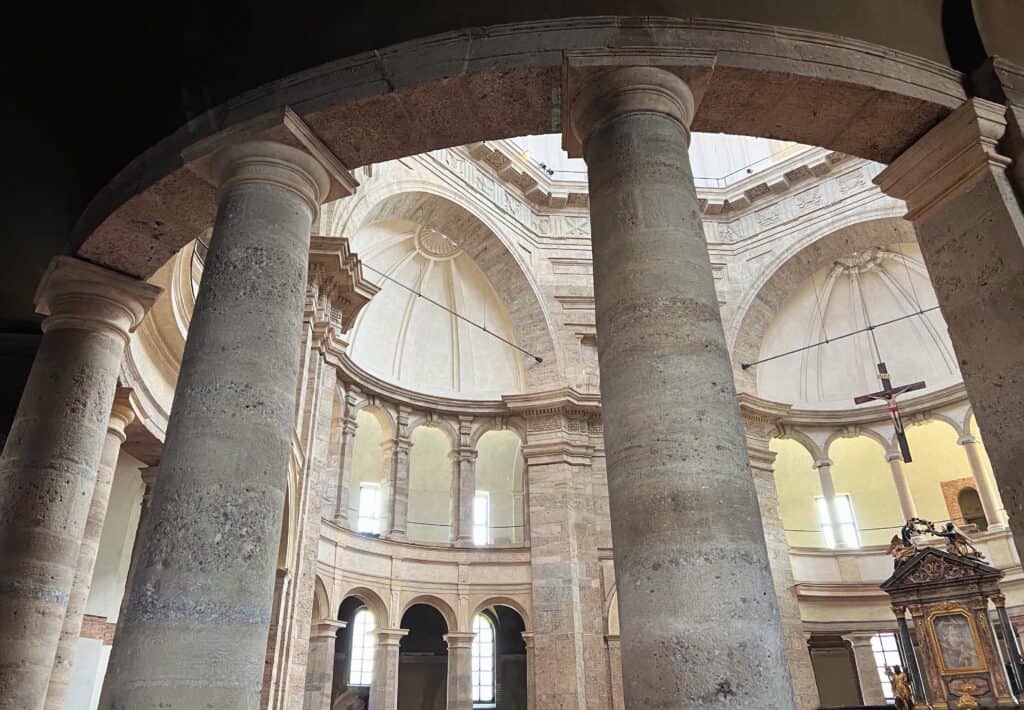 San Lorenzo's imperial influences made this church particularly appealing to Renaissance artists, who were fascinated with ancient architecture; apparently Leonardo and Bramante were taken with the powerful space. Open weekdays 8:30-6:30, weekends 9-7.
Zona Magenta
The area west of the city center remained undeveloped until the 1859 Battle of Magenta. Italian unification helped trigger growth in Milan, including a new district for the well-to-do. With its wide streets, the mostly-residential Magenta neighborhood retains a genteel ambiance.
San Maurizio
Calling this church the "Sistine Chapel of Milan" does it a disservice. It may be covered in frescoes, but they are apples to Michelangelo's oranges. There's more variety here, with plenty of trompe l'oeil architectural elements mixed into figurative paintings in a range of styles. Treasures and oddities include a surprisingly early series of unpopulated landscapes and a picture of Noah's Ark poised on a cylindrical mountain. Bernardino Luini, a member of Leonardo da Vinci's coterie, led the project and contributed some of the most spectacular portions around the central partition.
Santa Maria della Grazie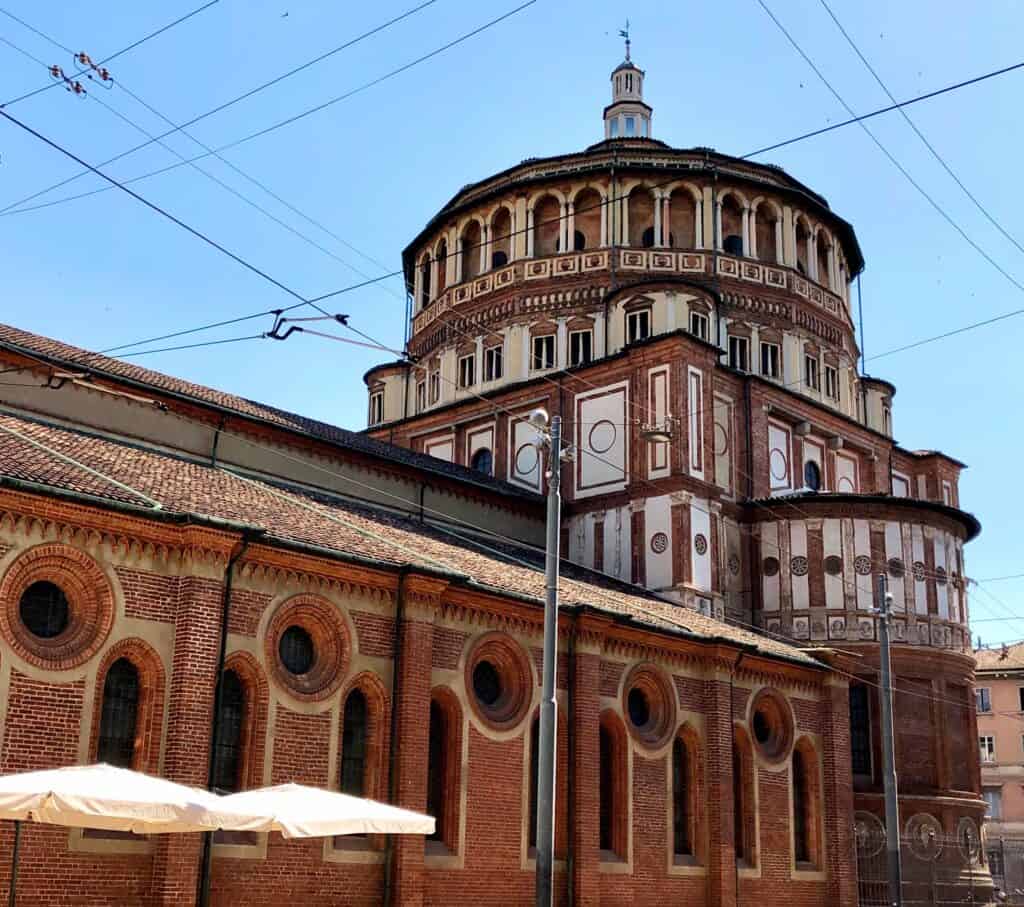 Santa Maria delle Grazie is best known today for housing Leonardo's Last Supper in its refectory, but we recommend visiting the church even if tickets to see the fresco are sold out. While the Duomo is bigger and Sant'Ambrogio has more history, Santa Maria Della Grazie showcases Milanese architecture at its best.
Duke Francesco I Sforza commissioned a convent on the site in the 15th century, in the heavily-patterned Italian Gothic style. His successor Ludovico liked it enough to use it as the family burial site – but decided it needed an update in the new Renaissance style. Attributed to Bramante, the remodel brought unity to a variety of influences, from Romanesque and Gothic to the High Renaissance. Its elegance notwithstanding, the Santa Maria delle Grazie shows an exuberant creativity; one can sense the architect's joy in playing with circles and pattern. See website for visiting information.
Leonardo's Vineyard
Duke Ludovico Sforza granted a vineyard to Leonardo da Vinci, conveniently located near the Santa Maria della Grazie where the artist was working on The Last Supper. Using historical documents, a scholar pinpointed the location in 1920 – which happened to lie adjacent to the Casa degli Atellani (itself renovated by architect Piero Portaluppi). See website for visiting information.
Sant'Ambrogio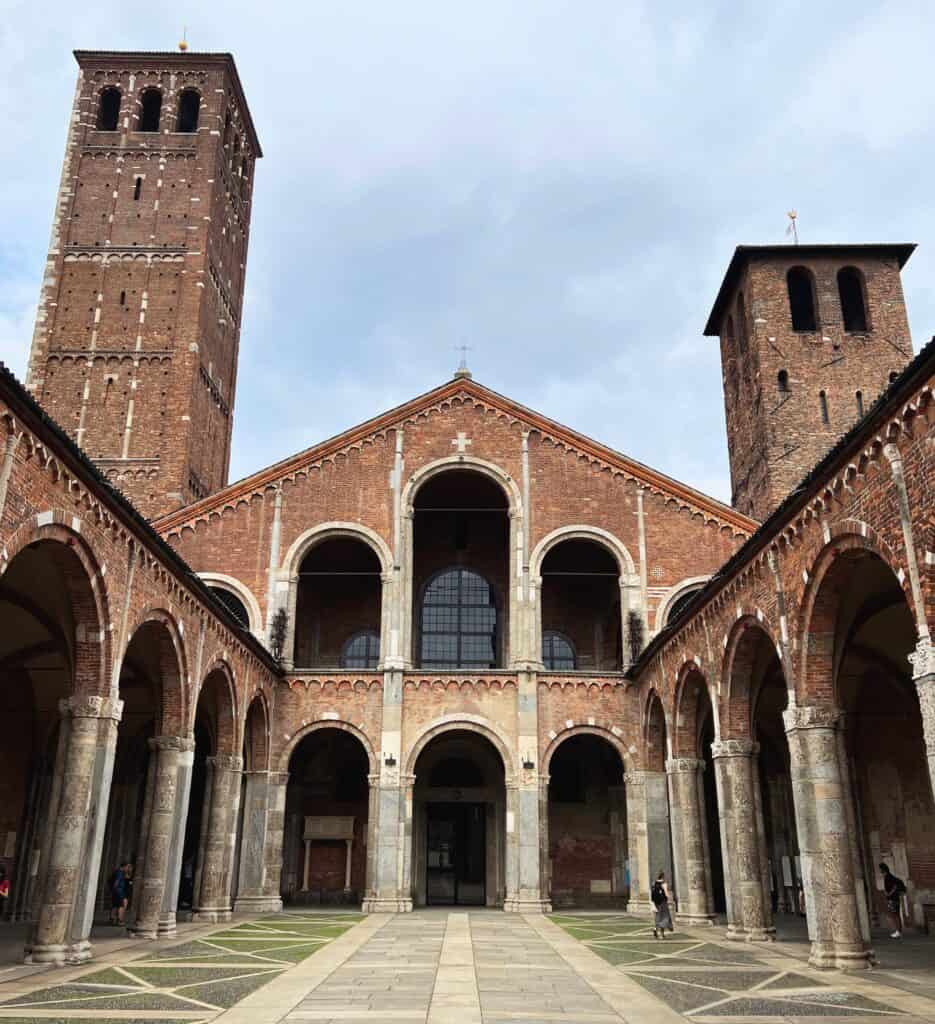 Milan's growth as an independent power began when its governor-turned-bishop (and future saint) Ambrose led the transition from Roman to Christian society. Given Ambrose's outsized impact on history, it's fitting that the church dedicated to him would go on to host so many key events- from coronations of the Lombard Kings of Italy to democratic uprisings.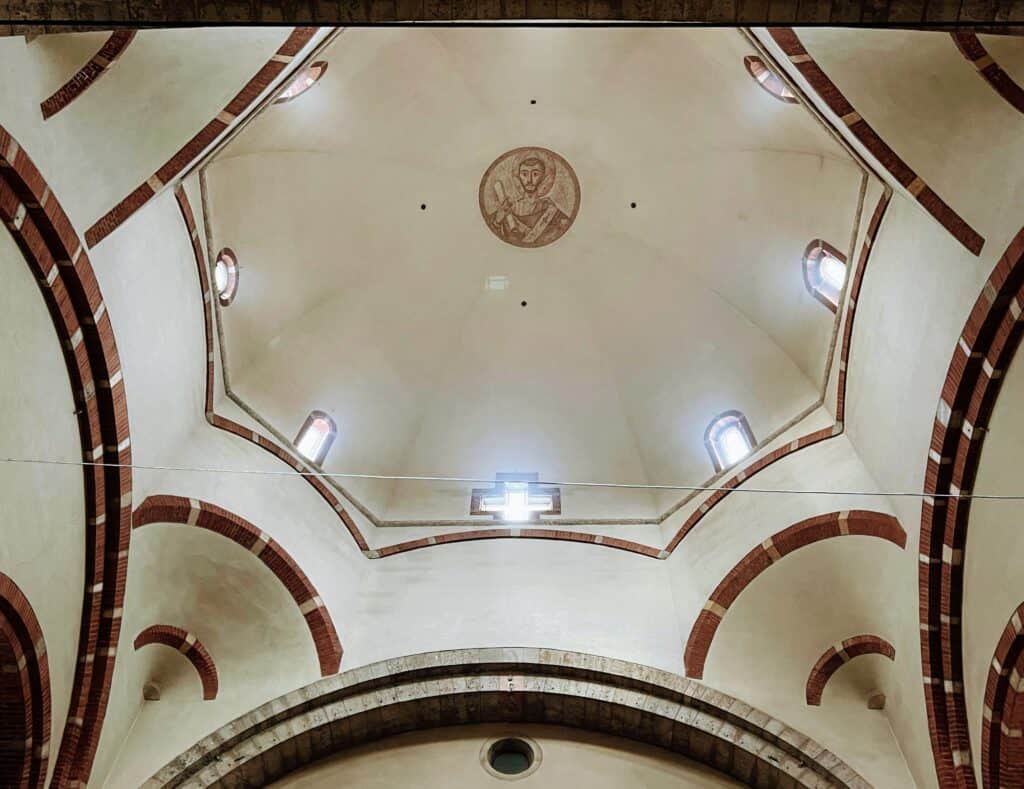 Christianity's sudden transformation from forbidden to dominant religion created a need for lots of churches very quickly. During Ambrose's tenure, a new style developed which employed bricks in a herringbone layout along with recycled marble elements. Quick and economical, Lombard Romanesque architecture prioritized efficiency over grandeur. The Sant'Ambrogio complex expanded over the years to include multiple structures, including a Renaissance cloister attributed to Bramante.
Parco Sempione
Acquario Civico
Parco Sempione is central Milan's largest expanse of green space. Pick a random spot and watch the world go by, wander over grassy knolls, or head to one of the landmarks within. On the eastern side, an Art Nouveau building houses the city's aquarium. The Triennale design museum anchors the western end. Nearby, Gio Ponti's 1933 Torre Branca offers city views.
Castello Sforzesco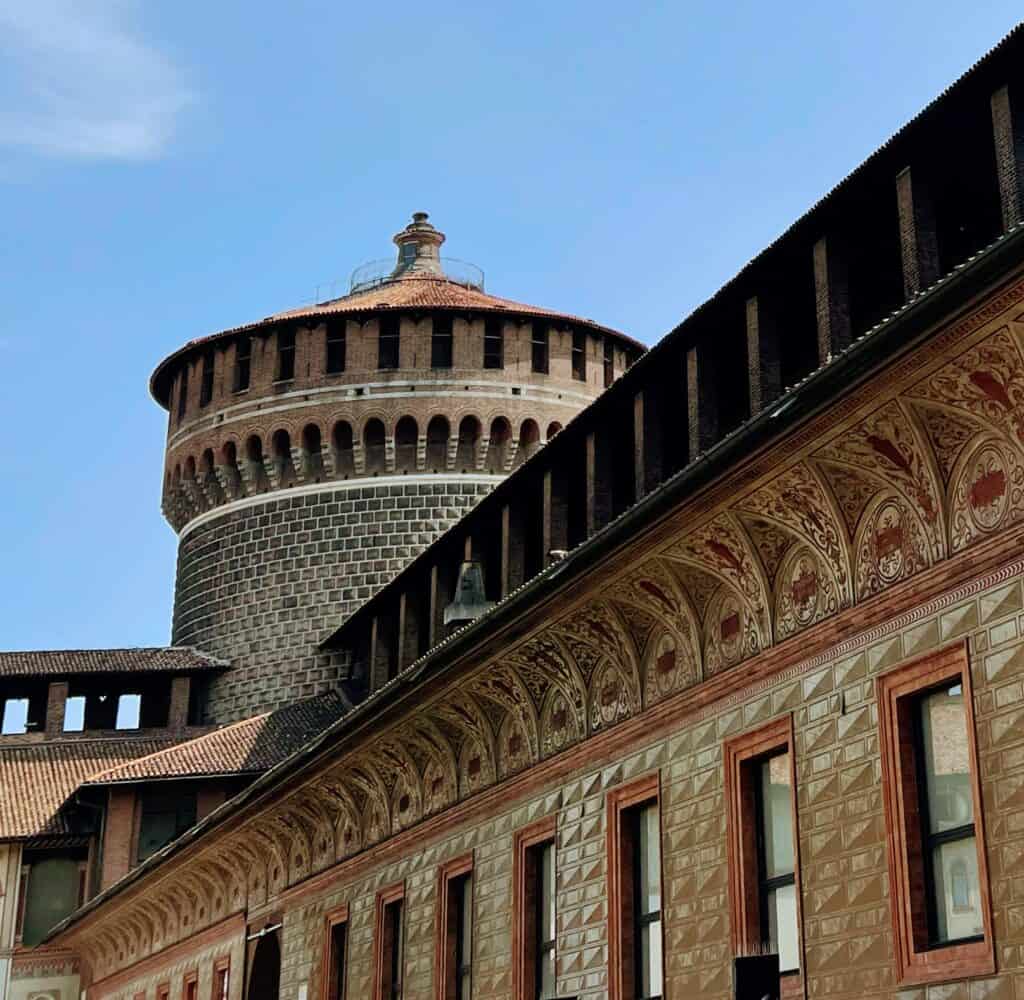 The Castello Sforzesco juts out from the Parco Sempione. Instead of the typical tight perimeter of a military fortress, the castle spreads horizontally to provide plenty of room for political pageantry. The complex reached peak magnificence under Ludovico Sforza, a.k.a. Il Moro, who brought in artists like Leonardo and Bramante to decorate. However, the duke also brought about its downfall when his reckless scheming cost Milan its freedom. After centuries of neglect, Sforza castle found new life as the home of Milan's Civic Museums and Michelangelo's Pièta Rondanini. See website for visiting information.
Brera
Brera's maze of small streets has a city-within-a-city feel. Once home to medieval artists and artisans, the neighborhood now houses upscale ateliers, boutiques and restaurants. A number of galleries and institutions maintain the area's creative roots, most notably the world-class Pinacoteca di Brera. Nearby, the Santa Maria del Carmine's façade is Italian Gothic perfection.
Palazzo Brera
The Counter-Reformation saw the rise of new Catholic orders such as the Jesuits. Their focus on schooling prompted the 17th century reconstruction of a monastic complex into the sprawling Palazzo Brera.
Left: Pinacoteca courtyard. Right: Orto Botanico and Astronomy Observatory.
Behind the Pinacoteca (picture gallery), a pair of attractions sponsored by the University of Milan await. The historic astronomy observatory and museum offer guided tours, while the botanic garden provides an oasis of green.
San Simpliciano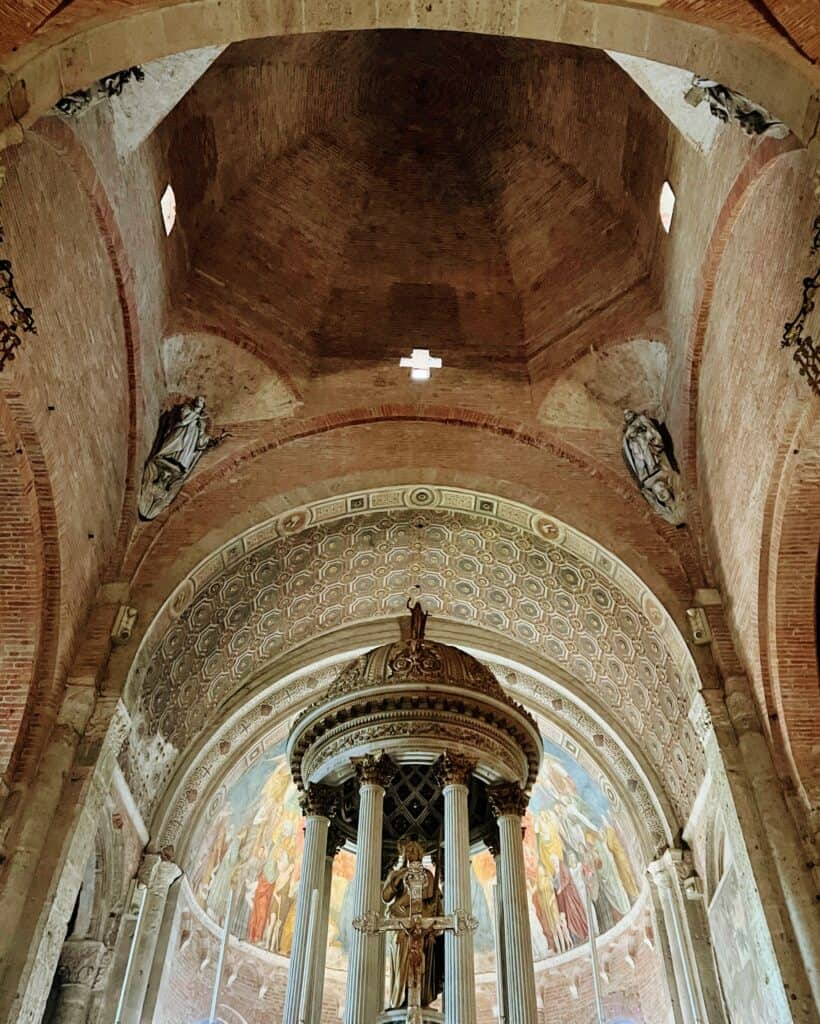 The Basilica di San Simpliciano is one of the four "Ambrosian" churches founded by the bishop in the late fourth century. Besides commemorating sites of Christian martyrs, they were intended to create a symbolic cross shape around the cathedral. Brick vaulting and a dome replaced the original wooden roof between the 11th and 13th centuries, but this austere structure retains more of its original architecture than most.
Porta Venezia
West of Brera, central Milan's second-largest park (Giardini Indro Montanelli, formerly known as Giardini Pubblici) leads to one of our favorite neighborhoods: Porta Venezia. This is one of Milan's most diverse areas, with international cuisine and a proudly inclusive outlook. It also happens to hold a wealth of Art Nouveau architecture, which the Italians refer to as Liberty Style.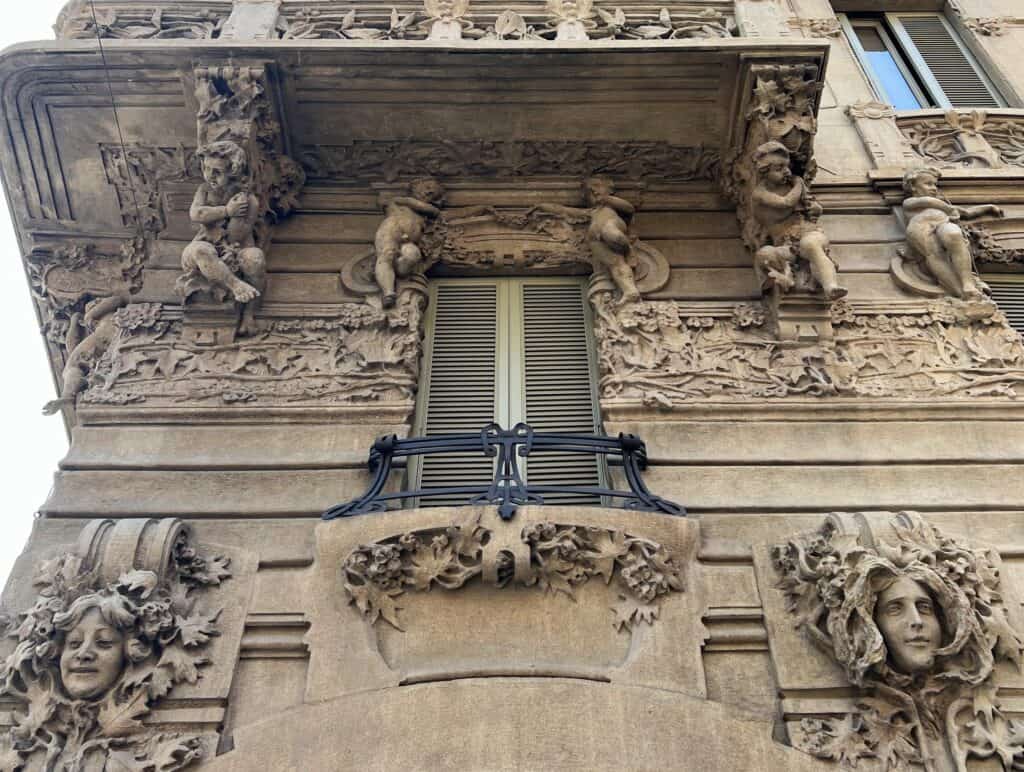 The district takes its name from the monumental arch on the edge of the park. Nearby, a trio of buildings showcase how the Milanese incorporated the Art Nouveau style into Italian architecture rather than copying it wholesale. The Casa Galimberti focuses on tiles, while the Casa Guazzoni and former Cinema Dumont use sculptural reliefs. Less flamboyant and colorful than some of their counterparts in Barcelona, these structures surprise us all the more with their moments of whimsy.
The Casa Campanini's entrance (left) and interior stairwell (right).
On the Corso Venezia, the Palazzo Castiglione takes Liberty to an epic scale. Over at the Palazzo Berri-Meregalli, the lobby holds blue-and-gold mosaics with winged-head sculptures. Other highlights include dramatic balconies at 32 Corso Monforte and the massive women guarding the entrance to the Casa Campanini.
Giardini Indro Montanelli
The neighborhood also includes a few landmarks built just before and just after the Liberty period. The Montanelli Park holds an eclectic Neo-Romanesque museum of natural history as well as the sober 1930's planetarium.
Villa Necchi Campiglio
The Villa Necchi Campiglio, with Milan's first residential swimming pool
South of the Corso Venezia, Piero Portaluppi's 1935 Villa Necchi Campiglio is an icon of Italian Rationalism. Just as Liberty architects melded the latest design trends with their architectural heritage, the Rationalists applied the form-follows-function mentality of 20th century Modernism to classical Italian forms. Featured in the films such as the 2021 House of Gucci, Portaluppi's urban villa offers tours of the interior. See website for details.
Garibaldi & Porta Nuova
On the left, the Unipol Tower looms over older buildings. On the right, Fondazione Feltrinelli's twin buildings by the Porta Volta.
Arguably the most exciting place to be in Milan these days lies north of the city center. The Garibaldi train station serves as a nucleus, uniting a series of celebrated renewal projects near the convergence of several distinct neighborhoods including Moscova, Porta Nuova, and Isola.
Piazza Gai Aulenti & UniCredit Tower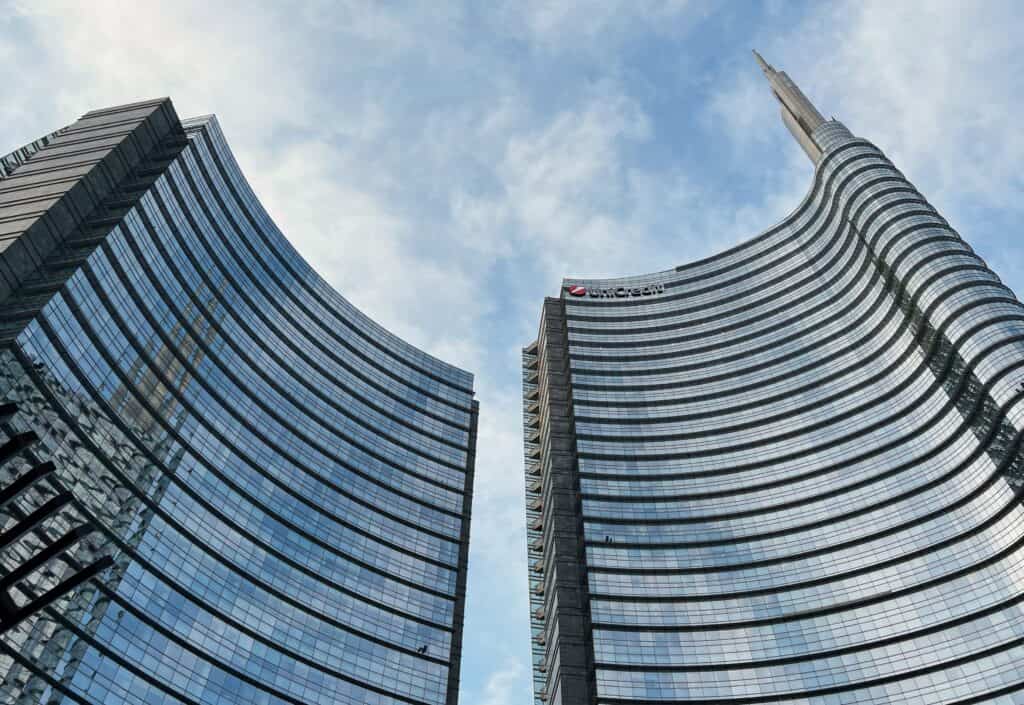 At the end of Corso Como, a ramp dramatizes the sense of entering a different universe. Stone and plaster give way to steel and glass, reflecting the flash of an electronic billboard. The undulating walls of Cesar Pelli's UniCredit complex no longer distinguish between "front" and "back" as they rise up and up. In the Piazza Gai Aulenti, a reflecting pool echoes the mirrored surfaces wrapping around it. On one side, a cut-out spirals back down to ground level in front of the train station; on the other, the piazza expands into an array of futuristic structures.
BAM Park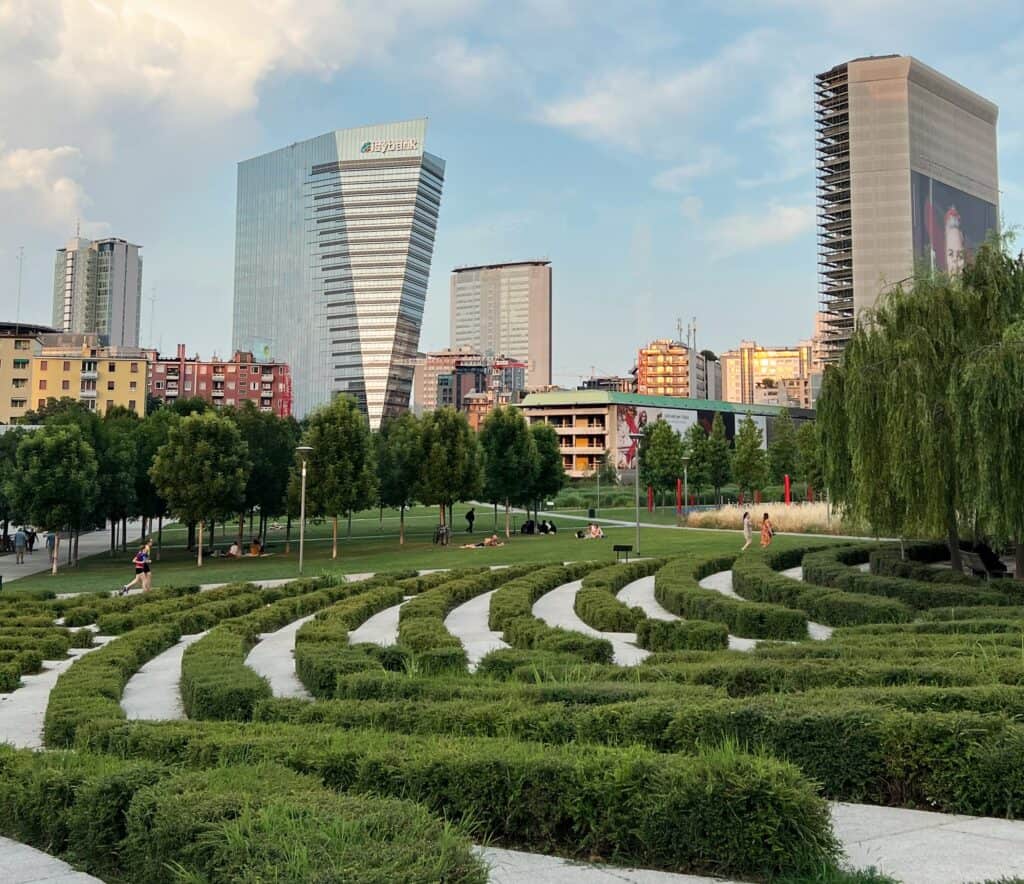 Articles about the new development mention shops and restaurants, but the true heart of the area is the park adjacent to the piazza. Highlights include plantings designed by Piet Oudolf, a leader of the "New Perennial" movement whose work includes Manhattan's High Line park.
Unipol Tower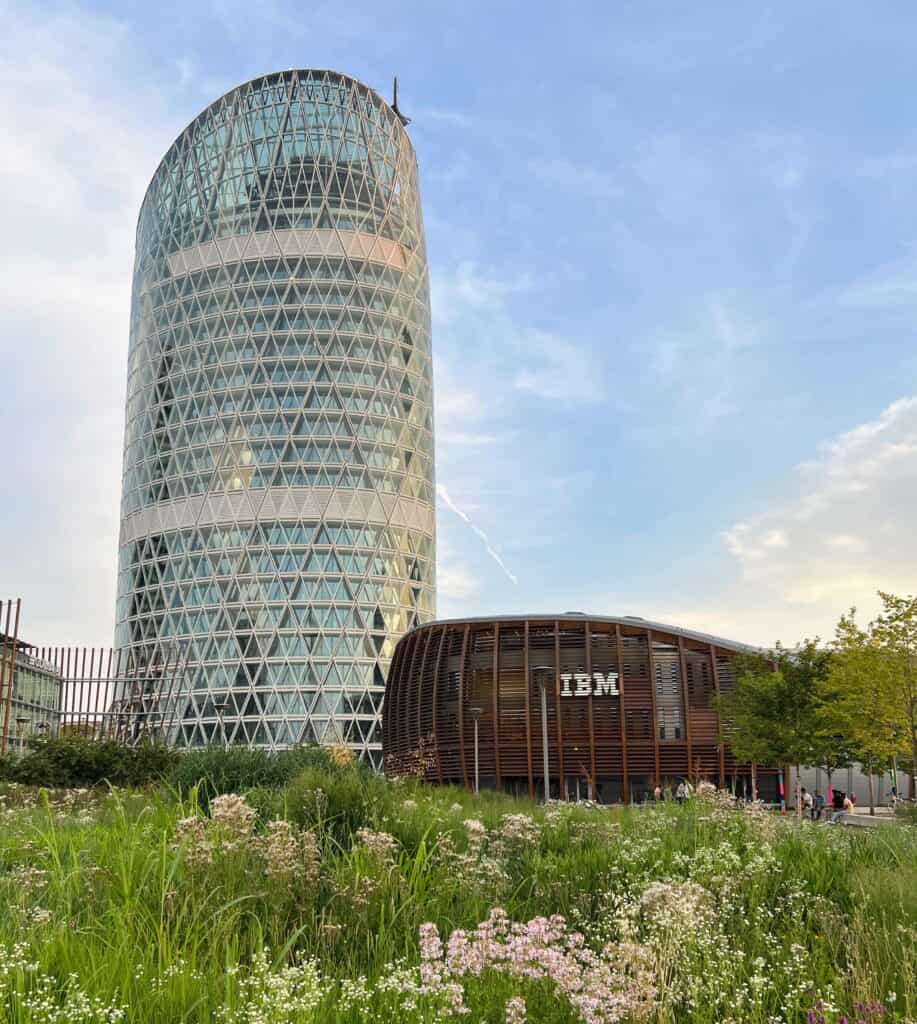 A detailed climate analysis determined the Unipol Tower's form (with the exception of the slanted top, which was required by zoning). Architect Mario Cucinelli's website even diagrams how the structure acts as a "bioclimatic device". Completed in 2015, the building incorporates generous amounts of greenery.
Bosco Verticale
On the northern edge of the park, the new development reaches into the Isola district. Here, Stefano Boeri's iconic Bosco Verticale (Vertical Forest) extends the greenery up and around a pair of residential high-rise towers. The buildings employ a special team of "Flying Gardeners" who use mountain-climbing techniques to access over 20,000 plants, shrubs, and trees at pruning time.
Il Rasoio & Casa della Memoria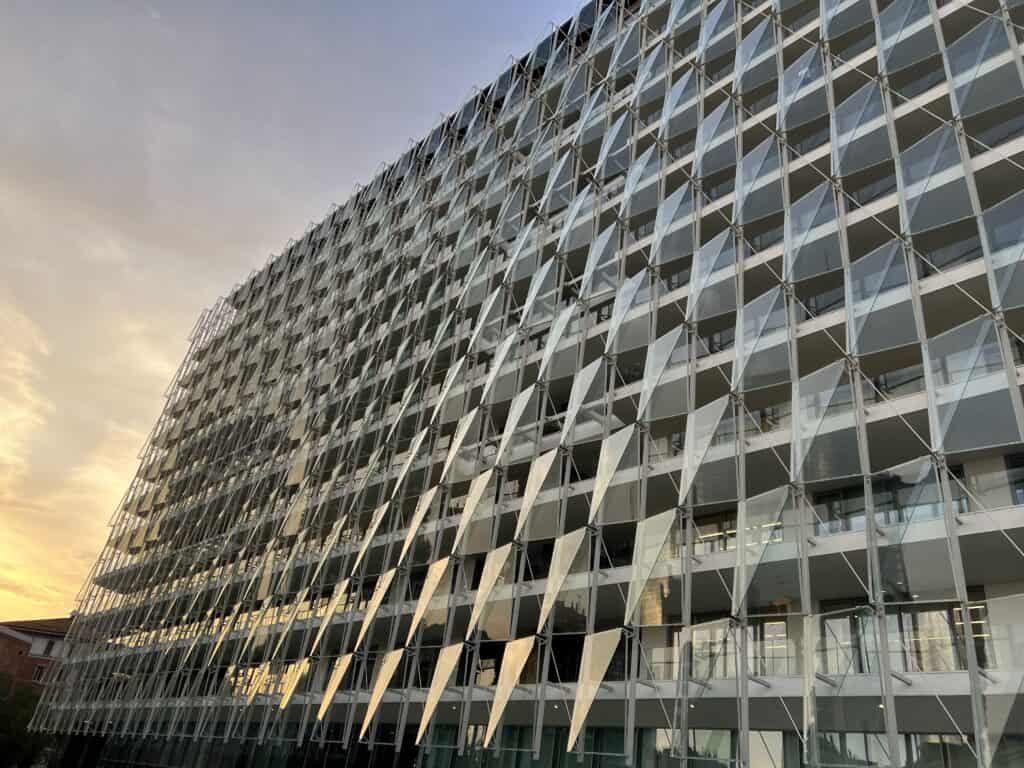 The neighborhood renewal brought new life to a building once abandoned mid-way through construction. Today Il Rasoio (The Razor) houses offices. Nearby, the Casa della Memoria's pixelated tile murals seem abstract in one's peripheral vision, occasionally snapping into focus as giant faces.
Arcobaleno Tower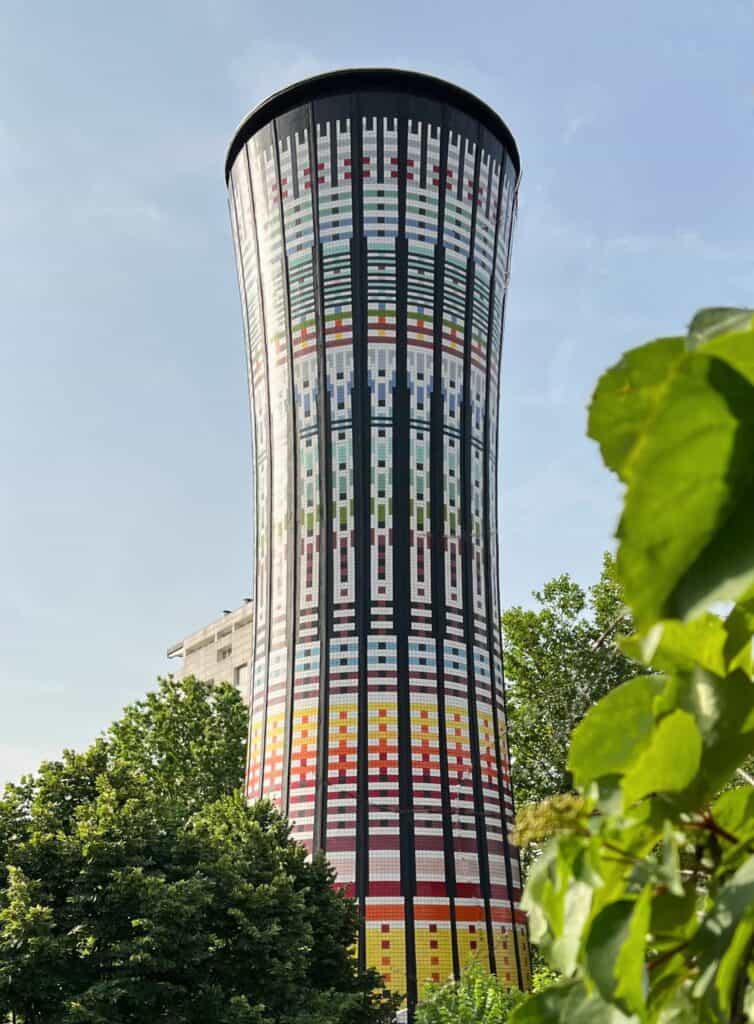 In colorations reminiscent of Milanese fashion house Missoni, over 100,000 ceramic tiles sheathe the 35-meter Arcobaleno Tower. A team of local firms banded together to rehabilitate the old concrete water tower in 1990 and have maintained it ever since.
Conclusion
Monumental Cemetery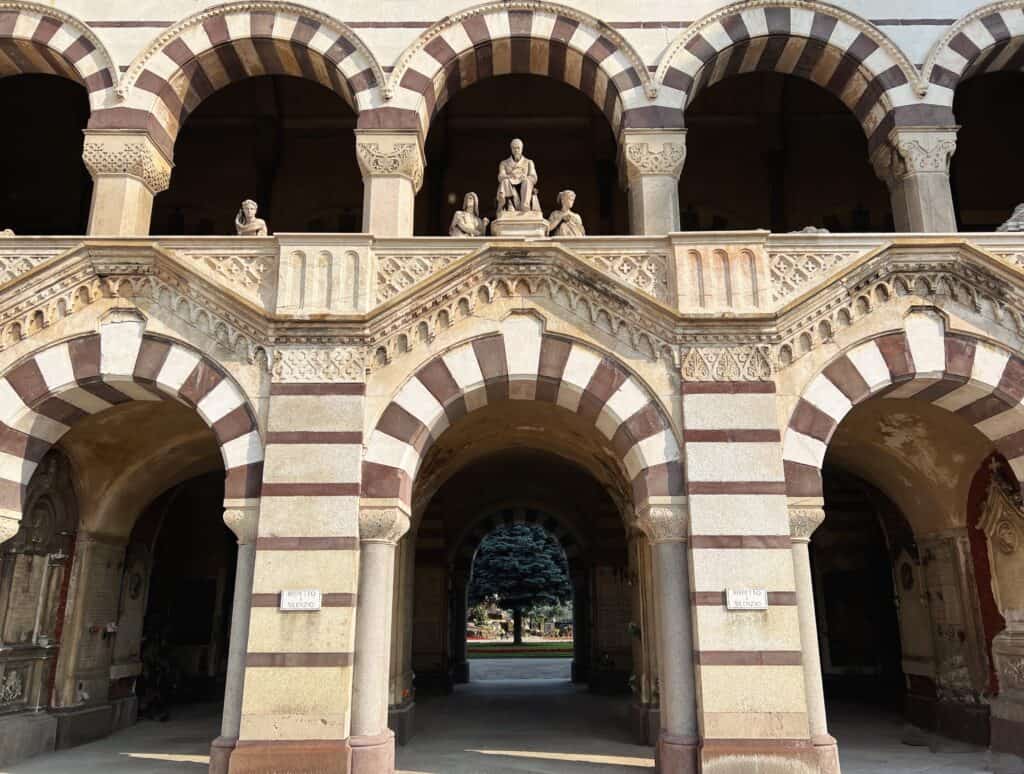 If anyone needs proof that the Milanese do everything with style, they need only look at the city's legendary cemetery. The entrance pays tribute to a mixture of architectural styles, above all the medieval Italian penchant for stripes. Inside, private tombs and monuments surround various memorials and range from NeoGothic confections to abstract Modernist statement-pieces. Italy's first crematorium is itself a tribute to 19th century scientific culture. Open Tuesday-Sunday 8-6; for more information, see website for more information.
Further Reading
For more on the area, see our post on the gardens of Lake Como and our Northern Italy page.