Over the centuries, Como's nobility invested considerable effort into creating gardens which could hold their own against a backdrop of lush mountains and jewel-like waters. Today these landscapes form an essential part of any visit to the lake, with ornamental trees grown almost beyond recognition and entire slopes drenched in living color.
Lake Como has at least a dozen notable gardens, but not all are easily accessible or open to the public. Some, like the Villa del Balbianello, are actually fairly small and tend to get crowded during high season. We've selected three of the lake's most legendary gardens which can be visited in a single day or incorporated into a more leisurely trip. They are marked, along with ferry stops, on our Google map.
An Introduction to Lake Como's Gardens
Lake Como's unique microclimate can sustain a remarkable variety of plants. The lake may lie at the foot of the Alps, but its waters absorb warmth from the summer sun and release it slowly during the winter. Italians like to point out that olives don't grow any further north than Como; travelers on the Grand Tour considered the lake a gateway to the mild Mediterranean.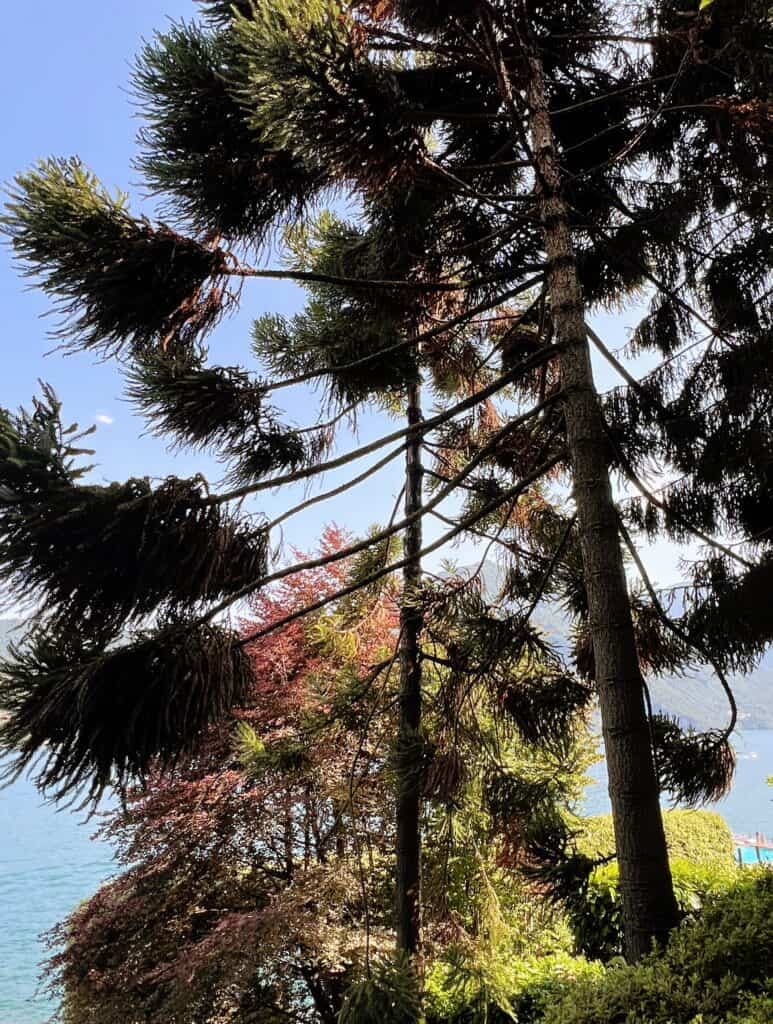 Gardens in Como entered a golden age around the 18th century, when collecting and propagating plants from all over the world became popular with the upper classes. Local residents collaborated and competed to develop new varieties of exotic species. While northern Europeans had to rely on greenhouses, Italians could experiment with Australian tree ferns or African palms outdoors. Gardeners earned prestige from cultivating specimens which required ingenuity, like growing a California redwood outside its native habitat or nursing desert specimens through a wet winter.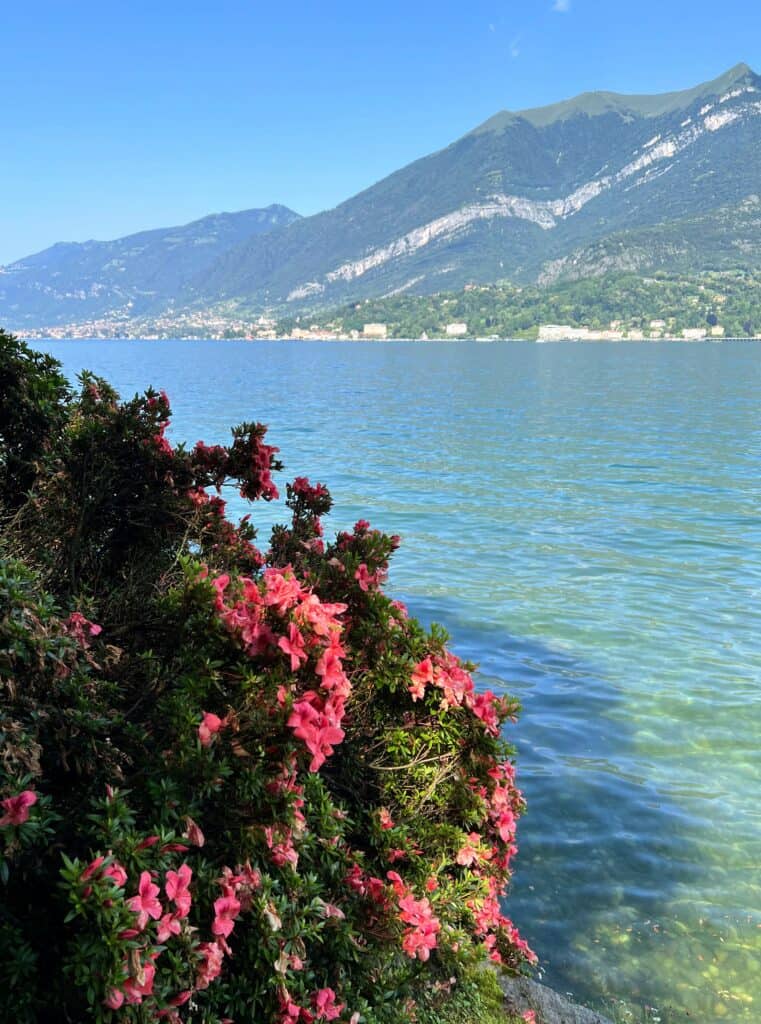 Como's acidic soil is ideal for azaleas and rhododendrons. The Melzi Gardens and the Villa Carlotta are renowned for their blooms, which peak in April and May. Camellias are also a specialty, with different varieties flowering through the winter and early spring.
Melzi Gardens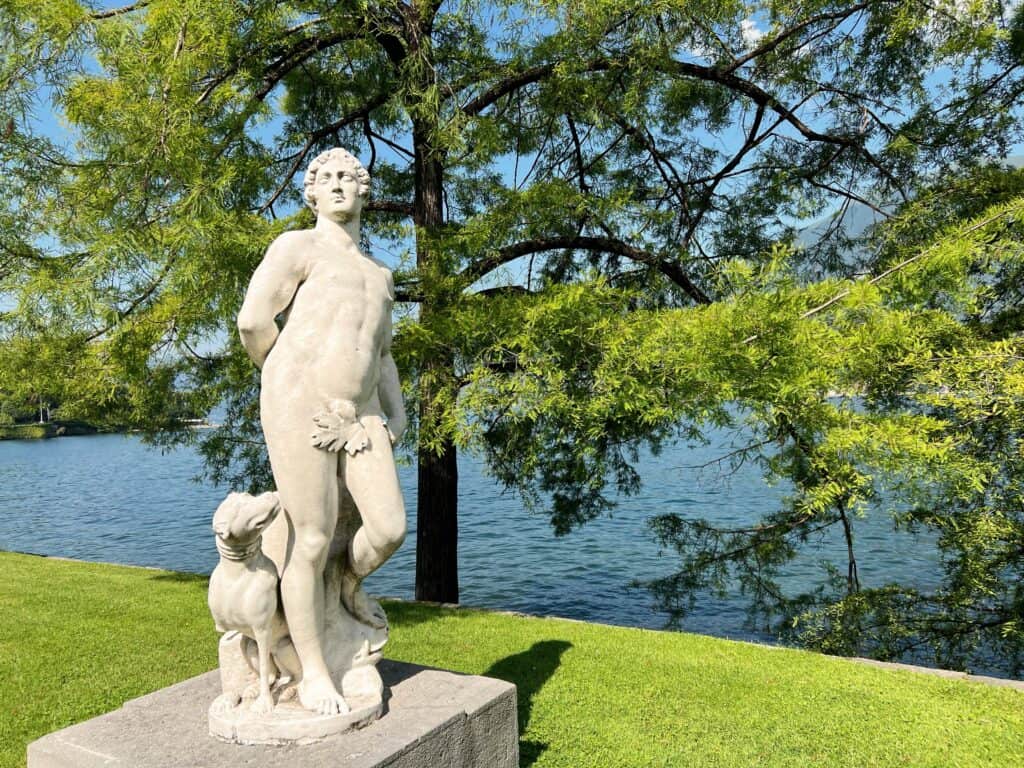 A lakeside promenade leads west from Bellagio's center to the Giardini di Melzi. The complex includes a central villa with several smaller structures surrounded by English-style gardens along the shore. The Neoclassical villa is not open to the public, but the other buildings make up for it: the property features a chapel, an oratory, greenhouses, a Moorish-style pavilion, faux ruins, a grotto, and an orangérie now converted into a museum. The main draw, however, is the garden.
The Melzi Gardens are all about trees, which come in several sizes – immense, gargantuan, and colossal – and loom over titanic waves of shrubbery. Impressive collections of cedar and cypress trees mix with maples, mimosas, and crape myrtles, not to mention yews, gingkos, and palms (to name a few). Growing up around oak trees in California, I wasn't expecting to find so many new varieties; my personal favorite was the prismatic Variegated Turkey Oak (Quercus cerris 'Argenteovariegata' – Fagaceae). The Giant Dogwoods could have a castle hidden behind their walls of blooms. Dark leaves on the beech trees flicker like dragon scales.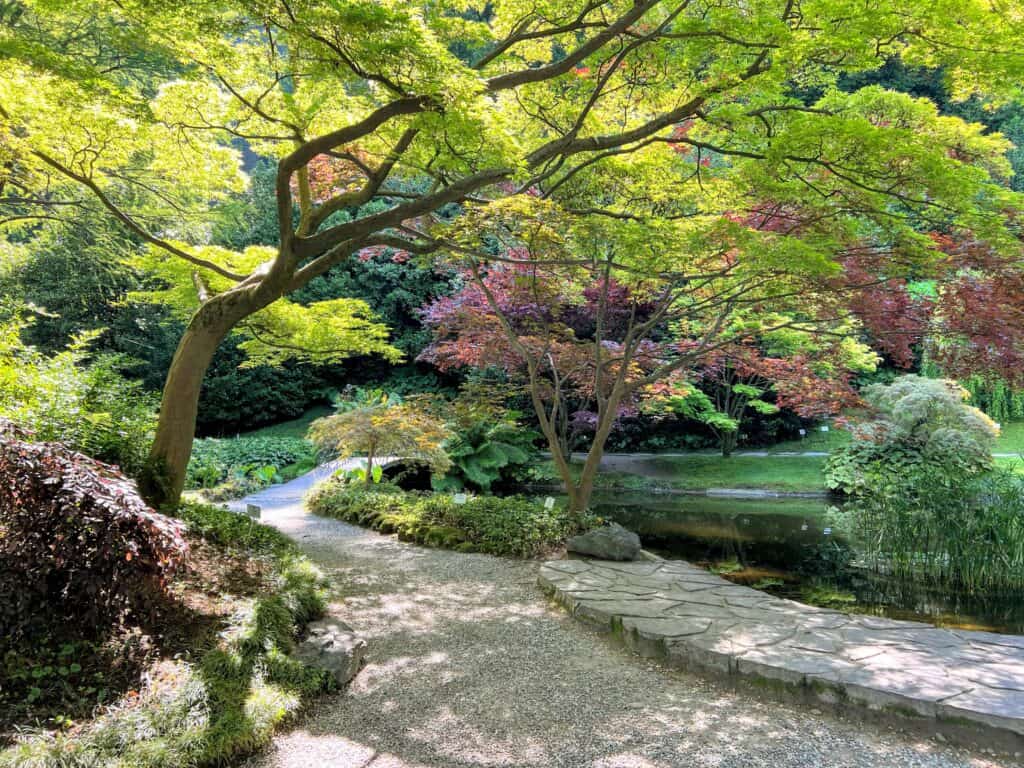 Over 250 varieties inhabit the 'Camellia Wood', including some specimens over 200 years old. Camellias arrived in Europe from Japan in the late 1700's, and soon inspired a mania. Devotees developed thousands of new cultivars, especially in Italy where the plant thrived. Azaleas and camellias are less colorful outside their bloom season, but Melzi's Japanese garden is stunning year-round. While the landscapers didn't go so far as to incorporate beds of gravel, they did introduce Europeans to a different approach towards garden composition.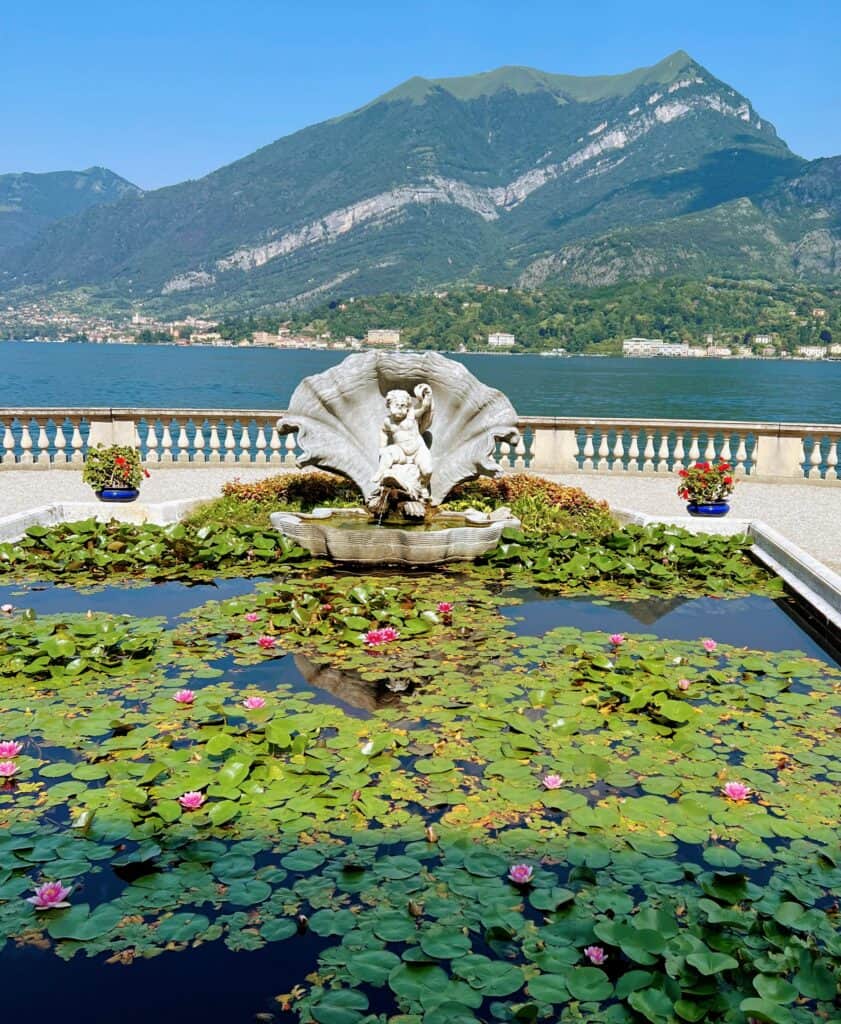 The Melzi Gardens are open from 10 to 7 daily from late March to the end of October. When we visited shortly after opening, the gardens were nearly empty even in mid-June. We recommend allotting at least an hour or two, although the tickets allow visitors to come and go over the course of the day. See the website for more information.
Villa Carlotta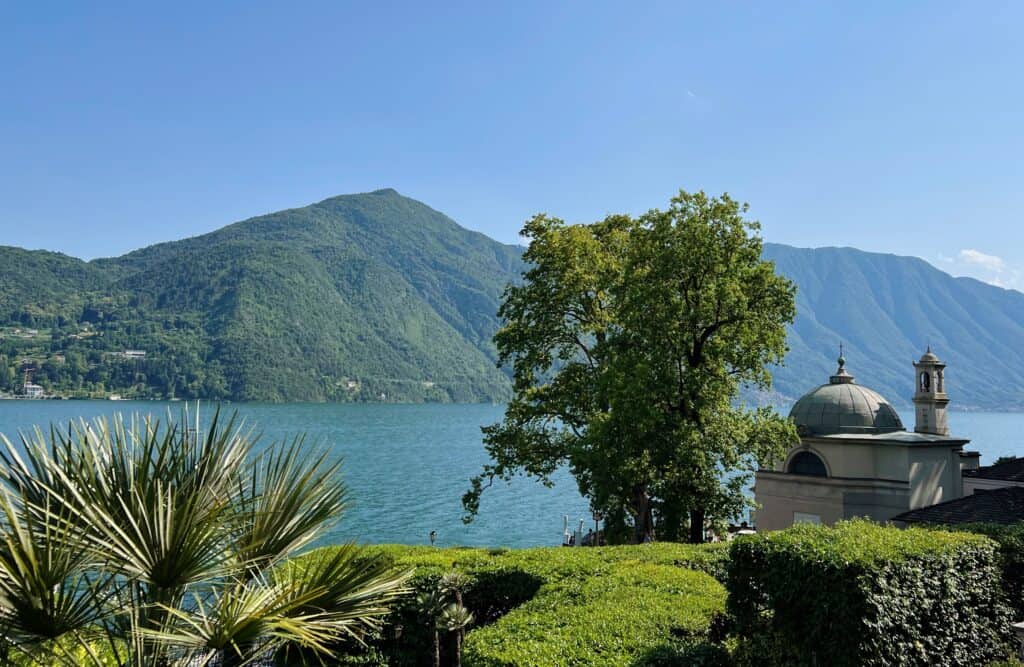 The Villa Carlotta has the largest and arguably most famous garden on Lake Como. Dating to the late 17th century, the property also represents some of the region's oldest extant landscaping. Tickets to the site come with a map outlining 45-minute and 90-minute itineraries, but one could easily spend much longer exploring the many sections – especially since the site has a large café and picnic area.
Near the entrance, a formal garden surrounds the villa, complete with grand stairways and statuary, geometric plantings, and symmetrical hedges. This style – often called 'Italian' although it reminds me more of France – epitomizes the Enlightenment's celebration of rationality and order. Later owners expanded the garden in a more naturalistic style developed in England. The 'Romantic Garden' features an astonishing number of azaleas in over 150 varieties, along with an entire forest of rhododendrons. By mid-June just a few remained in bloom, but we did catch the hydrangeas going full-tilt. Roses and camellias round out the flowering shrubs, interspersed with (behemoth) trees.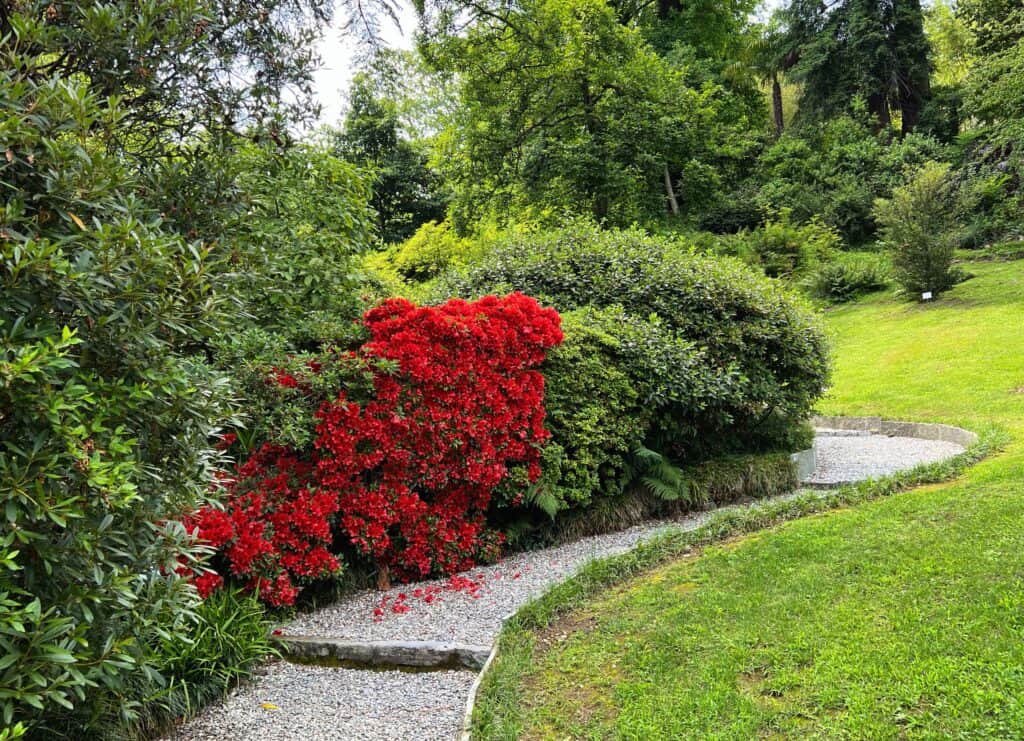 Exotic palms scattered throughout the grounds include both dwarf and giant species, including some with leaves as long as 4.5 meters (nearly 15 feet) or 2 meters (6.5 feet) wide. Other zones of the Villa Carlotta feature a rock garden, a section with 25 species of bamboo, and an area for aromatic plants. Medicinal plants are scattered throughout the property rather than gathered in one place. Ancient Romans introduced olive cultivation to Como's slopes, and the groves here contain some of Carlotta's oldest specimens. The region's agricultural heritage lives on in an area dedicated to organic vegetables.
A few parts of the Villa Carlotta's gardens require extra care. The famous Citrus Tunnel has to be covered with sheeting and sometimes even heated during cold snaps, while the entire Valley of Ferns gets moved into greenhouses every winter (apparently they're all in pots – !).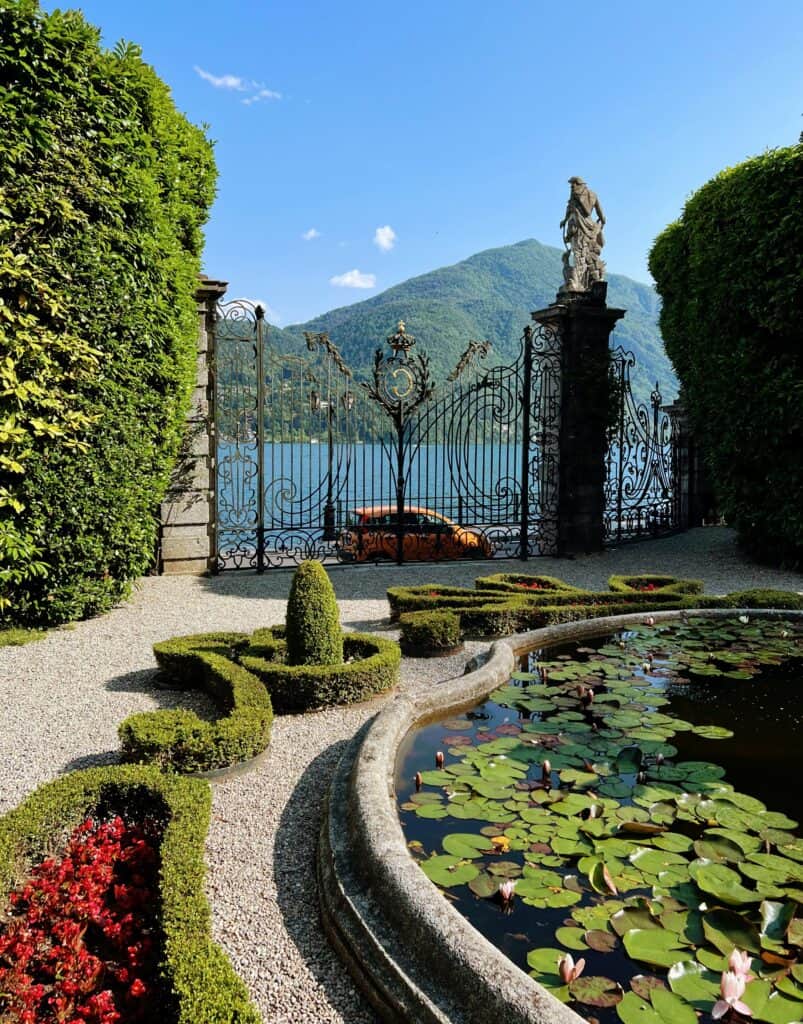 Villa Carlotta tickets are available online or in person. Tickets fund the non-profit organization which runs the garden, and include entrance to the villa as well as the gardens. We heard recommendations to book in advance during high season, but we had no issues getting in when we turned up on a mid-June afternoon. The gardens are extensive enough to absorb plenty of visitors without feeling crowded. The Villa Carlotta is open from mid-March to early November, from 10 to 7. See the website for more information.
Villa Monastero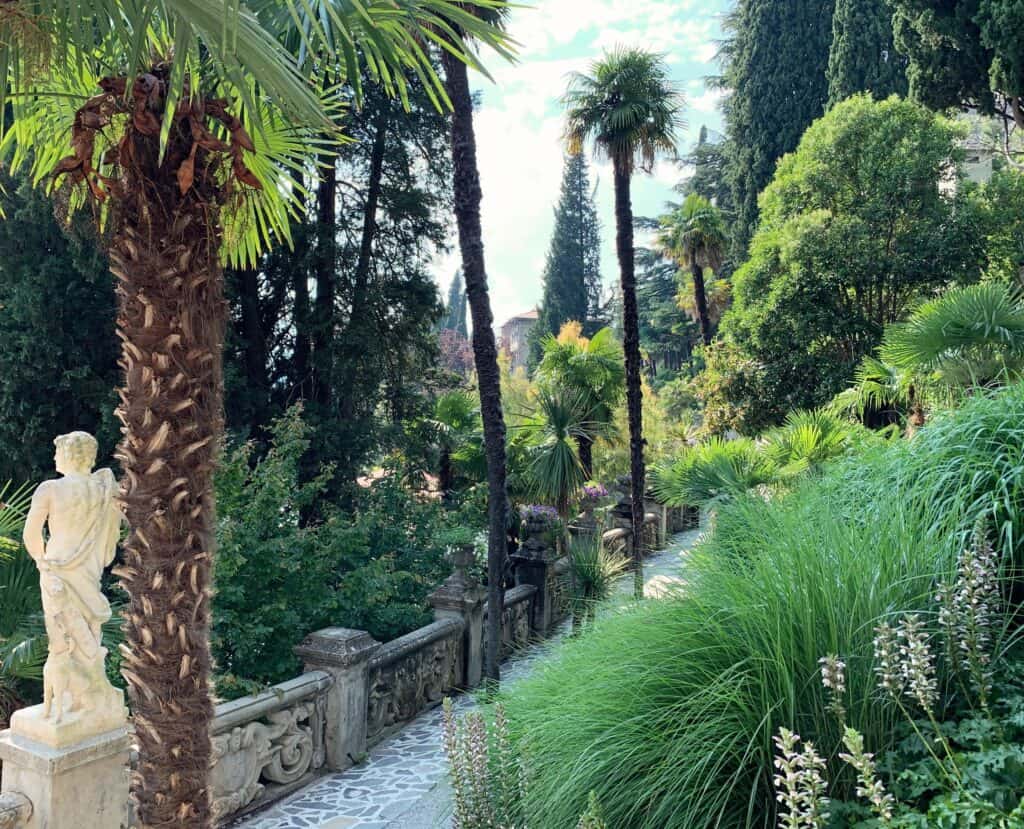 Just below Varenna on the eastern edge of the lake, the Villa Monastero is a near-perfect union of architecture, cultivated plants and natural landscape. Poised in tiers along a two-kilometer strip of shoreline, the property makes dramatic use of the lake as a backdrop for its gardens. At sunset, it's nothing short of otherworldly. We spent close to two hours exploring the gardens, although that included some time sitting to soak up the views.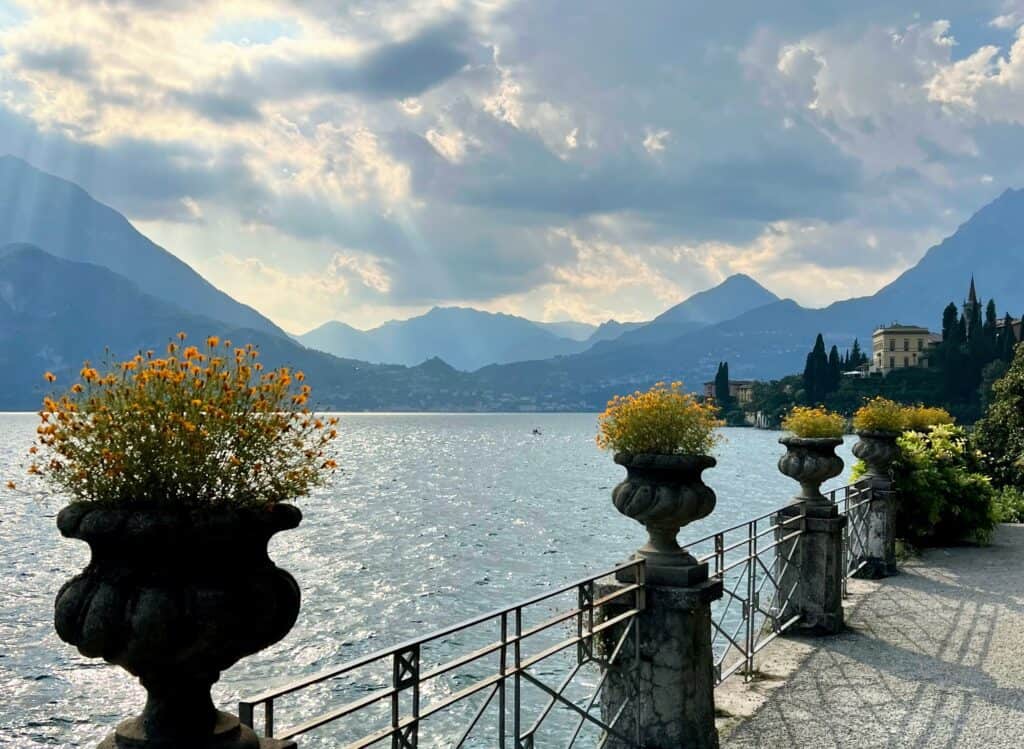 The Villa Monastero's site originally held a Cistercian monastery for women built in the 12th century. In 1567 a family of nobles transformed the structure into a villa, adding features like the lakeside loggia.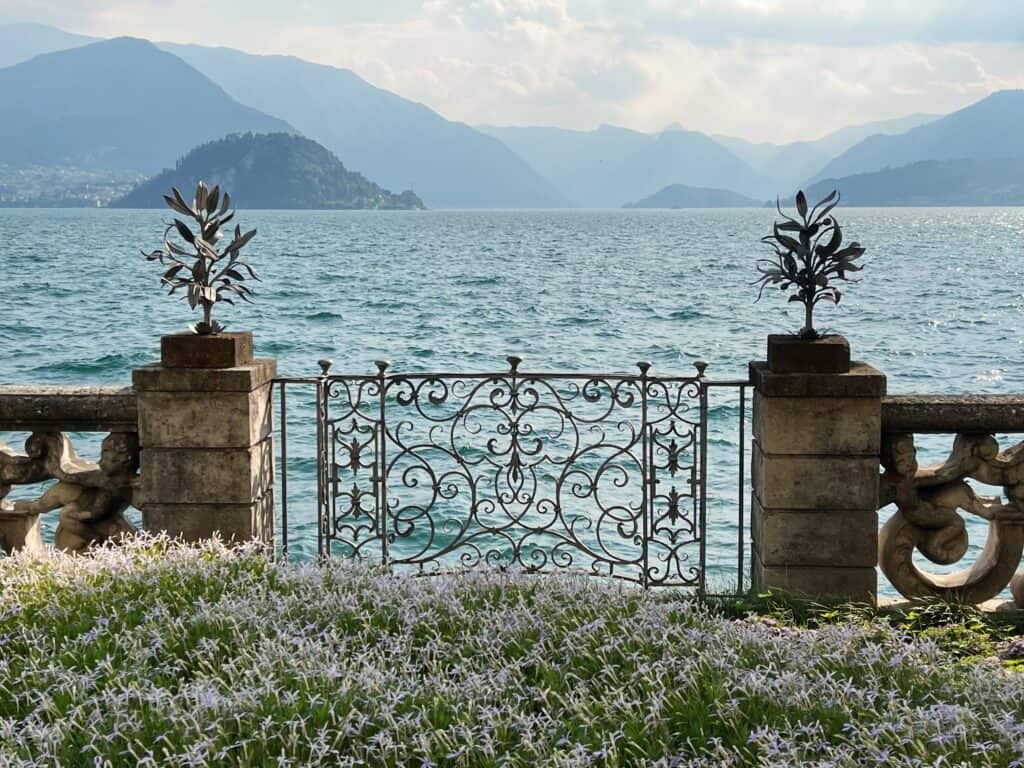 Since the property was donated to the public in 1939, portions of the villa have been used for conferences and lectures – including summer courses in physics. I had a hard time picturing Enrico Fermi and dozens of other Nobel laureates talking about splitting the atom in the gardens.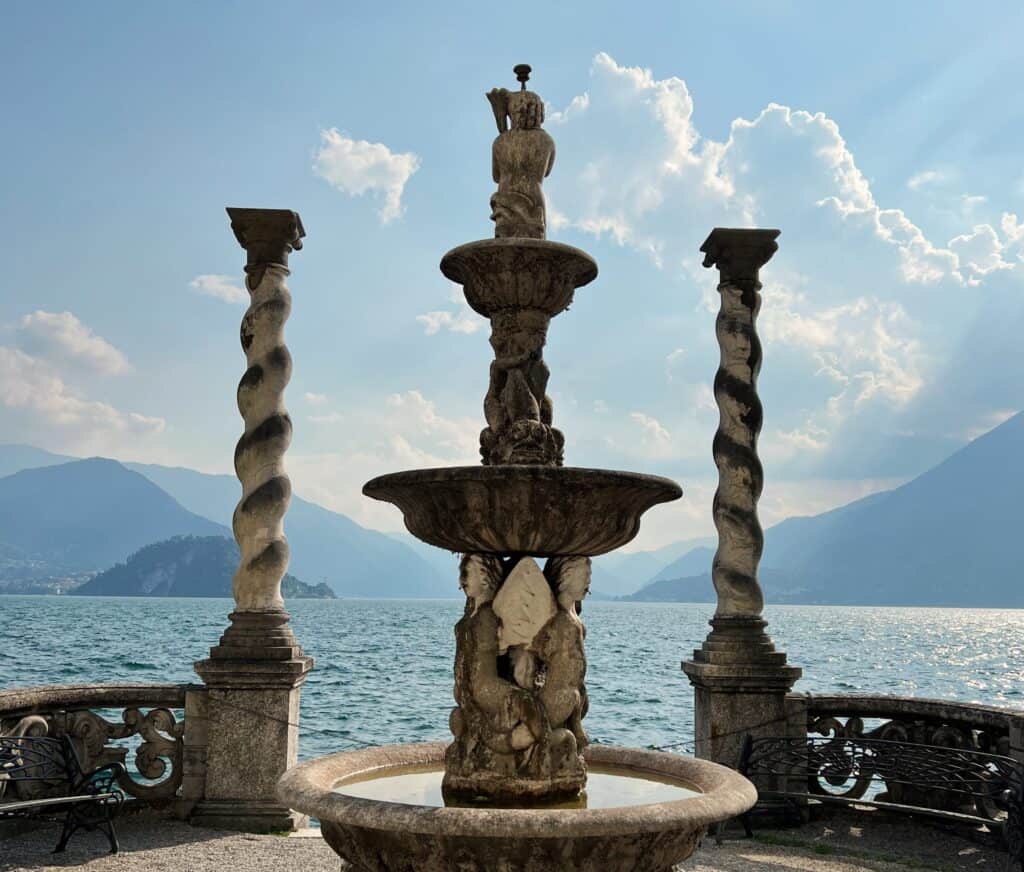 The Villa Monastero offers separate tickets for visiting the building and the gardens. The website posts opening hours, which vary according to season. The gardens open each year in April and the House Museum in June; both close for the winter in early November. Summer hours are 9:30 to 8.
Further Reading
For information on getting to the gardens, see our post on Lake Como's ferry system.