For the first time visitor, planning a trip to Sicily can feel daunting. Most guidebooks recommend renting a car, but a Sicilian road trip poses challenges. Both city traffic and vertiginous mountain roads require robust nerves and laser focus, making it hard to relax. Additionally, many towns restrict vehicles, so renting a car means parking outside the city center and then figuring out how to get into town.
For our first trip to Sicily, we were determined to conquer the island's web of trains, buses, and ferries. Our biggest challenge was tracking down logistical information for each leg of the journey. On the ground, most everything was easier than we expected, and our two-week trip went off without a hitch.
Sicily's transportation network may not be seamless, but it covers pretty much everywhere except some beaches in the northwest and southeast. Given the abundance of beaches elsewhere, you'll still be spoiled for choices. In this post, we'll describe the best ways to get around the island and share the information you'll need to navigate smoothly. Click on a link below to jump to a specific section.
Transportation Overview – Essential Tips
Eastern Sicily: Catania, Syracuse/Ortigia, Val di Noto, Taormina, Aeolian Islands
Western Sicily: Palermo, Cefalù, Trapani, Egadi Islands, Agrigento
Travel between Eastern and Western Sicily
Planning Your Trip – Sample Itinerary
Transportation Overview
Trenitalia runs the trains in Sicily. Syracuse, Catania, Taormina, Cefalù, and Palermo are all very convenient via train. In other areas, such as the Val di Noto, trains can be slow and infrequent.
Most Sicilians prefer buses to trains, as buses tend to be faster and more reliable for certain routes. Sicily has a network of bus companies, the biggest of which are Interbus, AST, SAIS, and Segesta.
Essential Tips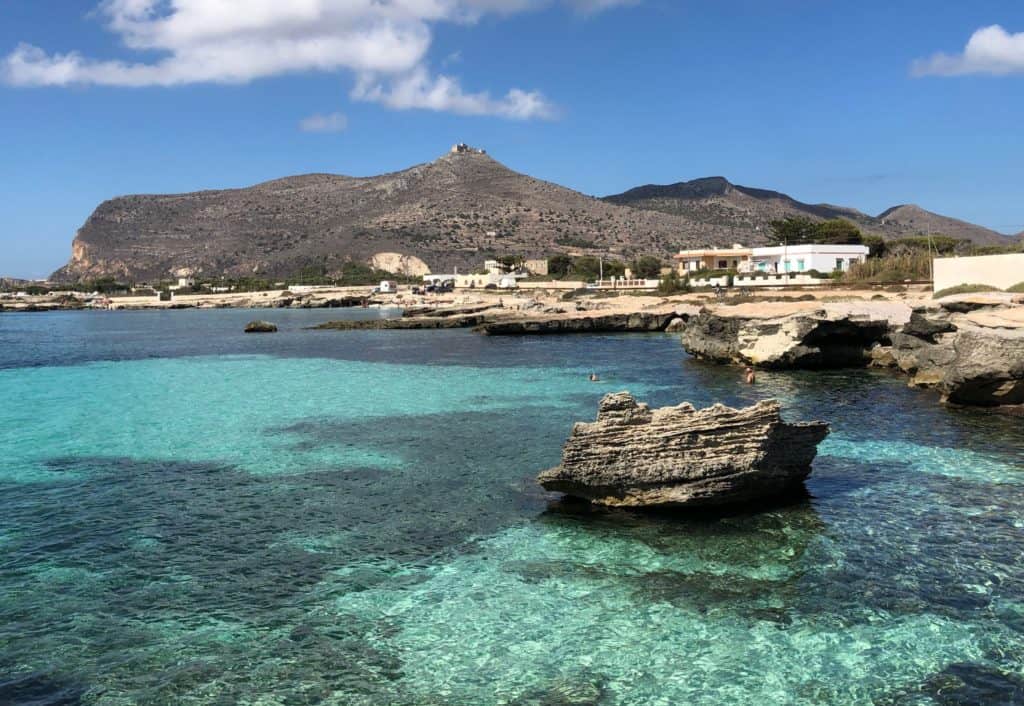 You won't need advance reservations for most routes, but planning ahead can prevent long waits and inconvenient arrival/departure times. Some routes operate only once or twice per day. Sunday and holiday services can be limited or nonexistent.
Trenitalia's app makes it easy to view schedules and purchase train tickets anywhere. Payment options include secure forms such as ApplePay.
When multiple bus companies serve a city, their respective ticket offices and departure points may be scattered over a few blocks. If ticket offices are closed or (in small towns) nonexistent, try the nearest tabacchi/newsstand instead. Note the location of the bus or train station where you'll arrive. Some train stations are out of town, which may influence whether you take the train or the bus.
When the system gets confusing, ask a local. We found Sicilians to be quite gracious; on several occasions people went out of their way to guide us. Younger Sicilians are more likely to speak English, but knowing few basic Italian phrases will make life easier.
Sicily Orientation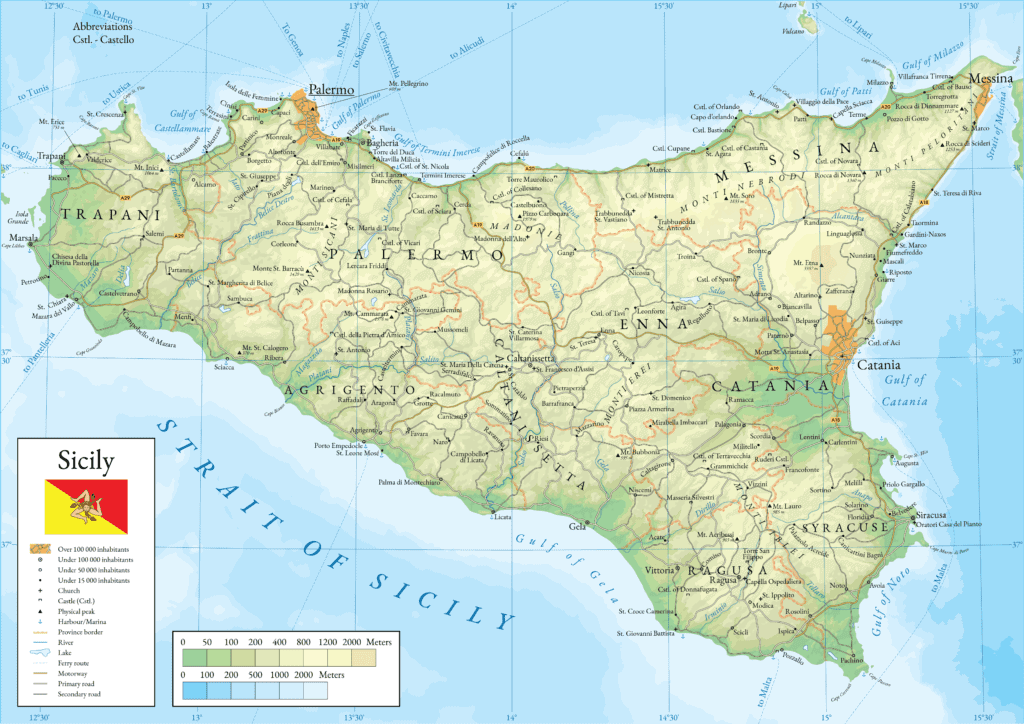 Most travelers enter Sicily via Catania in the east or Palermo in the west. These two cities function as the main transportation hubs for each side of the island. For trips of a week or less, it's easier to stick to eastern Sicily or western Sicily, rather than trying to visit both. For longer trips, consider arriving from Catania and departing from Palermo or vice versa.
EASTERN SICILY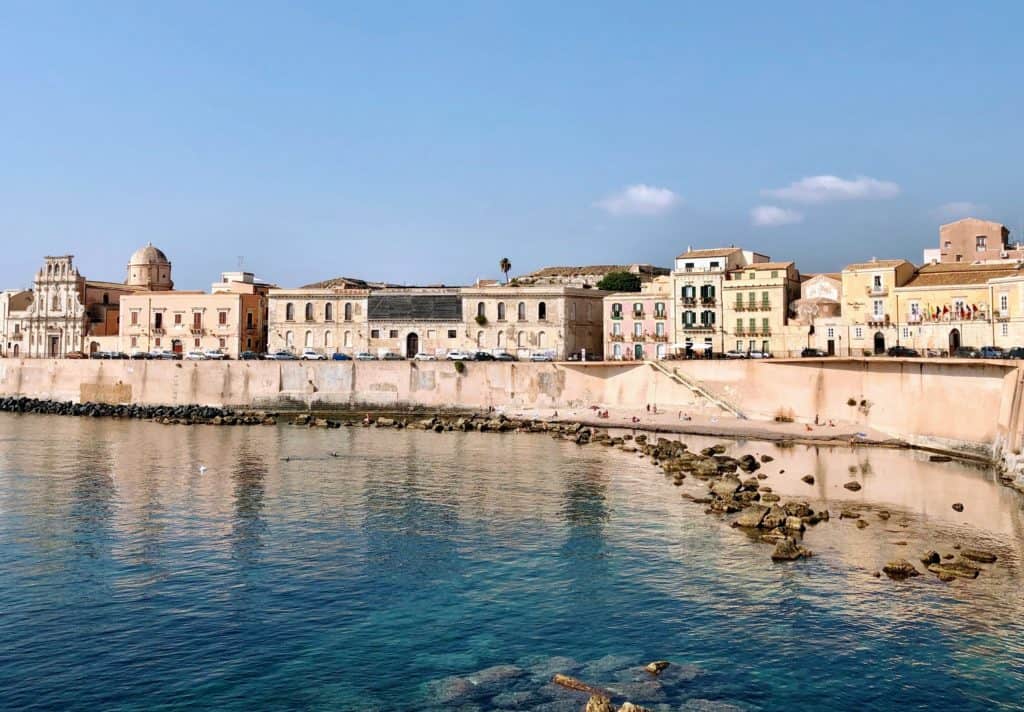 Eastern Sicily began luring travelers several thousand years ago, with Greek colonization beginning around 700 BCE.
Catania
Catania has its own storied history, but it's also a big, gritty city. Although there's plenty to occupy visitors for a couple of days, most people simply pass through. All major bus companies plus trains run through the city center. It's also possible to get buses directly from the airport to Syracuse or Taormina (both rides are about one hour).
Buses to Mt. Etna leave from Catania.
Syracuse & Ortigia Island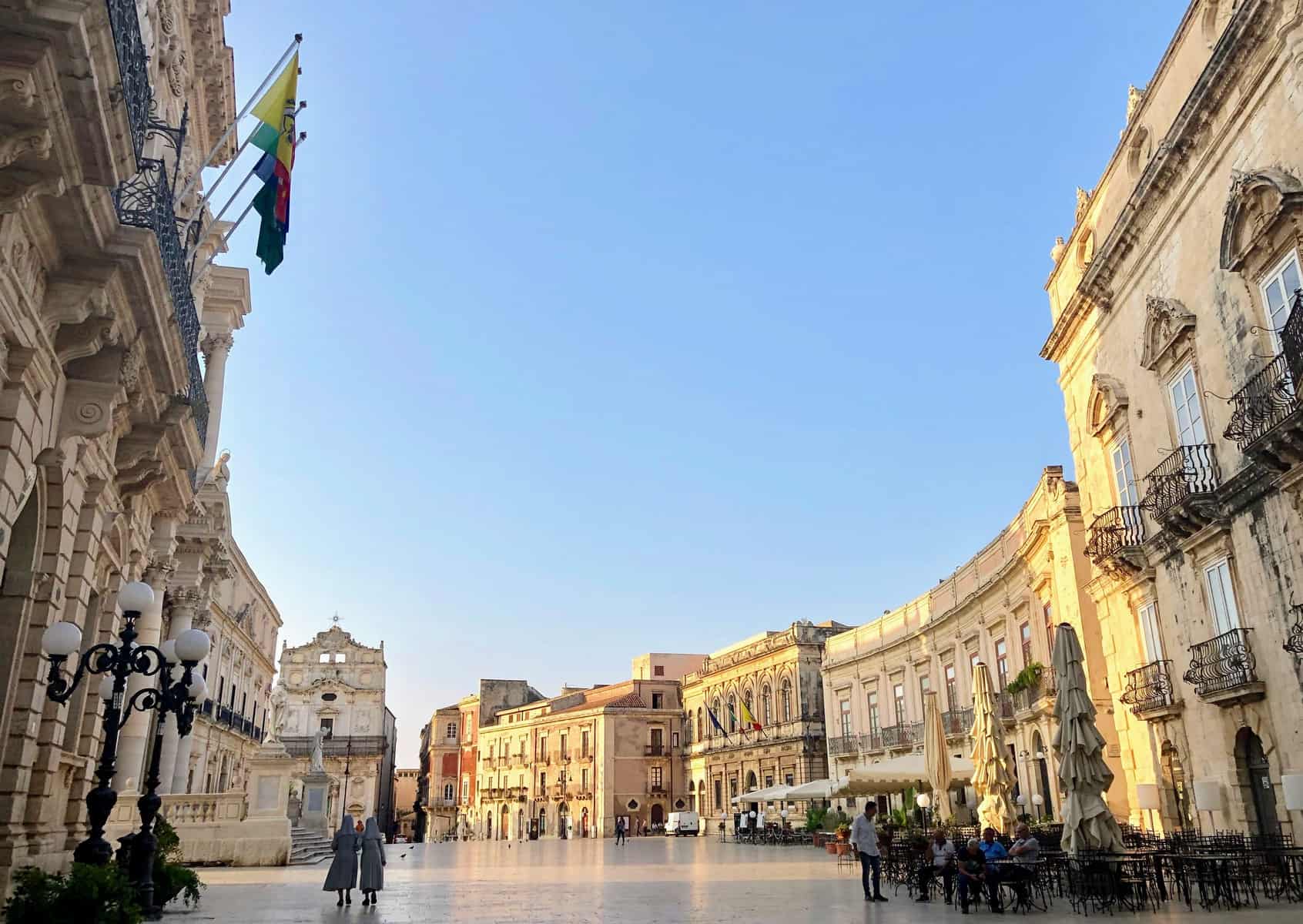 Historically, Syracuse dominated this side of the island; no visit would be complete without a stop in this exquisite city. See our post on Syracuse & Ortigia for more info.
The bus terminal is in front of the train station. It takes about one hour to reach Syracuse from Catania via train or bus.
Val di Noto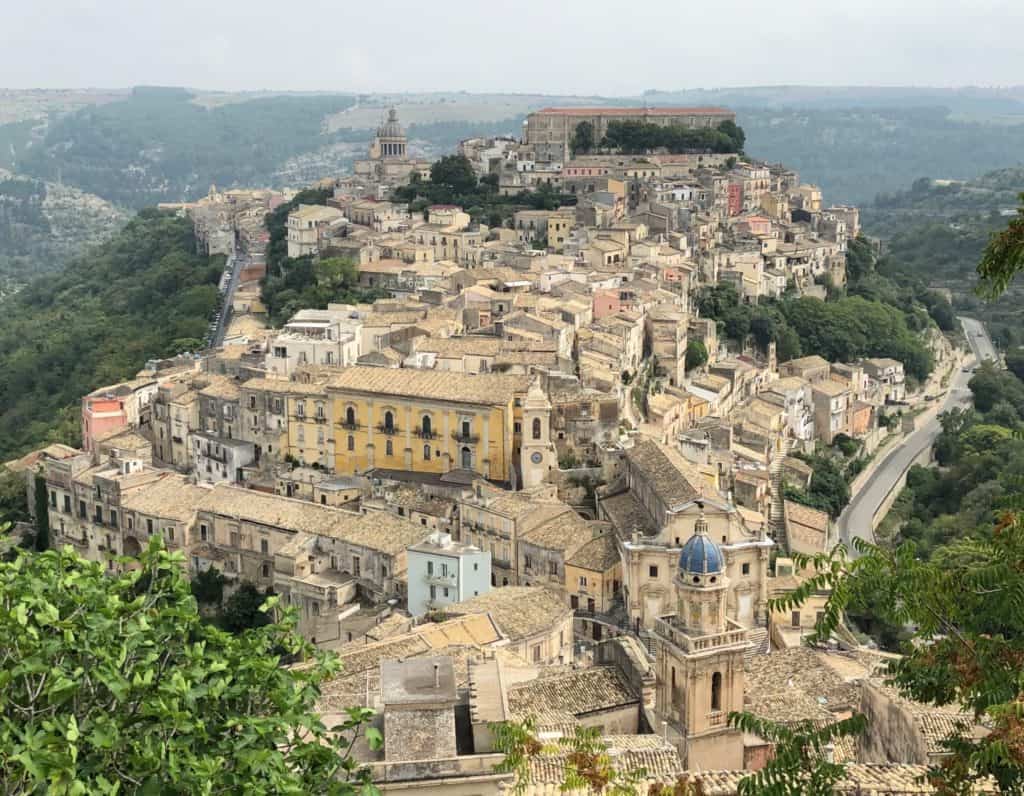 The southeastern Val di Noto area abounds with picture-perfect hill towns. Modica, Noto, and Ragusa hold the greatest concentration of sights, and are often referred to as the "Baroque Triangle."
Noto
Since Noto's train station is outside the city center, buses are more convenient. Buses stop by the Porta Reale. It takes about an hour to go by bus from Syracuse.
Modica
Modica's train station is a short walk from the city center. Trains from Syracuse take about one hour fifteen minutes.
Ragusa
Both train and bus stations are in modern Ragusa Superiore. However, the train station is closer to the historic Ragusa Ibla. See our post on Ragusa for more info.
Trains from Syracuse take about 2 hours.
Taormina
Taormina has plenty of old-school resort town glamour, plus an ancient Greek theater and views of Mt. Etna.
The bus terminal is a 10-minute walk from the historic center and resort area. For trains, get off at the Taormina-Giardini station then walk outside and take the bus up the cliff road, a beautiful 10-minute ride, to the bus terminal.
Both trains and buses take 40-60 minutes to Catania.
Note: although Taormina is closer to Mt. Etna than Catania, it does not offer direct bus or train services to the volcano.
Aeolian Islands
The Aeolian Islands, off the northern coast of Sicily, are a world unto themselves (and a UNESCO World Heritage site). Each one has its own ecosystem – including the still-smoking volcano Stromboli.
Milazzo has the fastest, most frequent ferries. Because it's closer to the islands than anywhere else, weather issues are less problematic. Liberty Lines and Siremar offer hydrofoil and catamaran services, as well as slower but cheaper big ferries. Giuntabus runs buses directly from the Catania airport or the Messina train station to the port in Milazzo; frequency depends on the season. (Milazzo's train station isn't near the port.)
Other boats run from Palermo, Cefalù, Messina, and mainland Reggio di Calabria; these services increase in the summer.
Siremar offers an overnight ferry from Naples twice a week; Alilauro's six-hour summer service is faster but pricier.
WESTERN SICILY
Palermo
Arabs arrived in Sicily around 800, setting up Palermo as the new capital. Ever since, the city has functioned as a lively cultural crossroads. See our post on Palermo for more info.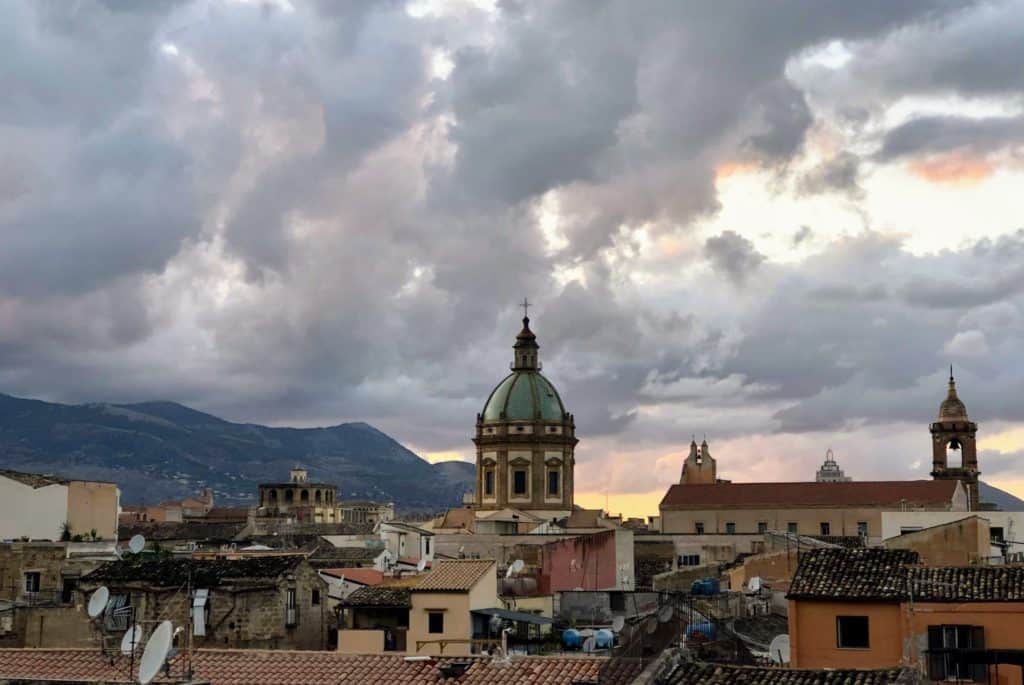 Palermo Centrale is the main train and bus station. Note that multiple bus companies serve Palermo, with some operating outside the main station.
Cefalù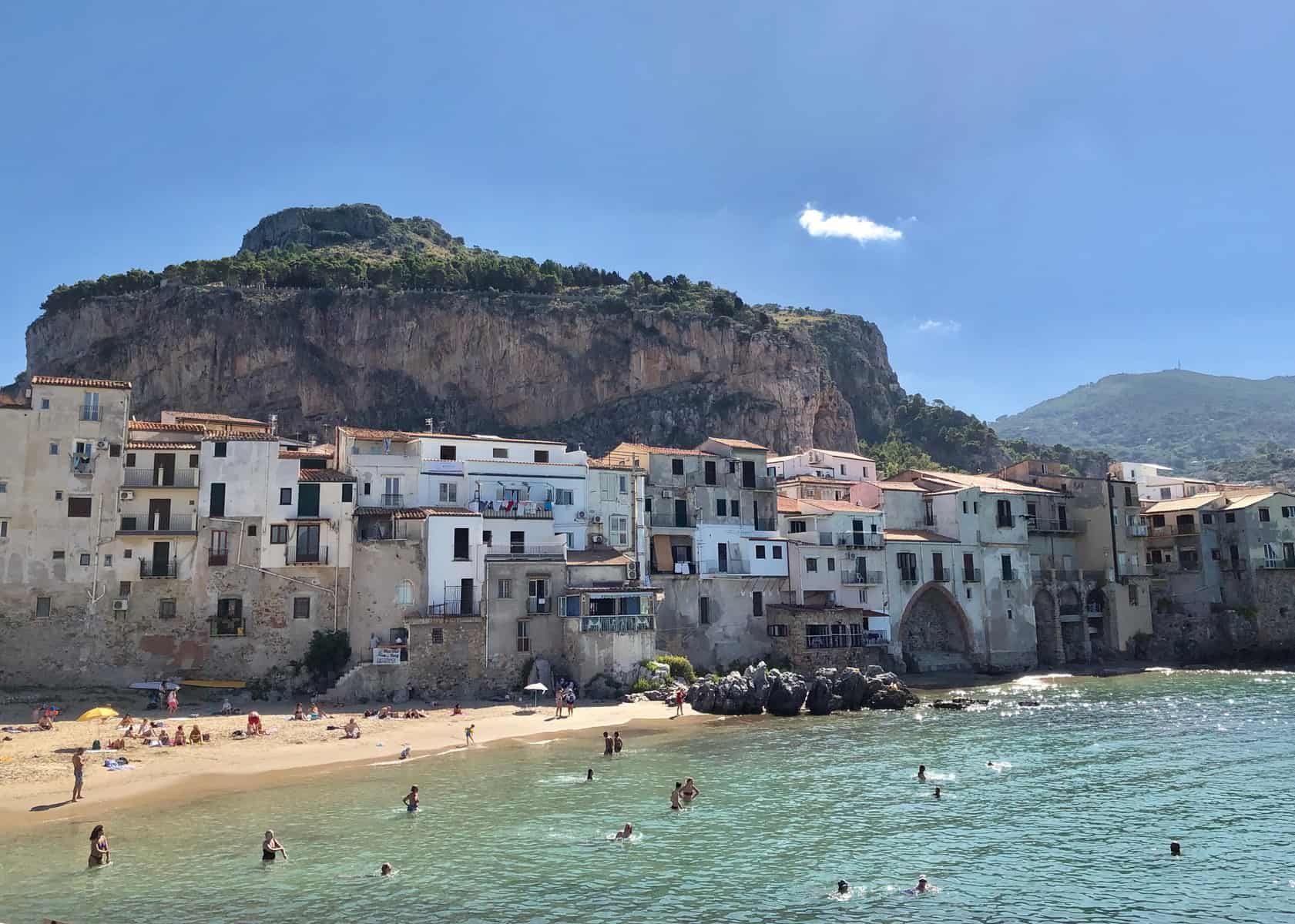 The train station is a short walk away from the coast and the historic town center. The ride to Palermo takes about 50 minutes. Cefalù also offers seasonal ferries to the Aeolian Islands. See our post on Cefalù for more info.
Trapani and environs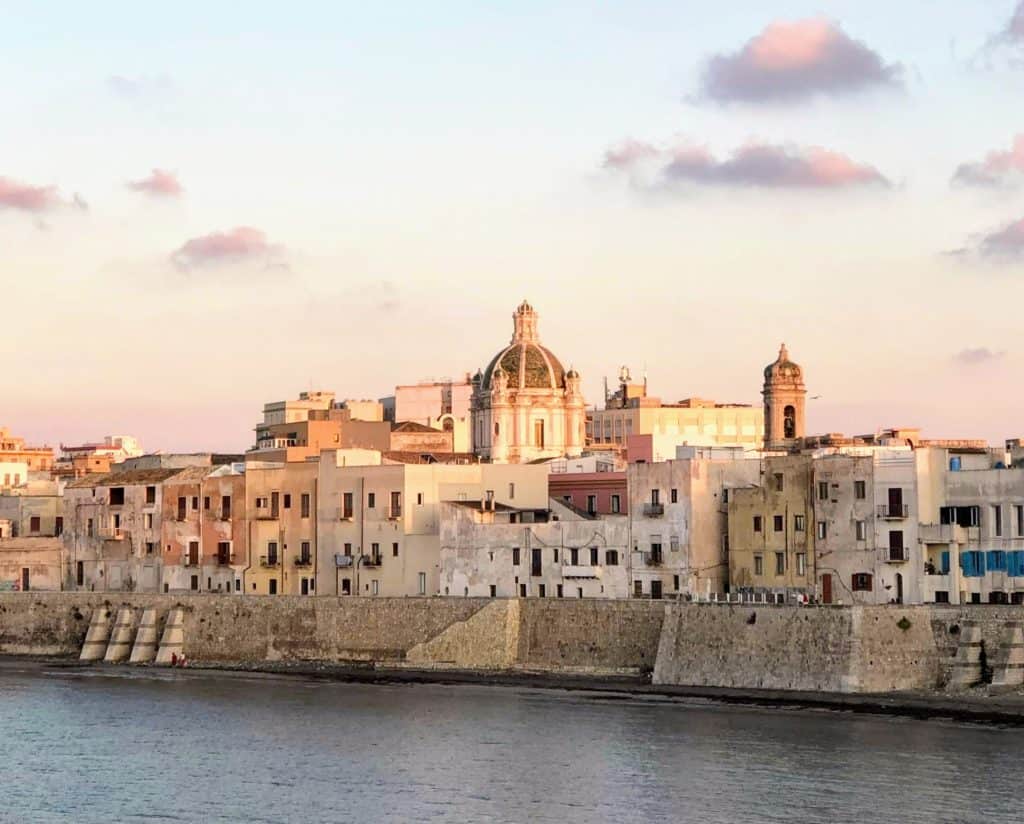 In the northwest, laid-back Trapani makes a great base. From here, it's easy to visit the salt flats, take the funicular up to medieval Erice, venture out to the hilltop ruins of Segesta, or pick up a ferry to the Egadian islands. Our post on Trapani & Erice has more info.
Buses from Palermo to Trapani take about 90 minutes.
Egadi Islands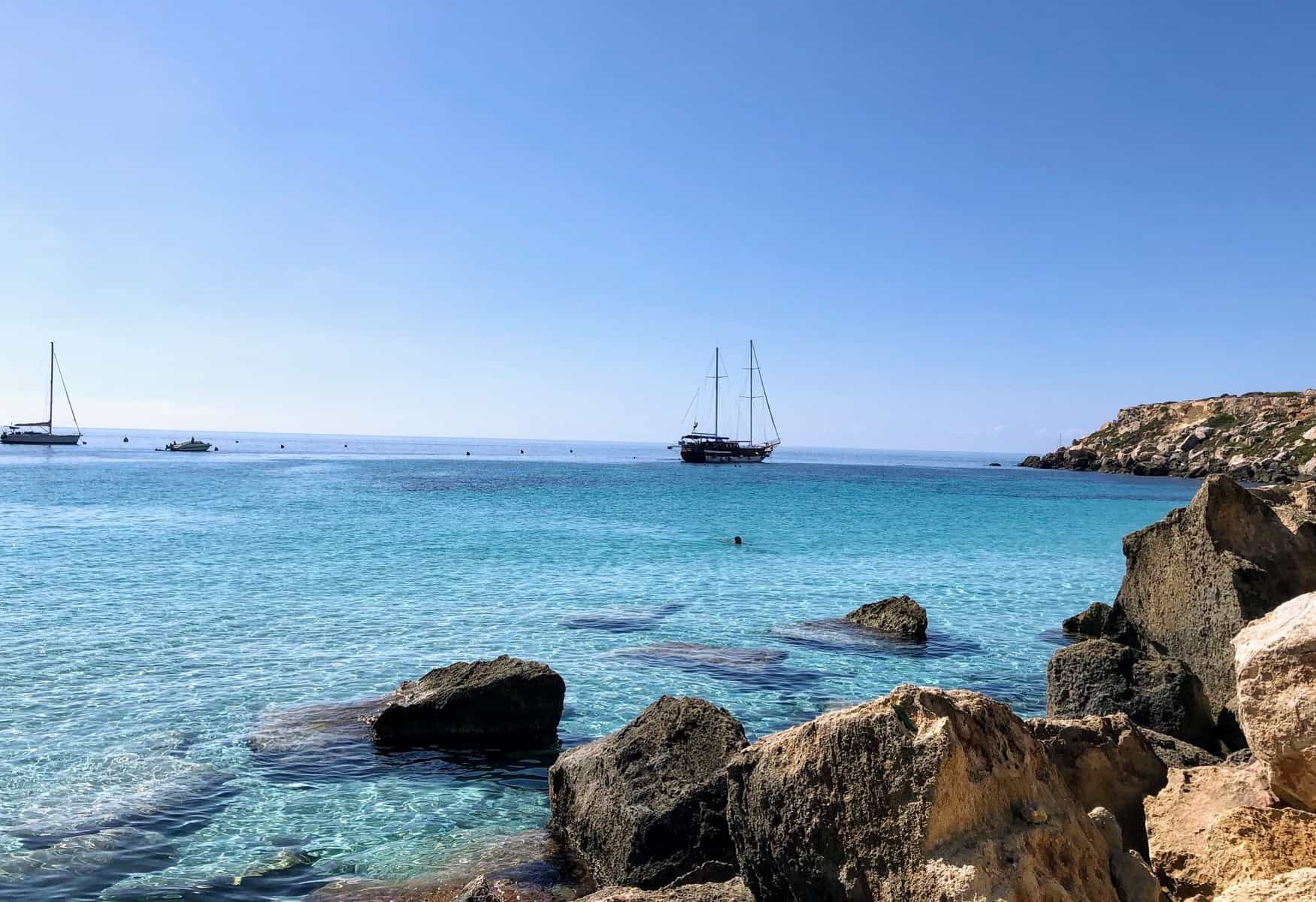 Liberty Lines and Siremar offer frequent hydrofoils and ferries; the ferries are larger, slower, and cheaper. Liberty Lines also runs several ferries per day from Marsala to the island of Favignana and, in the summer, a ferry all the way to Naples three to four times per week. Since the Egadi Islands are not far from shore, storms prohibiting service are rare. See our post for more on Favignana Island.
Agrigento
Agrigento and the ancient Greek Valley of the Temples dominate the less-populated stretch of southwestern Sicily. Otherwise it's mostly beaches, including the iconic chalk steps of the Scala di Turchi. Agrigento is best accessed from Palermo, via either train or bus. The ride takes about two hours. Cuffaro runs the direct bus service between Palermo and Agrigento. From Agrigento, a local bus runs to the Valley of the Temples.

TRAVEL BETWEEN EASTERN AND WESTERN SICILY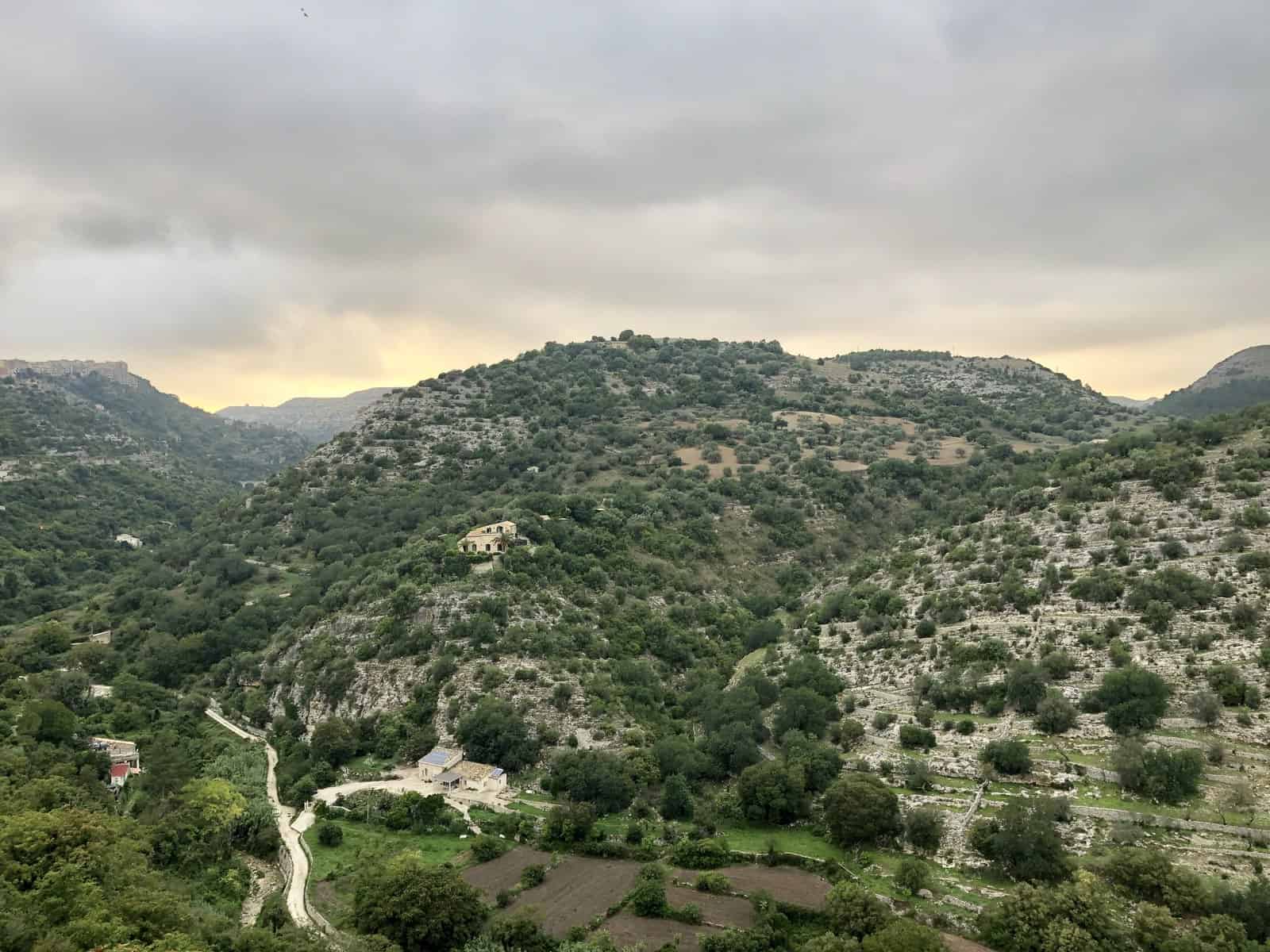 The routes between Palermo and Catania or Syracuse run most frequently, but other options may be more convenient. For instance, we took a bus from Ragusa to Palermo – a beautiful four hour ride through the island's interior. Also, trains run along the coast from Catania and Taormina to Messina, Cefalù, and Palermo.
Palermo – Catania
Trains and buses both take around three hours. There are generally 5-6 trains a day; buses are also frequent.
Palermo – Syracuse
Interbus: twice daily, about 3 hours 15 minutes. Book in advance.
Trains: twice daily, about 4 hours 25 minutes.
Planning Your Trip
Sicily is best savored slowly, and we recommend choosing a few places rather than trying to cram too much into a single visit.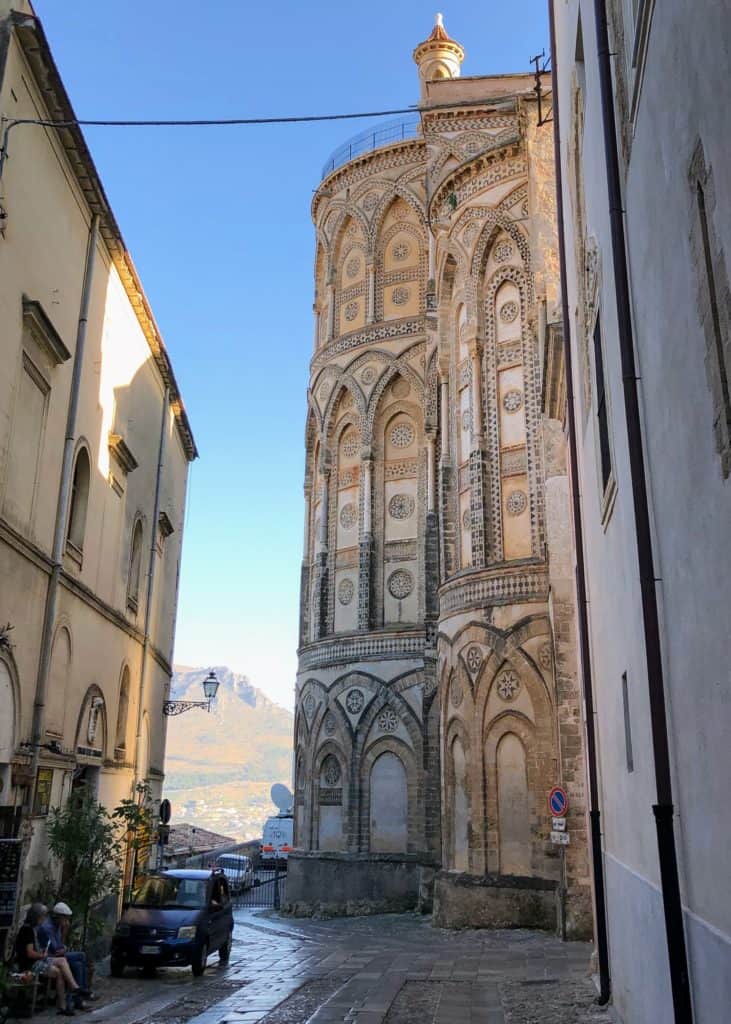 For our two-week trip, we arrived in Catania and spent three days in Syracuse. From there, we took a train to Ragusa with quick stop in Modica en route. After two days in the Val di Noto, we got a bus to Palermo where we stayed for four days, including visits to Cefalù and Monreale. Finally, we spent four days in Trapani, with day trips to Erice and the Egadi Islands before returning to Palermo for our departing flight. We wouldn't have changed a thing about our itinerary except, of course, to have more time. Our next trip will include visits to the places we missed the first time: the Aeolian Islands, Noto, Arigento, and Taormina.